There is nothing quite like a delicious steak. No matter whether you cook your favourite steak recipes at home or treat yourself to a wonderful evening at a luxury steakhouse restaurant, steak is incomparable. However, unless you're a seasoned sommelier, it can be challenging to know what wine pairs with steak the best.
After all, there are many types of wines out there that go with most things. From cheese wines to salad wines, your options are endless. But, when it comes to pairing wine with steak, specific wines are best to accompany it as they have certain notes and flavours that enrich the succulent flavours of your meal.
To assist you with the ultimate wine and steak combination, we've shortlisted our favourite wine pairings for the most common steaks available in Australia.
Top 8 Wine Pairings For Steak: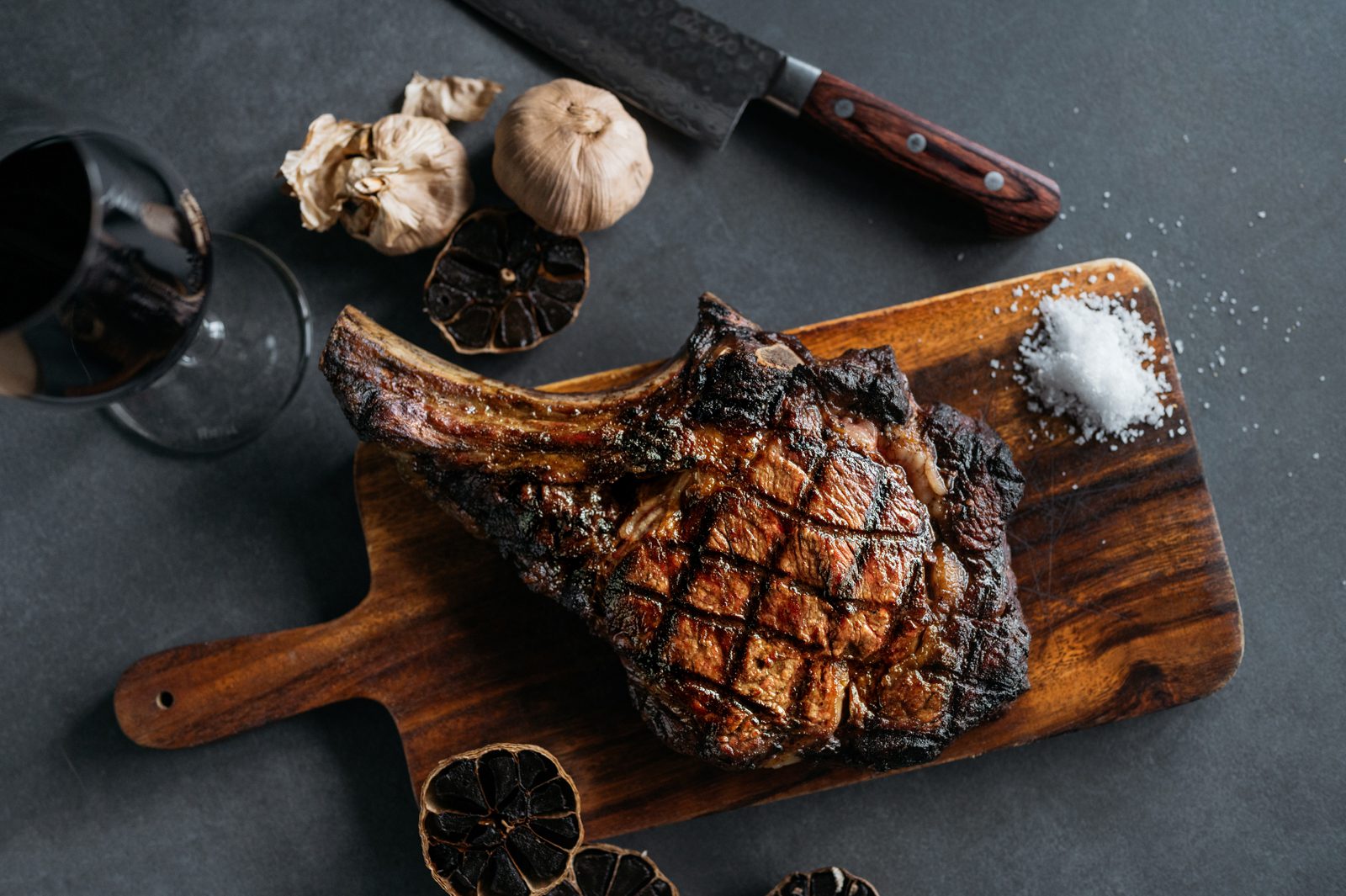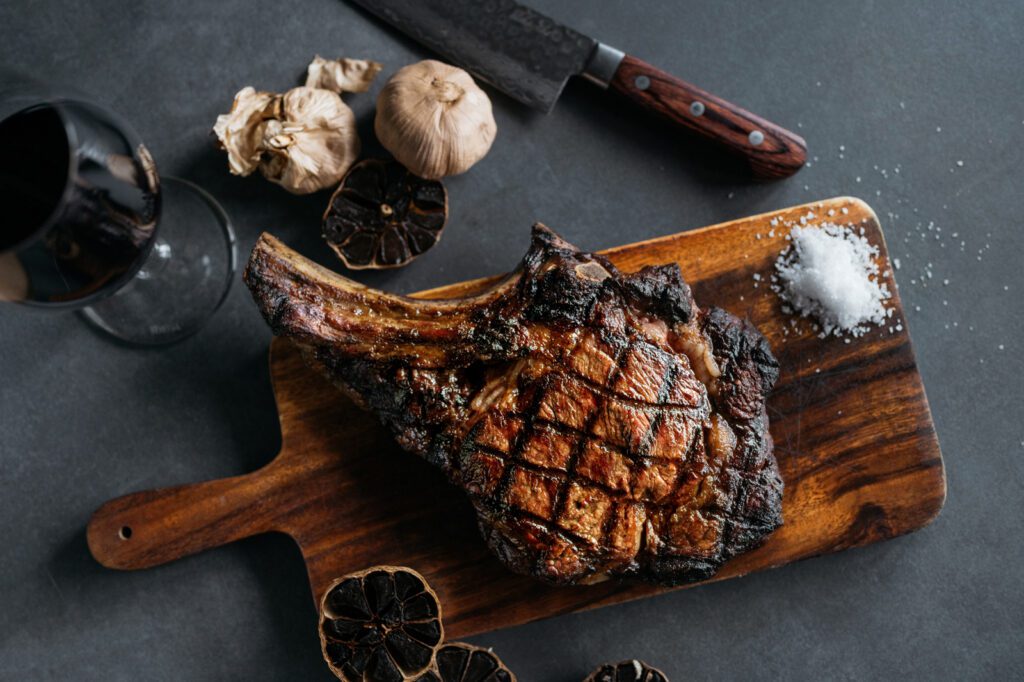 Whether you're
pairing wine with dry-aged steak
or a delectable filet mignon, there are plenty of wines to choose from. Our sommeliers and chef's have come together to discuss their favourite steak and wine pairings to bring our ultimate list of combinations.
Here are our best wine pairings for different types of steak:
Sirloin Steak Wine Pairing
When pairing wine with sirloin steak as an accompaniment, it is best to go for subtly fruity wines with a rich and bold depth. Spanish Tempranillo is an excellent option due to its flavour collaboration of cherries and leather, giving both light and dark notes to its taste. In particular, the "Running With Bulls Tempranillo" from the Barossa Valley in South Australia is an absolute must combination.
Alternatively, you could pair a sirloin steak with Montepulciano, which sees red plum, sour cherry, tar, boysenberry, and oregano unite to create a bold and acidic flavour that can elevate the simple taste of a sirloin steak.
Sirloin is one of the most popular cuts of steak, favoured for its succulent and tender texture when cooked to perfection. Overall, sirloin is an incredibly lean cut of meat with light fat marbling making it nutritious whilst having a flavourful taste.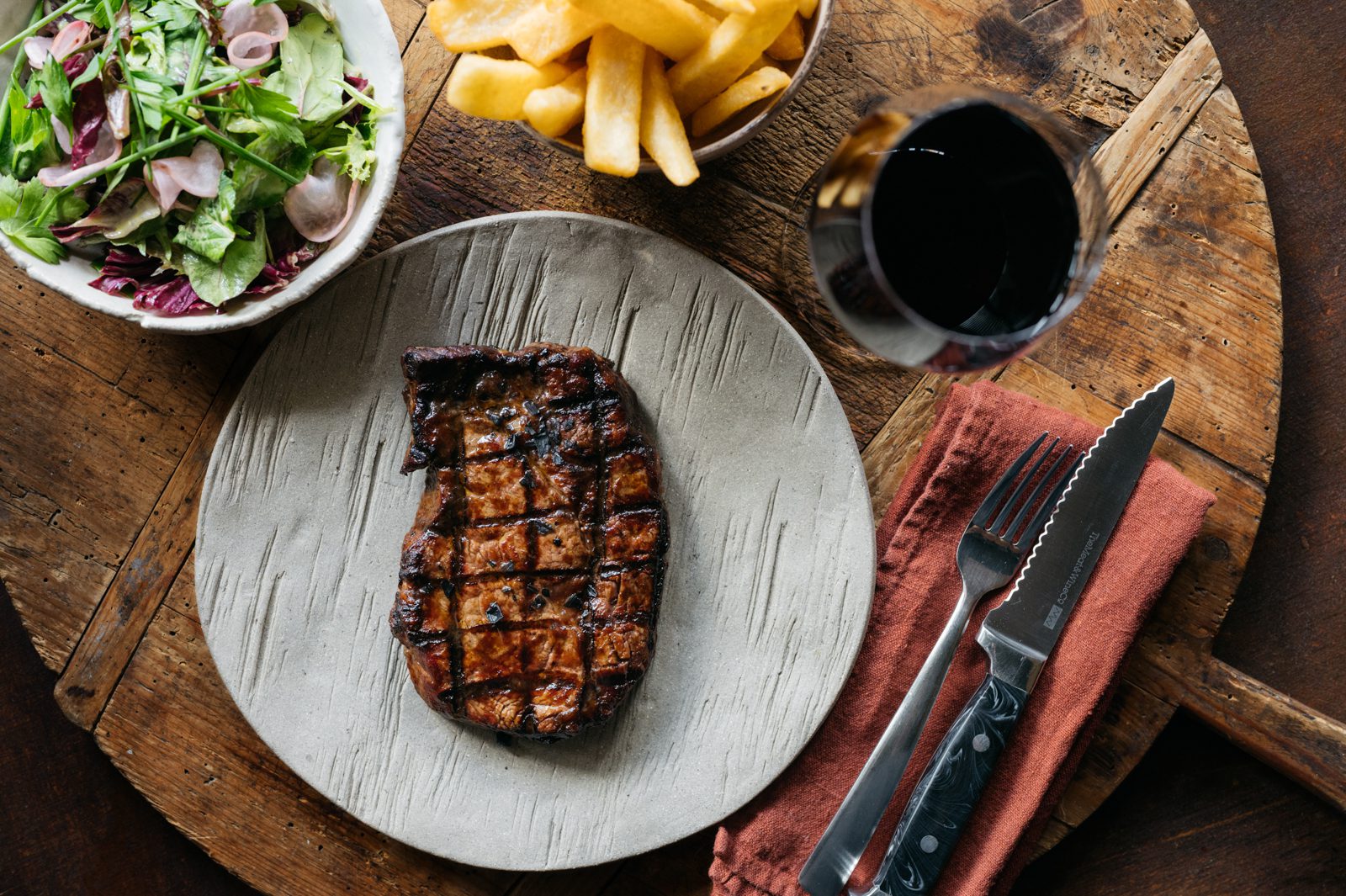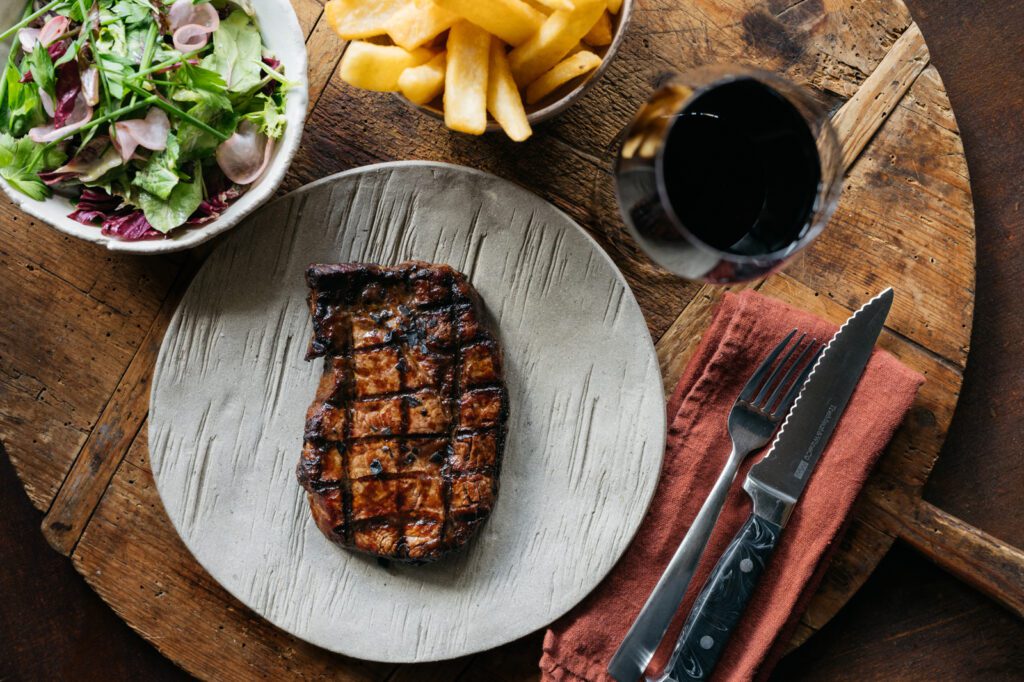 Ribeye Steak Wine Pairing
If you are grilling a ribeye steak, you are best pairing your ribeye steak with a hearty wine such as Zinfandel that can enhance the deep meaty flavours of a grilled steak whilst adding subtle fruity notes and cinnamon.
On the other hand, Cabernet Sauvignon such as the Vasse Felix Premier from the Margaret River in Western Australia will provide you with a full body, rich flavour that is perfect for a ribeye cooked in a pan, particularly with rosemary and herbs.
Ribeye steak has a high level of fat marbling, making its flavour more decadent and rich. This high level of fat marbling makes it a tasty cut of meat, and its tender texture is easily achieved when grilled on high, dry heat.

Porterhouse Steak Wine Pairing
It is best to pair lean types of meat such as Porterhouse Steak with rich red wines that bring out different sides of the meat and add depth.
You can achieve this with full body wines such as the Vietti 'Perbacco' Nebbiolo and Aglianico. Aglianico is a unique flavour consisting of smoke, game, black cherry and spiced plum – a surefire way to add depth and darkness to your steak. On the other hand, Nebbiolo unites sweet notes such as cherry and rose with anise and leather for a contrasting flavour that attaches to meat beautifully.
Comparatively to Ribeye and Sirloin steak, Porterhouse and T-Bone steaks are different cuts of meat. Still, both have a tender side contrasted with a firmer and flavourful strip; providing you with a versatile steak that can be united with many different flavours.
Filet Mignon Wine Pairing
When pairing wine with Filet Mignon, we recommend a merlot deep in cherry and plum flavours. Alternatively, for the non-merlot fans in the world, a Mencía, dry Spanish wine with tart cherry and liquorice flavours will also pair nicely.

If you love lean meat, a filet mignon is the ultimate go-to cut of steak. The filet mignon is lean, tender, succulent and is served best when pan-seared and butter-basted; often with peppercorn and sauces to accompany it.
Of course, a filet mignon has a more delicate and gentle flavour than many other steaks on the list. Therefore, it is essential to pair this meat with wines that won't overpower it and instead bring out these delicate tastes.
A strip steak is a cost-effective option that still provides an excellent taste and versatility to many different dishes. It has a high-fat content, meaning it is essential to pair strip steak with wine flavours that can penetrate the fat and add flavour and depth to the overall taste, ensuring its finish is not bland.
Blaufränkisch is a rich red wine that pairs well with strip steak. For flavour, the Blaufränkisch comprises of blackberries, cherries, dark chocolate, allspice and pepper, making up its main notes. The sweet smokiness that this wine offers pairs beautifully with strip steak. Another option is GSM Blend provides a bold flavour with medium acidity, adding notes such as raspberry and rosemary to the strip steak.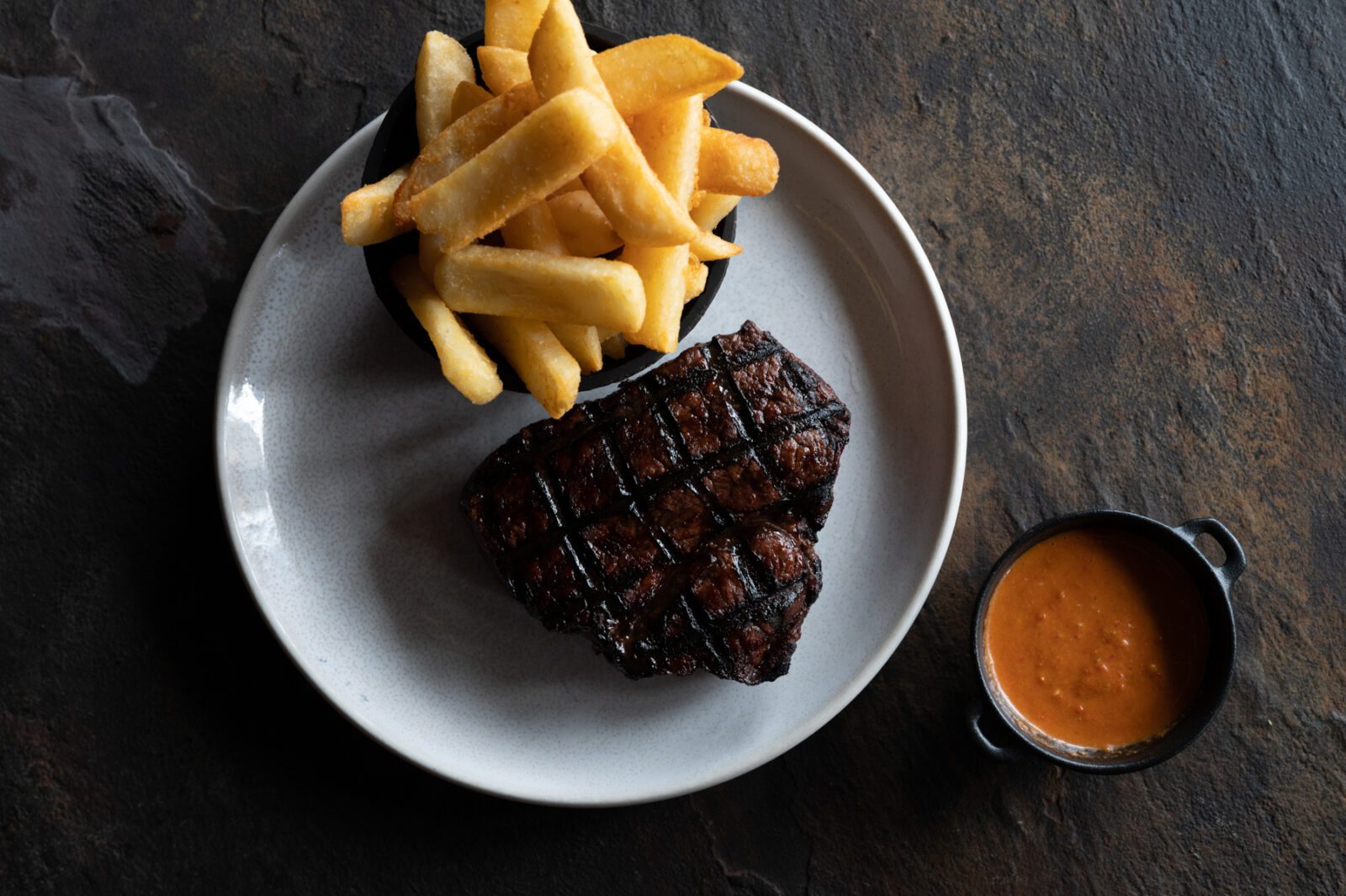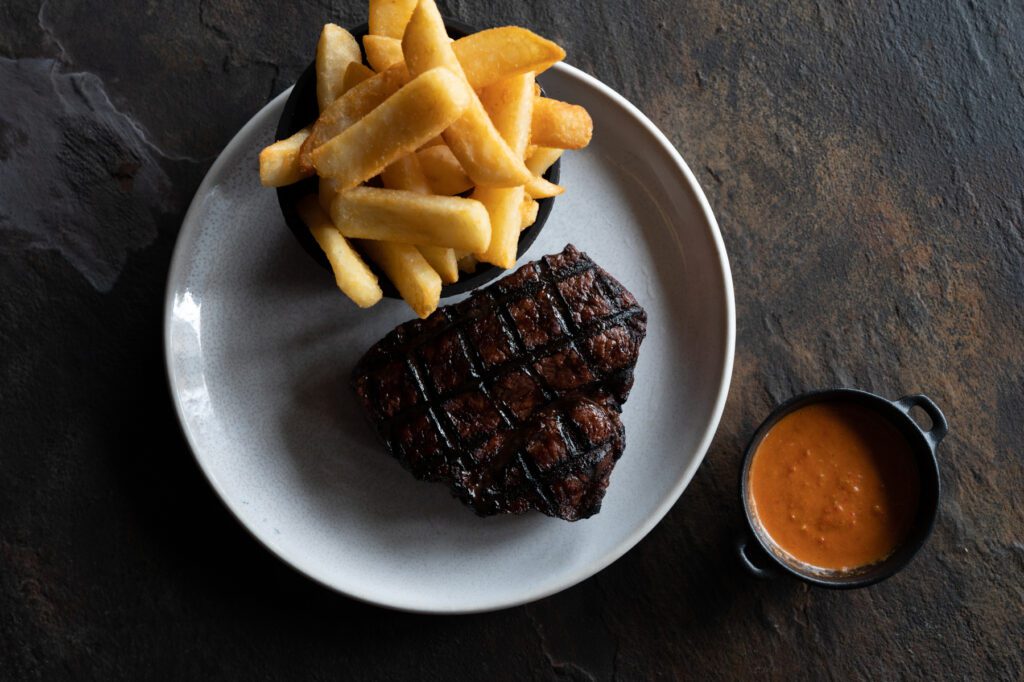 A classic food wine from Italy, such as Dolcetto, is a nice wine pairing for a rump steak. Alternatively, a glass of Monastrell will be perfect if you'd like a smokier touch in the wine you pair with your rump.

Rump steak is most well-known for having a firmer, more tough texture than most cuts. And, with firmer meat, it is often best to marinade and tend to it differently to other cuts of steak, meaning wine pairing should be chosen by considering the sauce that will accompany your meat too.
Flank & Skirt Steak Wine Pairing
If you want a sweet, fruity, and smokey style of wine to pair with your flank or skirt steak, a Cabernet Franc is an ideal option and will go flawlessly with greens and vegetables. Or, a Spanish red Garnacha is a great way to add an acidic, fruity flavour that interjects the chewy depth of flank and skirt steak.
Flank & Skirt steaks are bold and tough types of steak, perfect for dishes such as steak salad due to their chewy textures and ability to be marinaded and absorb different seasonings well. Wine pairings should accompany this chewy texture beautifully, adding a delicacy to this robust meat.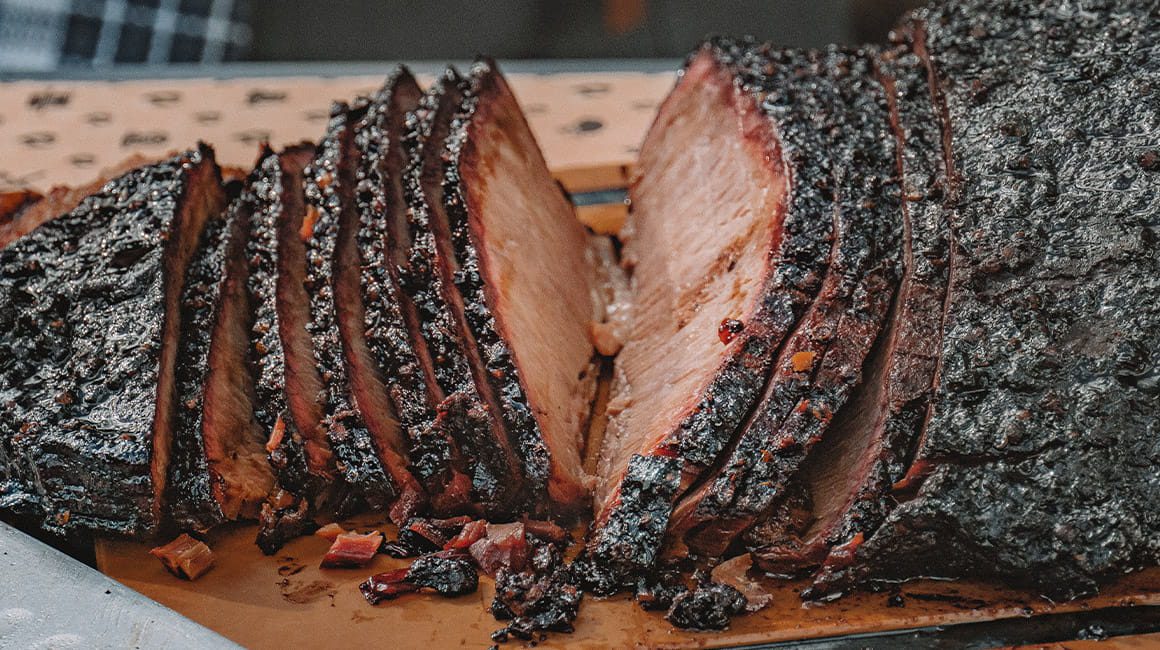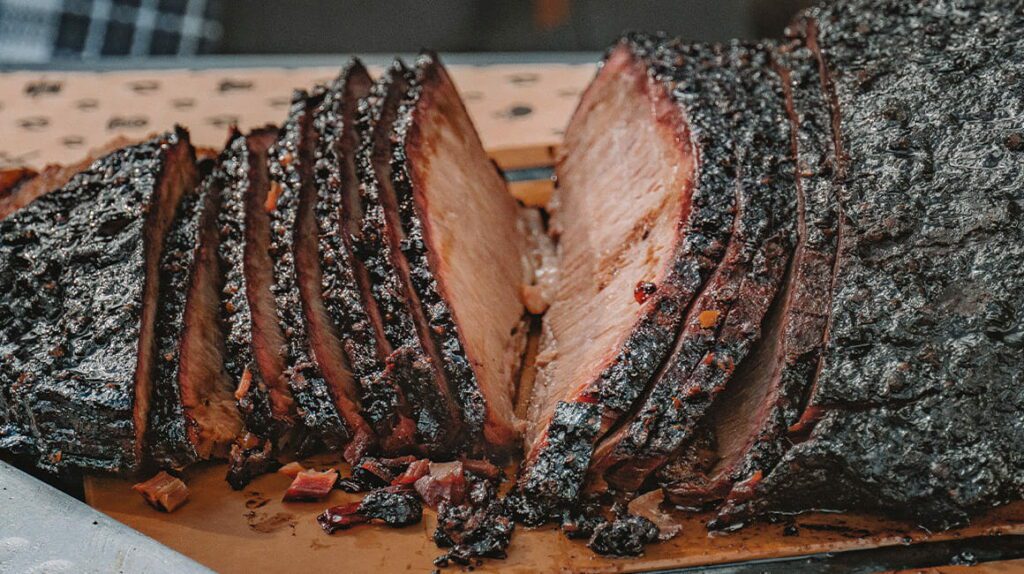 When cooked on low heat for a long time, flavours can become deeper and richer, so we recommend pairing your brisket with a fresh wine that accompanies this richness.
Sagrantino is a unique Italian wine that sees plum, licorice, and black tea unite to create an earthy and aromatic flavour, perfect for beef brisket. Australian Shiraz is also a great pairing for briskets because of the natural smokiness that occurs when briskets are cooking and will intensify this smokiness without going overboard.
Brisket beef is slightly different to those on our list, as it is best to cook on low and slow heat instead of being grilled or cooked at high heat. Brisket should melt in your mouth and be incredibly tender when cooked correctly.

As you can see, there are many options above for preparing your own types of steak, and our guide should be helpful the next time you are struggling to decide which wine will accompany your steak the best.
Additionally, you can apply this thought process next time you eat out, too! Restaurants that are specifically tailored to serving steak and wine will often have an extensive wine list for you to browse, which can be overwhelming at first. However, restaurant staff can help point you in the direction of which wine is best for your chosen dish, or use our list to guide you.
We recommend booking with The Meat & Wine Co for the best introduction to the world of steak and wine, a sure way to ignite a passion and make your tastebuds happier than ever.
Did you enjoy this article? Now that you know what wine pairs with steak, why not check out some of our other wine-pairing guides for the ultimate evening feast with your friends and family: