When considering which wine pairs best with a salad, there are multiple elements that you will need to think about. There are so many different types of salad, with various vegetables, dressings, and forms of protein chosen to complement one another.
These flavours should all work together in harmony, so it is essential to select a wine that doesn't overpower or take anything away from the overall taste of the salad. Whether you tuck into a caesar salad or a greek salad, there are wines that stand out as the best options for each salad, and we will take you through these options!
How To Pair Wine With Salad?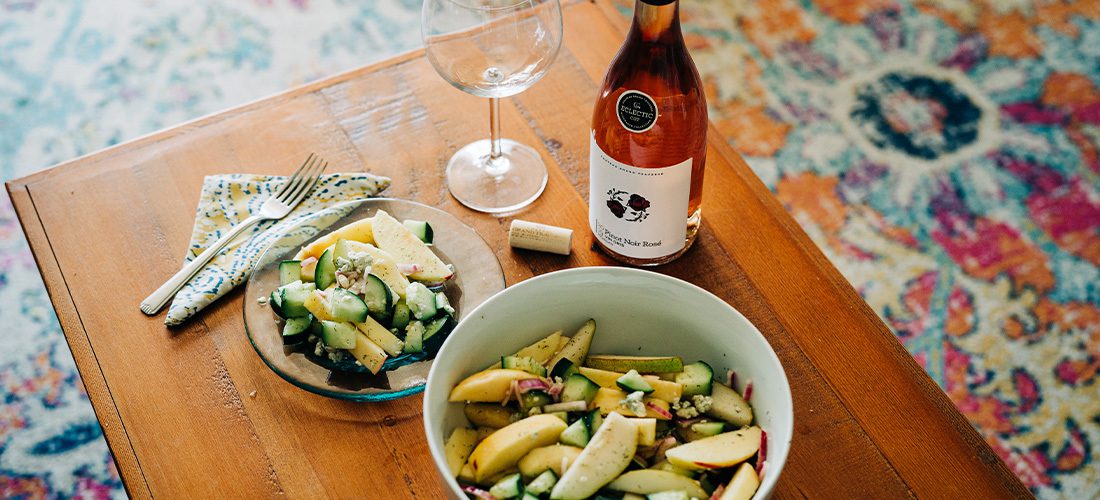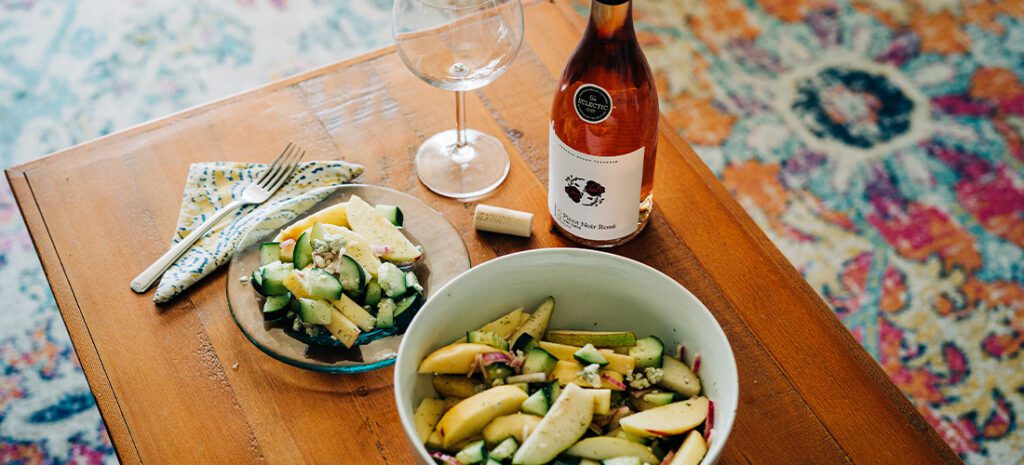 Photo credit: Chateau Grand Traverse
The main element to consider when pairing wine with salad is the dressing. It is common for the taste to be acidic and potent regarding dressings, whether from a simple vinaigrette or something more complex. If the salad you're eating has an acidic dressing, you will want to pair it with a tart white wine to ensure the acidity in the dressing doesn't drown out the flavour of your wine, and you still get a sweet and fruity taste.
If we apply this basic rule to pairing wines with salad, try and base your decision on the acidity of your dressing, and go for more tart flavours in accordance with the level of acidity.
Top 6 Best Salad & Wine Pairings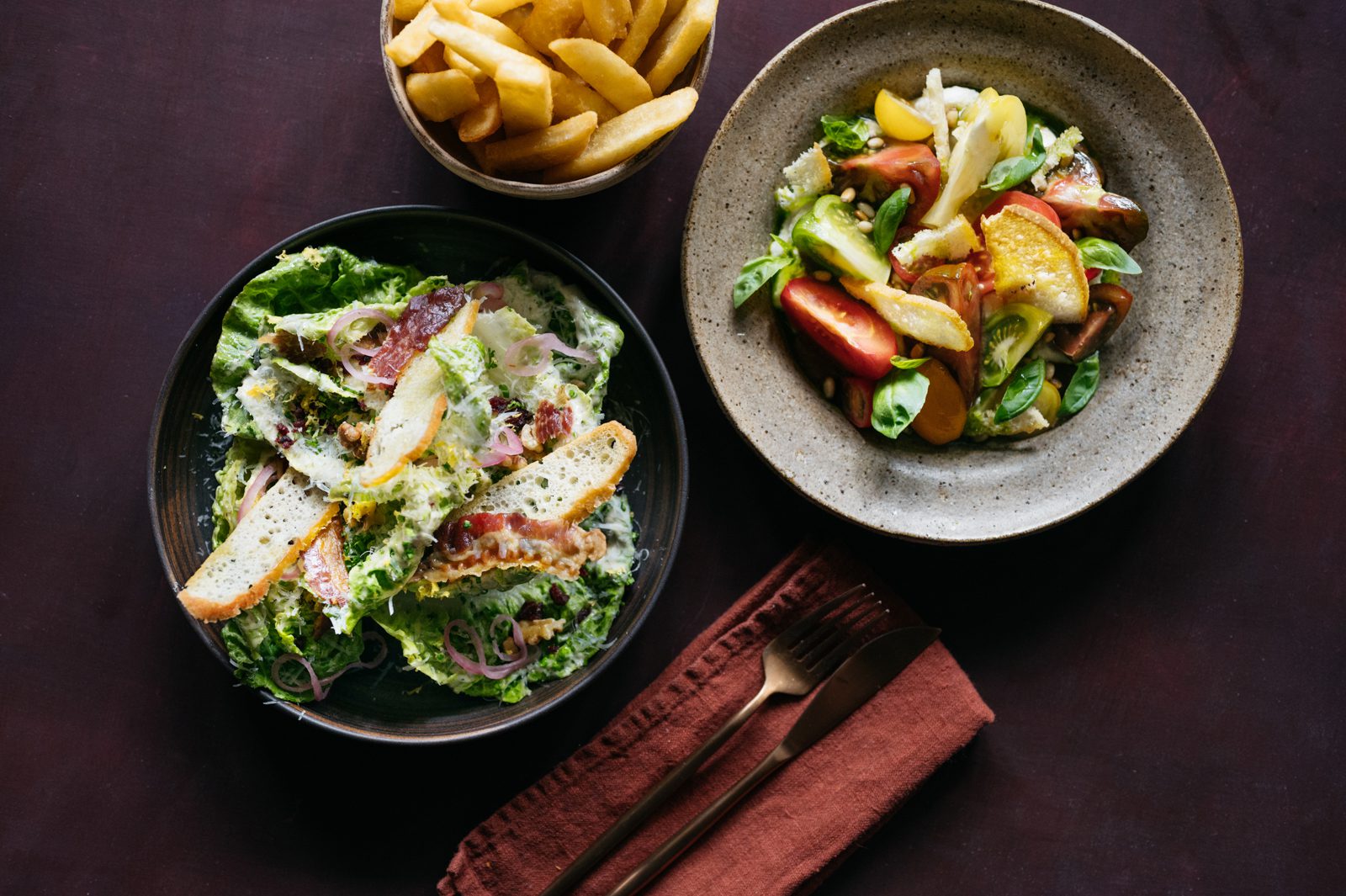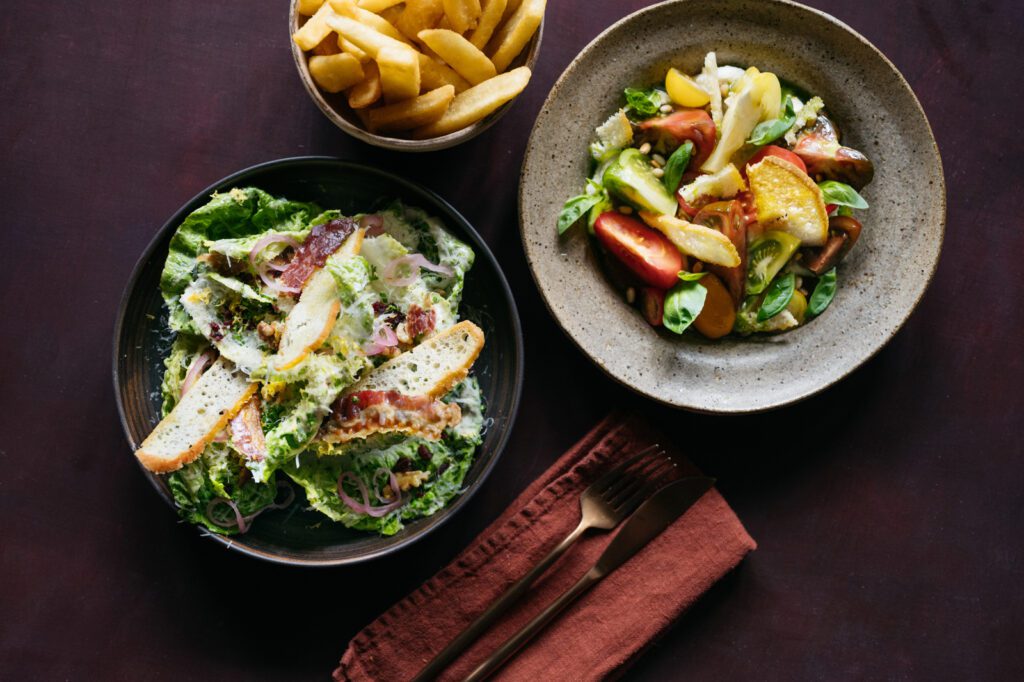 Although you could choose hundreds of salads, six types of salad stand out as the most common. Whether you order these salads in a restaurant or make them yourself, chances are you will be familiar with the six on our list!
To assist you with the ultimate wine and salad pairing combination, we've shortlisted our favourite wine pairings for a variety of salads.
Here are our top 6 best wine and salad pairings:
1. Ranch Salad Wine Pairing
Ranch is arguably the most comforting dressing for a salad, with buttermilk, garlic, seasoning and mayonnaise making up the ingredients. As this salad is a simple choice, there is no need to go overboard and pair it with a complex wine you likely won't have in your fridge.
Instead, the best wine pairing for Ranch Salad is a wine with moderate acidity such as a Chardonnay. The moderate nature and dryness of a Chardonnay is a subtle addition to enjoy alongside a ranch salad and will be available in most restaurants, making it super easy to order!
2. Antipasto Salad Wine Pairing
An antipasto salad is undeniably an indulgent way to enjoy this healthy meal and combines Italian antipasto elements to create an abundant salad full of flavour and nutrition. You can expect cured meats, mozzarella, tomatoes, artichokes, and olives in a standard antipasto salad with an acidic vinegar-based dressing.
Sticking with our acidity matching rule, we would recommend pairing an antipasto salad with a wine with high acidities, such as Italian Verdicchio. This wine is acidic, with citrus notes to provide a fresh and full flavour, perfect with an indulgent antipasto salad.
3. Caesar Salad Wine Pairing
Perhaps one of the most well-known and widely available salads, a caesar salad is a go-to for anyone who wants a simple, quick, easy meal that provides flavour and healthy nutrition. The salad consists of crunchy romaine lettuce, croutons, parmesan cheese, anchovies, and sometimes chicken. These elements are partnered with a flavoursome dressing consisting of vinegar, lemon juice, Worcestershire sauce, dijon mustard, mayonnaise and salt and pepper.
As such, Sauvignon Blanc pairs perfectly with a caesar salad's robust taste, complimenting the anchovies' salty flavour and not overpowering the simple romaine lettuce.
4. Blue Cheese Salad Wine Pairing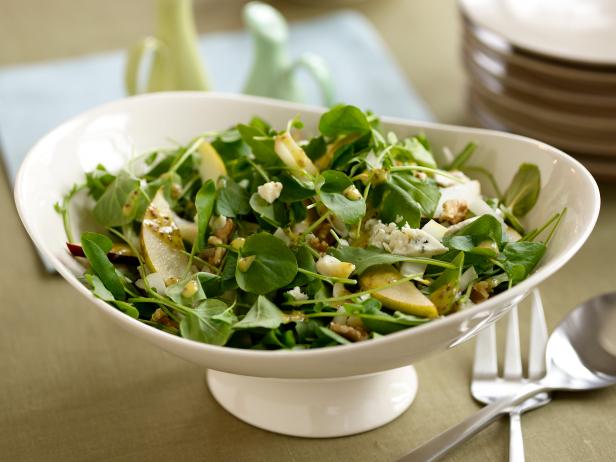 Photo credit: Food Network
If you've ever tried blue cheese, you will know of its distinct taste that could be seen as strong. A blue cheese salad will usually be served as a wedge salad, which sees iceberg lettuce served in wedges with a plentiful blue cheese dressing, perfect for accompanying a steak.
Learn More: Cheese & Wine Pairings
The best pairing for a blue cheese salad is a fruity wine that perfectly enhances the robust taste of blue cheese such as a Portuguese Vinho Verde. It's elegant and fruity nature makes the creaminess of blue cheese more apparent than ever. Not to mention, the spritz of this wine adds a fun touch to your meal!
5. Chef Salad Wine Pairing
A chef salad incorporates essential elements such as lettuce, deli meat, cheese, tomatoes, cucumbers, hard-boiled eggs, and other greens. As a chef salad has many different flavours, choosing a wine that won't contradict any of those tastes and will instead complement them is crucial.
California Pinot Noir is a soft acidic wine that pairs well with a Chef salad. It's vanilla and plum notes blend beautifully with turkey and ham which are common additions to a chef salad. This inviting, subtle, sweet wine is the perfect pairing and will have your tastebuds dancing.tha
6. Greek Salad Wine Pairing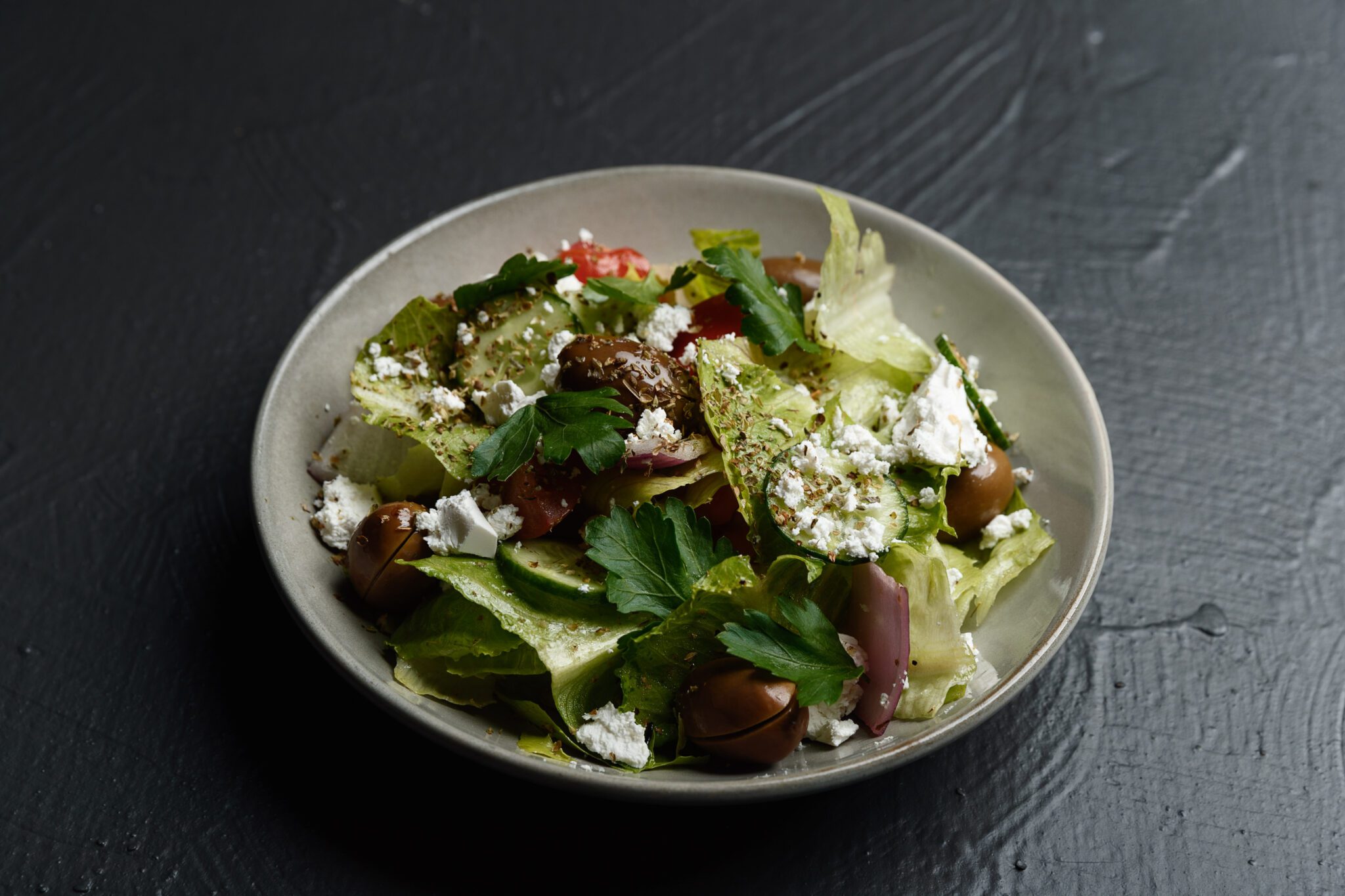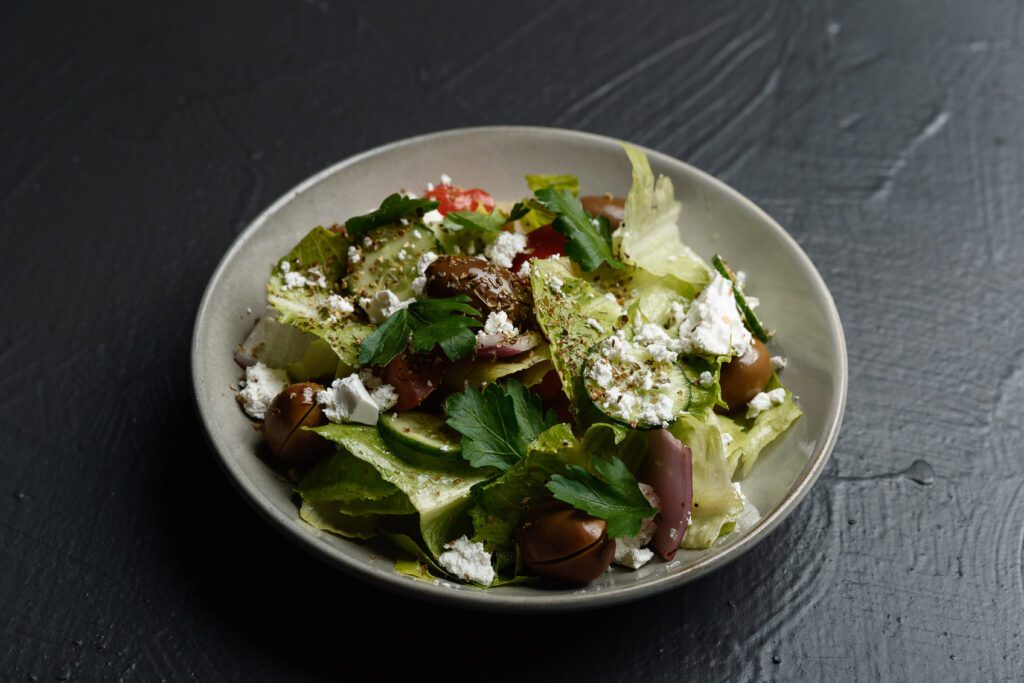 Greek salads are fresh and contain ingredients such as cucumbers, tomatoes, peppers, red onion, olives and feta cheese. A traditional greek vinaigrette is often used to dress a greek salad in olive oil, lemon juice, dijon mustard, garlic, oregano, salt, and pepper. This salad provides an unmistakably summery taste with a beautiful freshness.
Assyrtiko is a greek wine and happens to go beautifully with greek salad due to its high acidity yet subtle taste. Notes of beeswax, passionfruit and lime provide a sweetness that pairs wonderfully with the feta cheese used in a greek salad.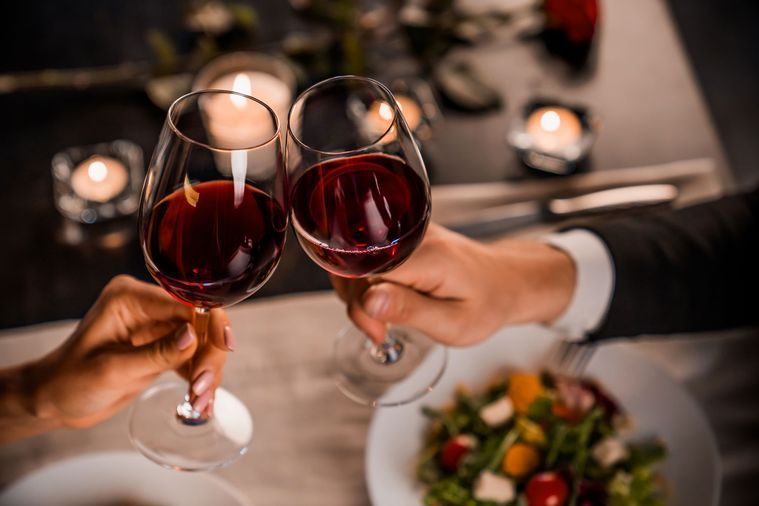 Photo credit: Delicious
You can enjoy professionally made salads at restaurants such as The Meat & Wine Co whilst also checking out their extensive wine menu to find the perfect pairing for your meal. You can use our guide above if you need help choosing a wine pairing or ask a server for their recommendations! You can book a table online to try out their menu.
Whether you pair your salad with steak wine or enjoy a salad as a main course, there is no doubt that salad and wine are an interesting combination of flavours and textures that will make your mealtime a little bit more exciting.
Now that you are well versed on how to pair wine and cheese with our list of recommended combinations, why not explore some of our other wine pairing guides for your favourite foods.
Here are some of our most recent articles: