The Meat & Wine Co South Yarra
In the heart of Chapel Street
Your South Yarra Steakhouse
Looking for the best steak in South Yarra? Bringing modern city dining to the local suburbs, The Meat & Wine Co South Yarra is located at the heart of the buzzing entertainment precinct in the Como Centre, right off Chapel St.
Authentic African interiors meet contemporary styling in this beautiful space designed by award-winning Otto Design Interiors.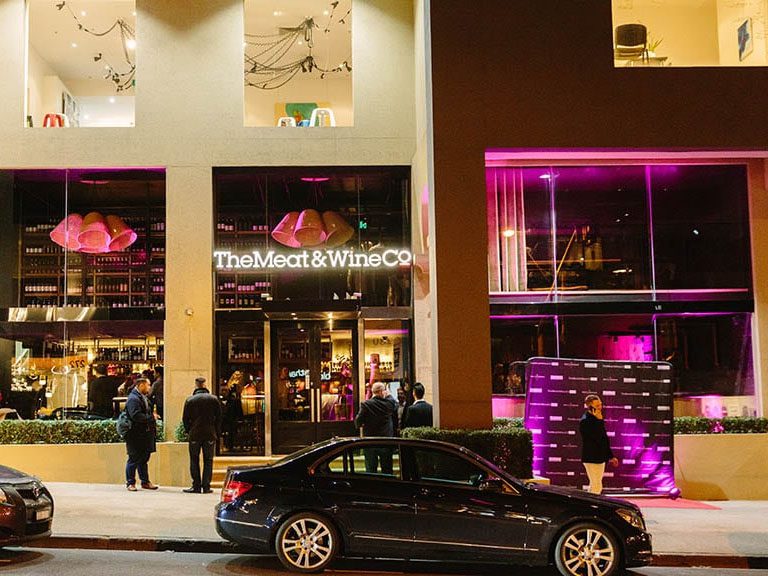 Find out everything you need to know to get in touch with or find The Meat & Wine Co South Yarra.
Please see the info below for the restaurant parking options at The Meat & Wine Co South Yarra.
Convenient parking is available at the Como Centre at 650 Chapel Street. This carpark is your closest option if you're visiting us at The Meat & Wine Co, as it's within the same building as our restaurant. Casual parking rates start at $16 for drive-ups and $14 if you book online ahead of time.
Parking is available at Colonnade Carpark, located at 524-564 Chapel Street, just a few minutes away from The Meat & Wine Co South Yarra.
The Colonnade parking station is open 24 hours and parking rates start at $2 for an hour. If you're heading to the nearby Palace Cinemas, you can validate your Colonnade voucher at the box office for a $5 rate valid for up to 3.5 hours.
Visit The Meat & Wine Co South Yarra

Mohammad Chowdhury
07:27 24 Jan 22
Consistently excellent steaks.

Haden Benseman
11:35 10 Apr 22
Good food, good staff! Our waitress was very informative, friendly and took care of us while celebrating my birthday

...

🎂🎉🎁 I forgot her name, the Thai lady 👍🏼 kob khun krab 🙏

read more

Wata Malone
00:25 23 May 22
Foods banging, service was great👍. There's parking inside the Como centre and rate was okay for being near the

...

city.As in photo -Rib-eye 330g, Half Beef Ribs, Side chips.Sticky Date Pudding, Choclate &Hazelnut Fondant.

read more
African-inspired South Yarra Steak Restaurant
Inspired by our African roots, our a la carte menu at The Meat & Wine Co South Yarra blends cutting-edge modern cuisine with authentic African flavours. If you're visiting to try our signature premium steak, choose from a selection of top-graded grain-fed, grass-fed and wagyu steak cuts and we'll prepare it to your liking on the grill.
In the mood for something different? We have a wide range of fresh seafood, salads and seasonal dishes on offer, prepared by our award-winning team of chefs.
Your Local South Yarra Bar
Dropping in for a glass or two before a night out in South Yarra? Our beverage menu includes an extensive selection of expertly-prepared cocktails, mocktails, beers, ciders, and spirits – so you can enjoy an after-work or weekend libation just the way you like it.
And, of course, our carefully curated wine list includes a handpicked selection of red wines, white wines and dessert wines from local wine makers in Australia and around the world, including signature white and red varieties from wine regions in South Africa.
Private events at The Meat & Wine Co Steak Restaurant South Yarra
There's no shortage of South Yarra restaurants to choose from, but when it comes to planning a private party or work function, you want to make sure the venue is perfect for the occasion. At The Meat & Wine Co South Yarra, we have one stylish private dining room available for up to 16 guests, as well as a private function area to accommodate up to 50 seated guests or 65 standing guests with a canapé menu. Simply let us know your requirements, and we'll take care of the rest to help bring your vision to life.