When it comes to bites like a juicy flavoursome piece of steak, a fresh plate of seafood or some delicious dessert wine pairings, we know they taste incredible on their own. But, when paired with the right glass of wine, it can take a tasty meal to a new level. Let's face it; nothing beats a decadently rich cut of Wagyu rib-eye with a generous glass of Shiraz.
But, whilst your palate may recognise that these two go together, how do you actually pair food and wine? What makes a slice of fresh salmon and chardonnay taste so exquisite whilst pairing this exact wine with a spicy lamb curry will leave an overly oaky and flat taste in your mouth?
But don't worry – here at The Meat & Wine Co we know a little something about food, wine and how to pair. In today's blog, we'll teach you how to pair food and wine to please your palate and impress your guests the next time you host a dinner party.
Before we delve into the complexities of food and wine, if you're looking for a sneak peek of an ideal pairing, the next time you book a table at The Meat & Wine Co, try the Monte grass-fed dry-aged rib-eye steak on the bone with black garlic butter, paired with a 2019 St Hallet 'Higher Earth' or 2020 Katnook Estate Cabernet Sauvignon for an irresistibly decadent mouthful.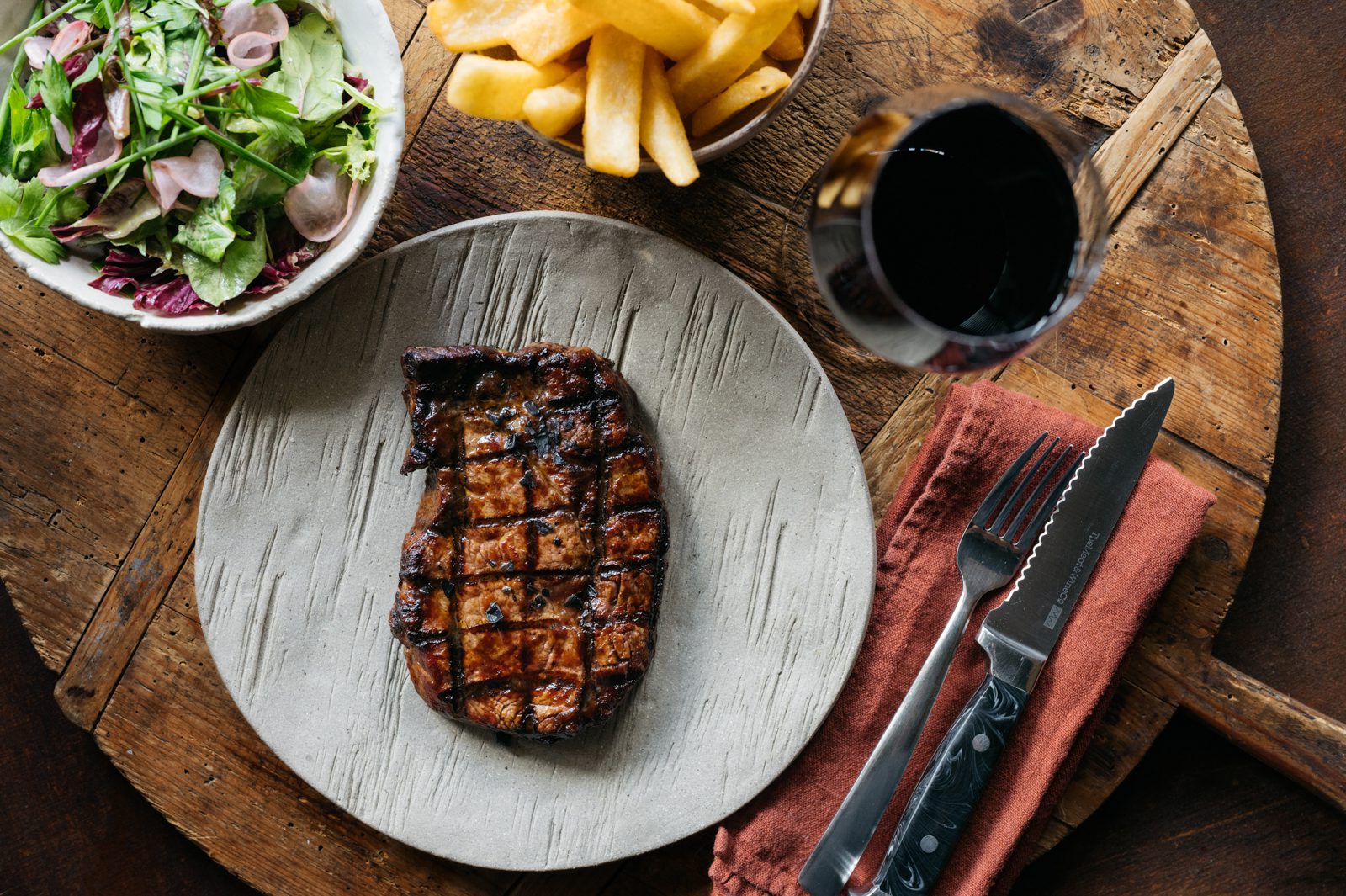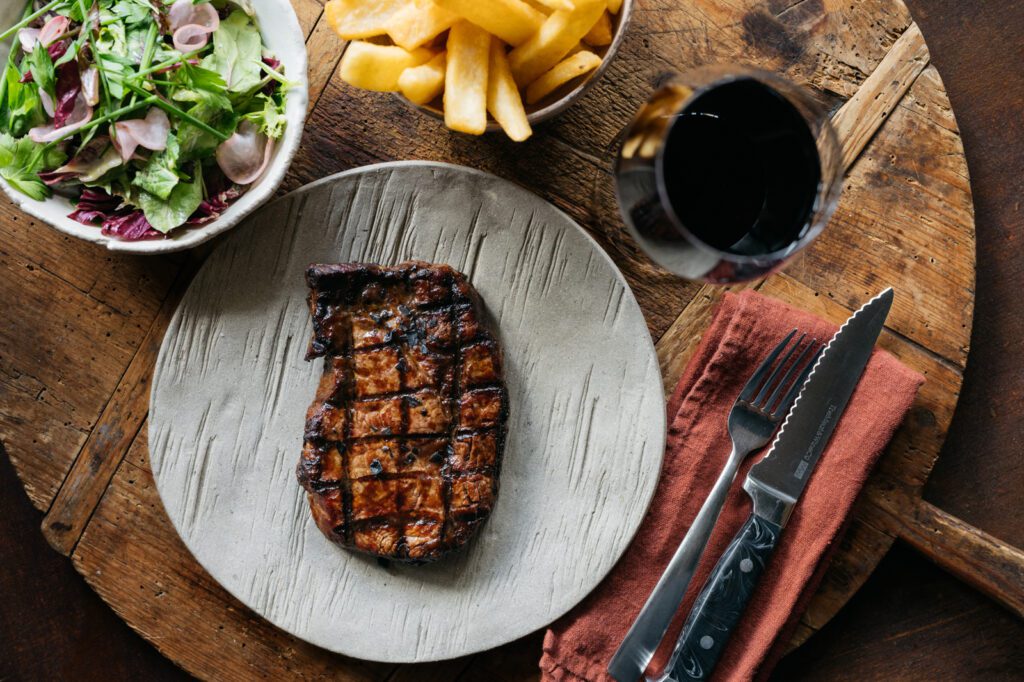 The goal of pairing food and wine is to complement or enhance a dish. Things like richness, spice and sweetness need to be considered when selecting – so how do you know if you've made the right choice?
Here are 7 easy rules to follow when pairing food and wine:
Rule 1:

Wine Should Match The Weight Of The Food

Rule 2:

Wine Should Match The Intensity Of The Food

Rule 3:

Wine Should Balance Out Acidity

Rule 4:

Wine Should Be As Sweet The Food

Rule 5:

Wine Should Match The Sauce

Rule 6:

Wine Should Balance Out Fats

Rule 7:

Wine Should Balance Salt And Tannins
Rule 1: Wine Should Match The Weight Of The Food
When talking about the weight of food, we don't mean grams, but rather whether a dish is light or heavy. Light foods are typically low in fat and sodium and should be paired with a light wine to allow for the perfect balance of flavours. The same is true for heavy foods – they're rich and high in fat and therefore require a heavy wine with high tannins.
Rule 2: Wine Should Match The Intensity Of The Food
Wine should always be paired with dishes with similar flavour profiles and intensity. For example, baked sea bass with a lemon butter sauce has a light citrus flavour, so a white wine with citrus notes is an ideal match.
Rule 3: Wine Should Balance Out Acidity
Wines with high acidity are a great way to cut through the oiliness of creamy sauces and butter-rich foods. But avoid pairing them with dishes with a lot of vinegar or citrus as the acidity will be too overpowering.
Rule 4: Wine Should Be As Sweet As The Food
Things like cakes, fruit or high-sugar sauces can make dry wines taste too bitter, so make sure to pair food and wines with an equal level of sweetness, so the acidity doesn't overpower your dish.
Rule 5: Wine Should Match The Sauce
Many people believe wine should be paired with the meat of a dish, but matching the flavours of the sauce is a more effective approach. For example, pairing lemon-glazed chicken with sauvignon blanc complements and enhances the subtle citrus notes of the whole dish rather than just the meat.
Rule 6: Wine Should Balance Out Fats
Dishes with high-fat content like lamb shanks, curries or pork can overwhelm the palette – that's why they should be paired with a wine that has lots of tannins to cut through the richness and enhance the flavour.
Rule 7: Wine Should Balance Salt And Tannins
Pairing salty foods with crisp wines creates the perfect balance of acidity, whereas sweet wines can enhance the tangy and briny notes of the dish.
Wine Pairing Tips For Your Favourite Foods
Now you know the 7 simple rules on how to pair food with wine, let's take a look at wine combinations for some of your favourite foods.
Here are 4 wine pairing tips for your favourite foods: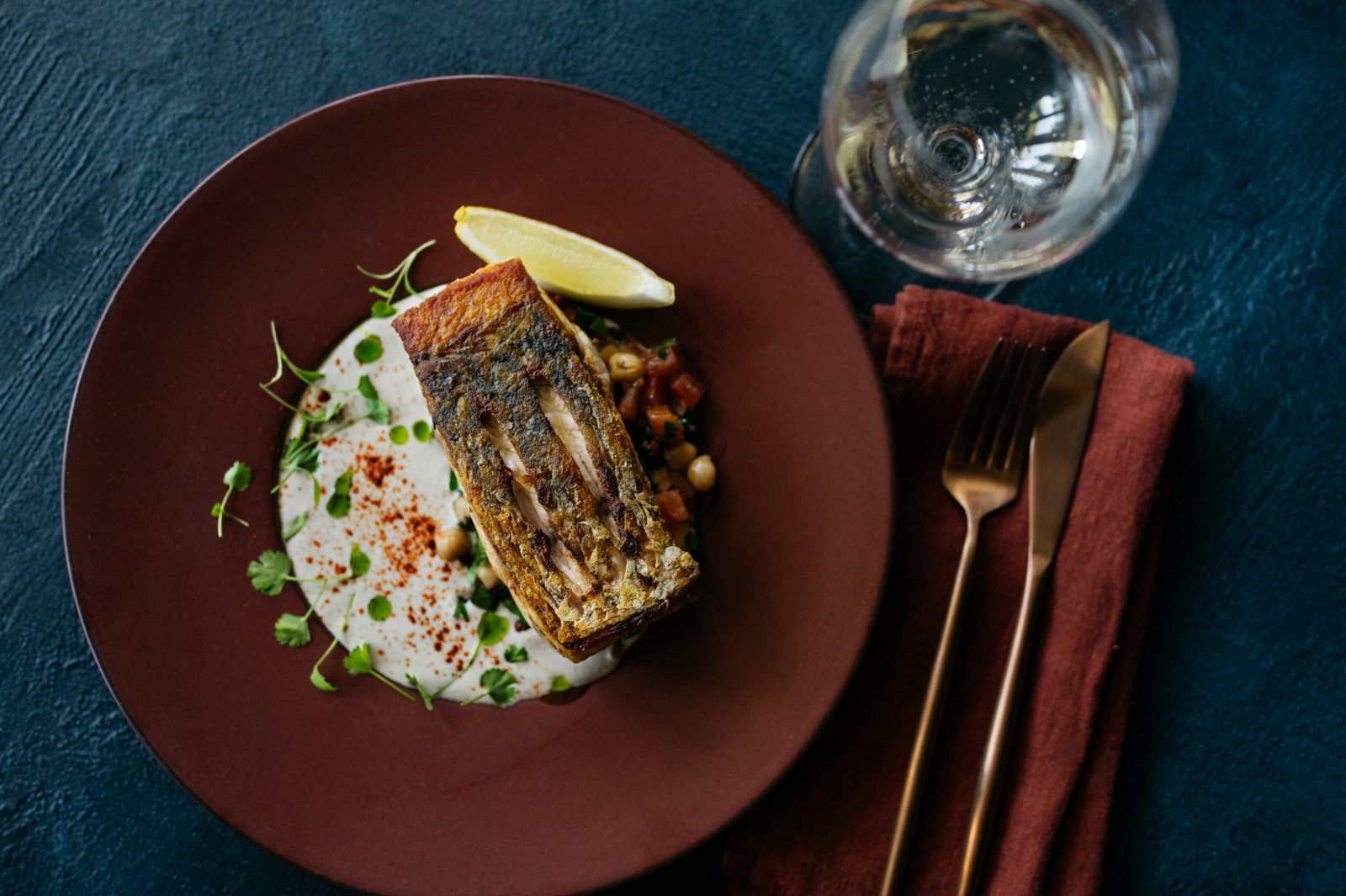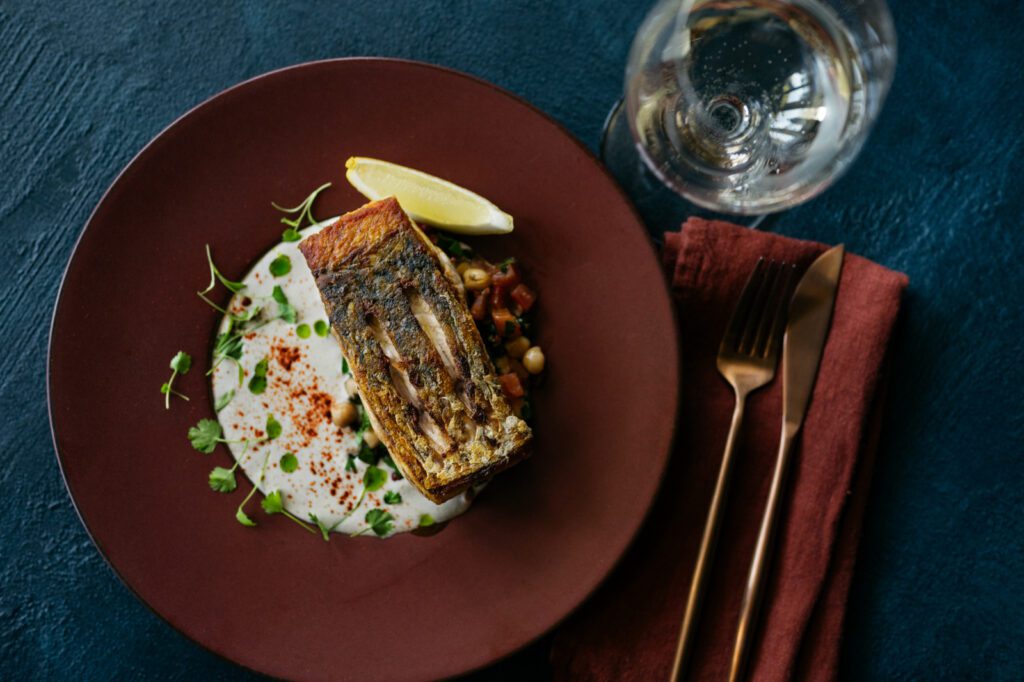 Fish and seafood are a deceptively complex category for food and wine pairing. Whilst many rightfully gravitate towards white wines for this food group, if you opt for a fish richer in taste, like a fresh piece of salmon, certain reds can also complement these stronger flavours.
As you know, when pairing your food and wine, there are two routes you can take: a complementary pairing or a congruent pairing. A congruent pairing refers to a wine that will enhance the flavour of the dish you're consuming. This creates a harmonious balance by amplifying the shared flavour profiles of the food and wine. A complementary pairing, on the other hand, is a wine that will, as the name suggests, complement the flavour profile of your meal. Rather than sharing flavours, the flavours in each are balanced by the contrasting elements in the food and wine.
An excellent example of a congruent wine pairing for a fresh slice of salmon would be a tipple of Sémillon, a richer white to enhance the richness of the fish. Whilst a prime example of a complementary wine pairing for prawns would be a sweeter wine like an off-dry riesling, or even a sparkling wine like prosecco.
One of our recommendations for a perfect seafood pairing at The Meat & Wine Co would be our Salmon with fermented chilli, miso, sesame, soy, scallions, ginger and garlic, paired with a 2017 John Duval 'Plexus' Marsanne Barossa Valley Viognier Roussanne, so book now to try it.
What Wine Pairs With Salmon?
So, what wine pairs with salmon? Well, salmon is one of those cheeky bites that pairs wonderfully with red whilst also tasting delightful with a glass of white (you just have to ensure you get a wine with the right amount of body). A piece of salmon has a unique richness to it, making it perfect for a full-bodied white like our 2019 Tarrawarra Estate Yarra Valley Chardonnay. But, if you find yourself having a preference for red, you're also in luck. Salmon pairs perfectly with a lighter red like a glass of Pinot Noir; our 2018 Craggy Range Te Muna Road Martinborough Pinot Noir is especially delightful.
What Wine Pairs With Sea Bass?
Sea Bass is perfect for those looking for a fish that isn't overtly 'fishy' in flavour. It has a mild, almost sweet taste to it whilst still having a high-fat content and a meat-like texture; it truly is a delicious bite. So, which wine should accompany it? Due to the lighter flavour of the fish, a softer, crisp wine would pair especially well, something like a dry rosé. Our 2021 West Cape Howe Mt Barker Rosé would be an adept choice for sea bass; with its fruit-forward flavours and dry finish, it's the ultimate pairing for sea bass.
What Wine Pairs With Swordfish?
Much like sea bass, swordfish doesn't have an overtly 'fishy' flavour, in fact, it's quite subtle, making it perfect for those looking to dip their toes into the seafood pool. Swordfish has a similar texture to tuna but with a much milder flavour, overall, it has a sweet taste to it. Swordfish taste delightful with a full-bodied white, its most common partner is a chardonnay; a good glass should draw out the best flavours of the fish for a delicious bite. Alternatively, swordfish is another example of fish that pairs wonderfully with a red. Though much like salmon, it is best to stick with lighter glasses like Pinot Noir, as a full-bodied red may overpower the subtle flavours of the fish.
2. Chicken & Wine Pairings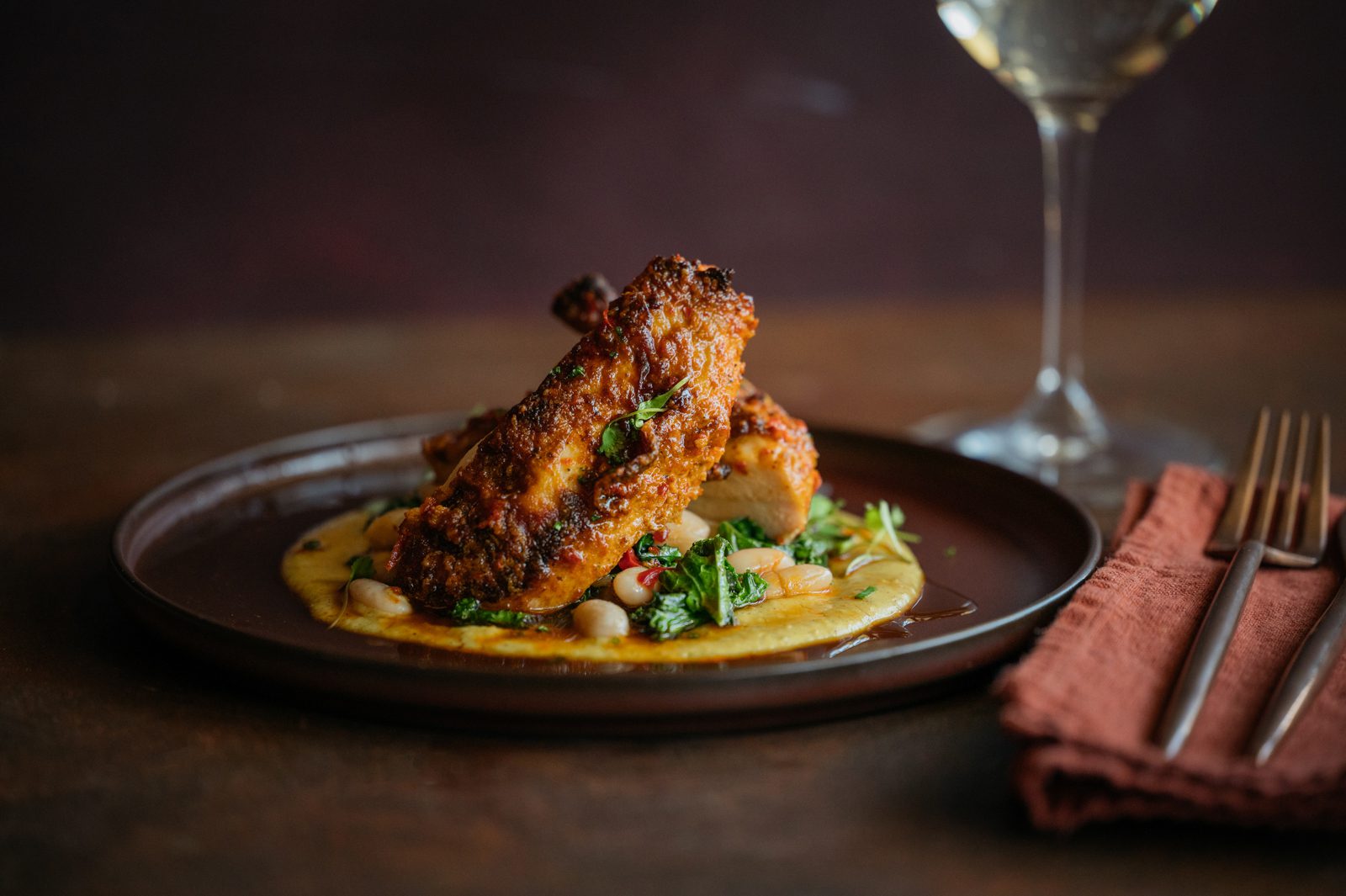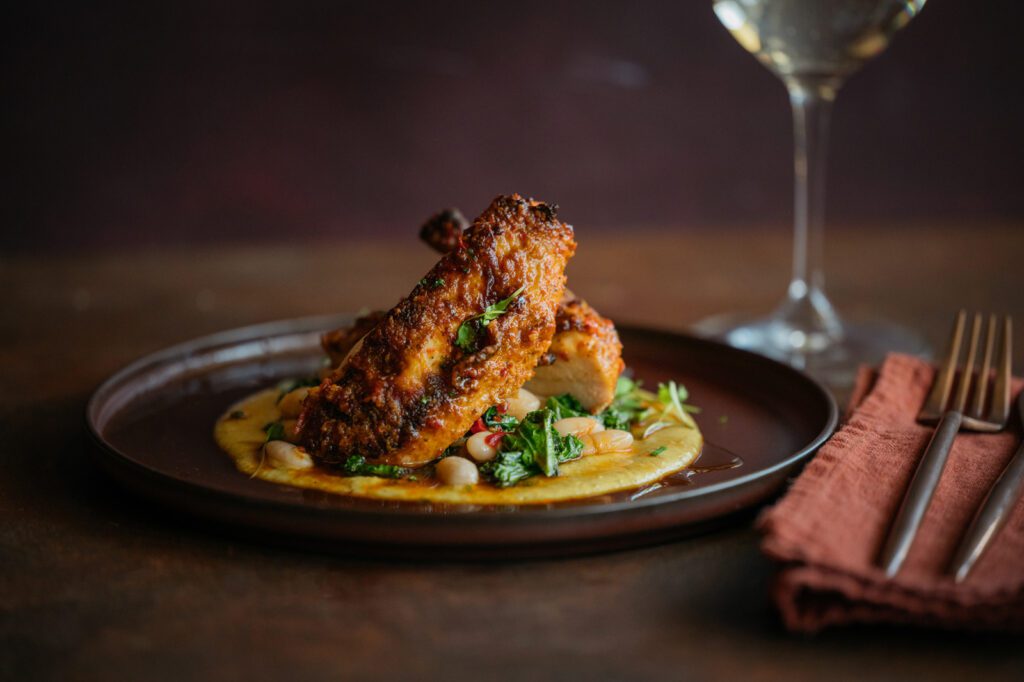 White meat such as chicken or turkey breast tends to pair well with white wines like Sauvignon Blanc or Chardonnay, while dark meat such as duck matches nicely with medium-bodied red wines such as Pinot Noir or Cabernet Sauvignon. However, the sauce and ingredients used in any poultry dish can greatly affect the final flavour, so it's best to choose a pairing based on the specific dish. Generally, lighter dishes pair well with whites, while bolder dishes pair best with reds.
At The Meat & Wine Co, we pride ourselves on the art of pairing divine wine with delectable food; as such, we recommend the marinated chicken breast with burnt corn purée, kale, white bean and veal jus, paired with 2017 Vasse Felix 'Premier' Chardonnay.
What Wine Pairs With Chicken?
Chicken is another one of those delicious meats that pair just as well with red wine as it does with white. However, it is dependent on how the chicken is prepared. A creamy chicken dish tastes delightful with a glass of Pinot Grigio. Whilst a delicious roast chicken is wonderful when paired with a Pinot Noir.
What Wine Pairs With Duck?
What wine pairs with duck? As it is darker meat, you may find yourself thinking it would pair well with darker red wine, which is a natural assumption to make. But would you be surprised to hear that duck tastes incredible when paired with a slightly sweeter wine like a Riesling? It also pairs well with Champagne. If you pair the sweeter Champagne with a sweeter dish, it can overwhelm the palate, but with the more subtle, earthy flavours of duck, it is a match made in heaven.
3. Red Meat & Wine Pairings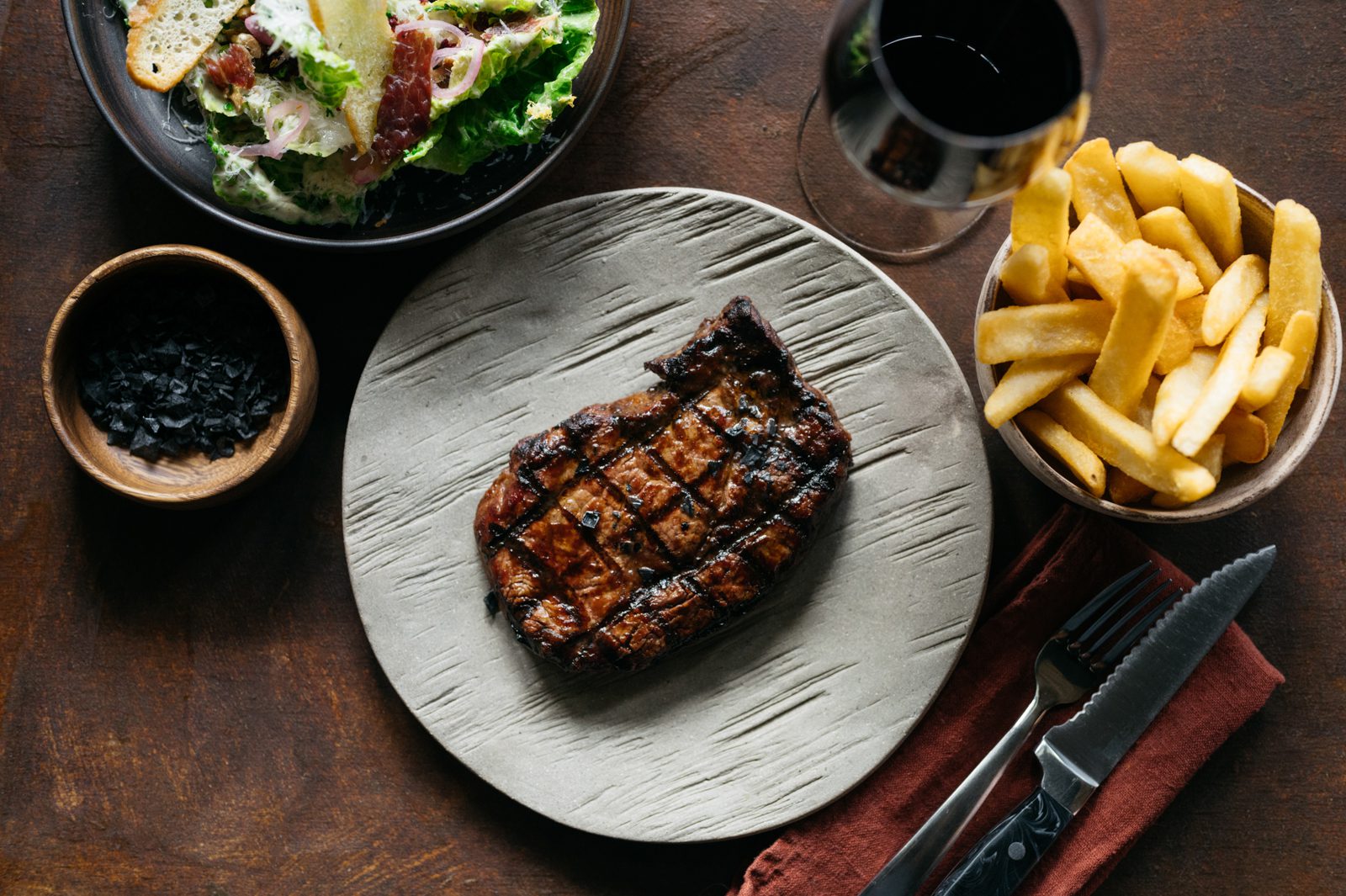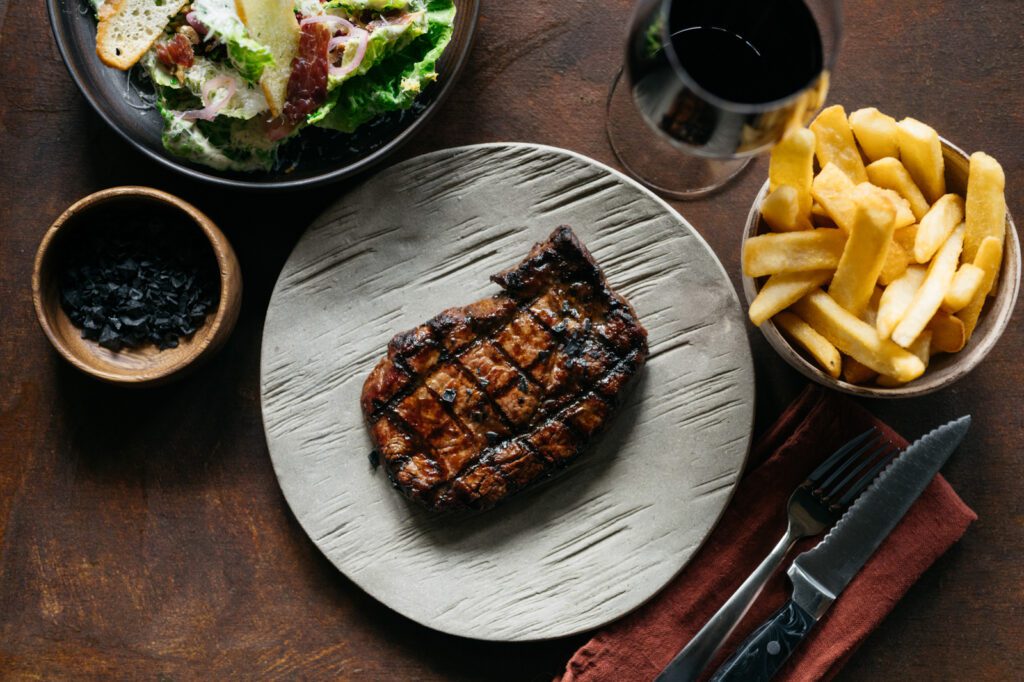 Although technically white meat, pork tends to be quite rich, and as such, is another one of those lucky bites that happen to pair well with both white and red wines. As with poultry and other types of meat, the dish itself will dictate the best wine pairing, much like how chicken will favour a particular wine type depending on how it is prepared. But, if you're looking to play it safe, as a general rule, pork is best paired with medium-bodied and light wines with a fruity flavour profile and a low tannin count.
A pairing that we highly recommend you try when you join us next at The Meat & Wine Co is our chilli glazed pork belly with cabbage slaw and Japanese sesame dressing, paired with a 2018 Pewsey Vale Prima (off-dry) Eden Valley Riesling, or a 2013 Domaine Faiveley Gevrey Chambertin Burgundy.
What Wine Pairs Well With Beef Steak?
Steak is one of those foods that taste as if they were designed to be eaten with wine. As delicious as it is on its own, the flavours are amplified when paired with a delicious red. Whilst we've discussed many foods that's flavour profile matches that of a light red, a steak pairs with a more full-bodied tipple like a Cabernet Sauvignon. For a steak that has a little more fat to it, such as a rib-eye, Shiraz is the natural first choice. The Shiraz balances out the rich, marbled fat of the rib-eye and creates a deliciously indulgent meal.
Learn More: Wine Pairings For Steak
What Wine Pairs Well With Lamb?
A sip of red is the natural companion to a cut of lamb. However, the way the lamb is cooked will determine the exact type. A soft pink lamb cutlet pairs beautifully with a lighter Pinot Noir or Rosé. However, a delicious, slow-roasted lamb shoulder needs something a little heavier to create a balance, so we recommend our 2016 Kilikanoon 'Prodigal' Grenache from the Barossa Valley.
What Wine Pairs Well With Pork?
Pork pairs well with rich whites or juicier reds. So when you're looking for something to accompany your pork belly, think of something like a crisp german Riesling if your preference is a white, or similarly, a lighter glass of a fruit-forward Pinot Noir if your preference is a red.
4. Cheese & Wine Pairings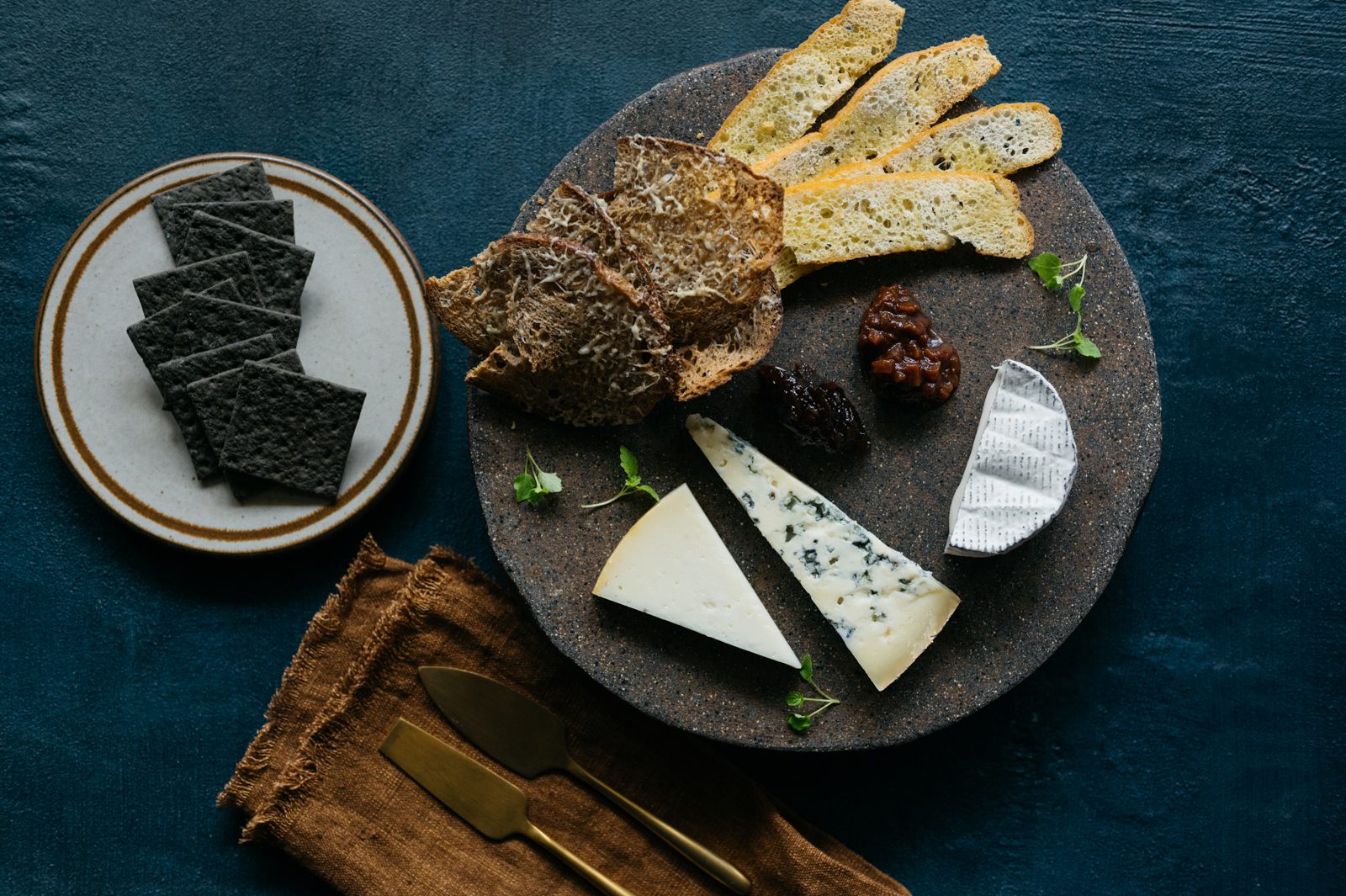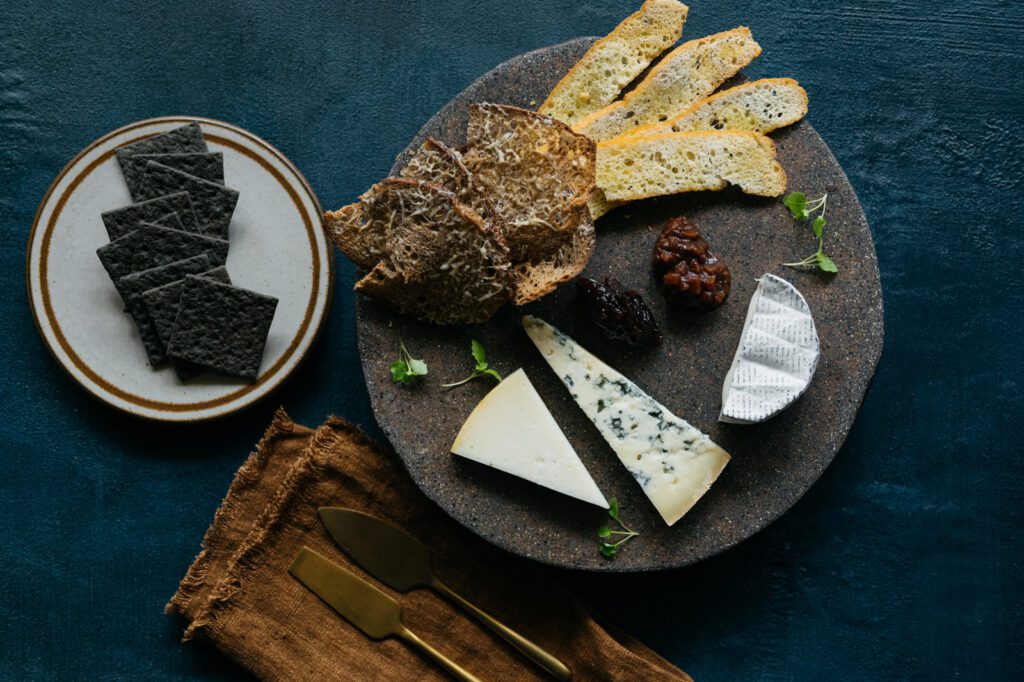 So, how do you pair wine and cheese? Although we know the two go together like yin and yang, there are actually many different cheeses, all of which have different corresponding wines. Champagne and Brie are a truly decadent pairing, a match made in heaven. Whilst something sweeter like a Riesling is ideal for a heavier, creamy form of cheese, such as a Raclette. To find your pairing, follow the complementary or congruent principle. You either want a wine to enhance your cheese through a similar flavour profile or balance it out with an opposing one.
Learn More: Wine Pairings For Cheese
If you're looking for a decadent meal with its perfect wine pairing, chosen for you by expert staff, then look no further than Meat & Wine Co. When you dine with us you can look forward to a meal that promises rich flavours, high-quality wine and stellar service. Book a table now to try it for yourself.