Use our handy contents menu to quickly jump to a menu section of interest.
Looking for the wine? Please view our wine list here.
Rose and Lychee Spritz

15

Skyy Vodka, Rose and Lychee Syrup, Prosecco

Aperol, Sagatiba Cachaca, Lime, Sugar, Bitters, Emulsifier

Skyy Vodka, Aperol, Pineapple Juice, Lime Juice, Passionfruit and Agave Syrup

Frangelico, Yuzu Syrup, Lime, Sugar

Cinzano 1757 Bianco Vermouth, Bulldog Gin, Lemon Juice, Sugar, Raspberries

Bacardi White Rum, Blood Orange, Lime, Sugar

Baron Samedi Spiced Rum, Campari, Pineapple Juice, Fresh Lime

Espolon Tequila Blanco, Fresh Lime, Agave Syrup, Chilli flakes

Averna, Skyy Vodka, Lemon Juice, Sugar

Hennessy VS Cognac, Coffee Liqueur, Fresh Espresso
Mint, Lime, Blood Orange, Orange Bitters, Soda

Orange, Pineapple, Apple Juices, Orange Bitters, Orgeat, Cinnamon

Apple Juice, Passionfruit, Lychee Syrup, Soda with Lychee
Furphy's Refreshing Ale - VIC

9

Stella Artois - Belgium

9

Byron Bay Premium Lager - NSW

9

James Squire 'The Swindler' Tropical Pale Ale - NSW

10

Coopers Green Pale Ale - SA

9

James Squire '150 Lashes' Pale Ale - NSW

10

Little Creatures XPA - WA

10

4 Pines American Amber Ale - NSW

10

Heineken 3 - mid strength - Netherlands

8

James Boag's Light - TAS

7

James Squire Orchard Crush Apple - NSW

10
The Glenmorangie Whisky Experience

26

These Glenmorangie Whiskies have been aged for 10 years in ex-bourbon barrels. Three have then been aged for a further 2 years for an exploration into different barrel finishes:
Glenmorangie 10YO
Glenmorangie Nectar D'or
Glenmorangie Quinta Ruban
Glenmorangie Lasanta

The Ardbeg Whisky Experience

32

For those adventurous types who love the unyielding smoky and peaty flavours of Single Malt Islay Whisky:
Ardbeg 10YO
Ardbeg Corryvreckan
Ardbeg Uigeadail
Ardbeg Limited Release

The Russell's Reserve Experience

26

For those who enjoy the sweet and smooth tones of Bourbon:
Russell's Reserve 10YO
Bond and Lillard
Old Ripy
Russell's Reserve Single Barrel

The Hennessy Experience

38

Stunningly crafted Cognac:
Hennessy VS
Hennessy VSOP
Hennessy XO
Jose Cuervo Especiale Reposado

10
Whisky: Scotch / Bourbon / Canadian
Russell's Reserve 10YO

12

Russell's Reserve Single Barrel

15

Glenmorangie Nectar D'or

16

Glenmorangie Quinta Ruban

16

Ardbeg 'Limited Edition'

17
Digestifs and Liqueurs - $9
| | |
| --- | --- |
| Averna | Jagermeister |
| Amarula | Kahlua |
| Aperol | Licor 43 |
| Baileys | Limoncello |
| Campari | Malibu Mozart Chocolate |
| Chambord | Noilly Prat |
| Cinzano Rosso | Opal Bianca White Sambuca |
| Cinzano Bianco | Opal Nera Black Sambuca Ouzo |
| Apple Schnapps | Paraiso Lychee |
| Peach Schnapps | Pavan Orange Blossom |
| Butterscotch Schnapps | Pimms |
| Disaronno Amaretto | Suntory Midori |
| Frangelico | Suntory Blue |
| Galliano Vanilla | Suntory Strawberry |
| Grappa | - |
Coke, Coke No Sugar, Diet Coke, Sprite, Fanta, Lift, Dry Ginger Ale, Tonic Water, Soda Water, Red Bull

Orange, Apple, Pineapple, Cranberry, Tomato

San Pellegrino Sparkling Mineral Water 750ml, Acqua Panna Still Mineral Water 750ml
Espresso, Flat White, Latte, Cappuccino, Macchiato, Long Black, Hot Chocolate, Chai Latte

English Breakfast, Earl Grey, Green, Peppermint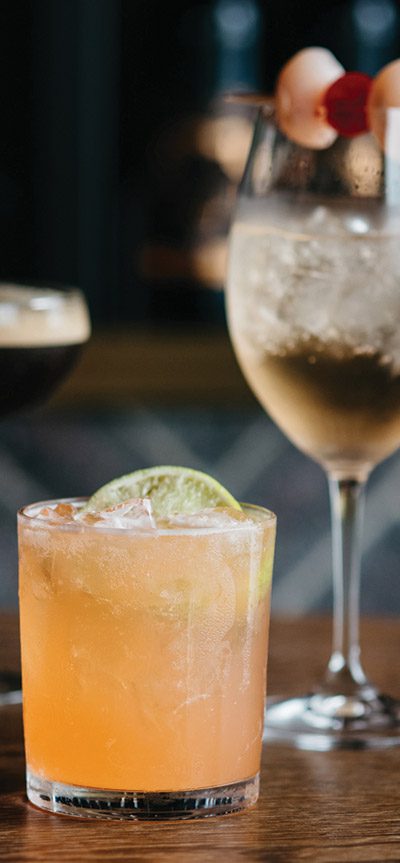 Please note: We endeavor to always have all beverages listed available for our customers. Some are rare and we do apologise for any inconvenience caused if we are unable to supply your selected product.