A curated cocktails list to suit every palate
Popping in for an after-work drink, a pre-dinner aperitif or a special event? Our specially- selected cocktail menu is tailored to suit a range of tastes. Maybe you're after a stiff drink made with a fine bourbon. Perhaps you're in the mood for a sweet rum-based tiki drink. Or maybe you've got an old favourite like a classic margarita, mojito or martini. Whatever takes your fancy, our talented bar staff can whip up a cocktail exactly to your liking.
Choose from our cocktail menu list below, or let your server know what you have in mind and we'll get to work!
Rose and Lychee Spritz

17

Skyy Vodka, Rose and Lychee Syrup, Prosecco

Campari, Aperol, Grapefruit Juice, Orange Bitters, Egg White

Bulldog Gin, Elderflower Syrup, Mint, Lemon, Prosecco

Skyy Vodka, Aperol, Pineapple Juice, Lime Juice, Passionfruit, Agave Syrup

Skyy Vodka, Cointreau, Fresh Strawberries, Lemon, Vanilla Syrup

Bulldog Gin, Campari, Watermelon, Mint, Sugar, Lemon, Soda

Red Wine, Cognac, Cointreau, Cranberry Juice, Lemon Juice, served over Strawberry Popping Pearls

Cinzano 1757 Bianco Vermouth, Bulldog Gin, Lemon Juice, Sugar, Raspberries

Bacardi White Rum, Pavan Orange Blossom Liqueur, Lime, Sugar

Patron Silver, Fever-Tree Grapefruit, Fresh Lime

Espolon Tequila Blanco, Fresh Lime, Passionfruit, Coco Lopez, Agave Syrup

Averna, Skyy Vodka, Lemon Juice, Sugar

Hennessy VS Cognac, Coffee Liqueur, Fresh Espresso
Passionfruit Caprioska

20

Skyy Vodka, Lime, Passionfruit, Sugar

Bacardi White Rum, Malibu Rum, Pineapple Juice, Coconut Cream

Bacardi White Rum, Mint, Lime, Sugar

Skyy Vodka, Cointreau, Cranberry Juice, Lime

Disaronno Amaretto, Lemon, Sugar

J&B Rare Whisky, Lemon, Sugar

Bombay Sapphire Gin, Noilly Prat

Belvedere Vodka, Noilly Prat

Bulldog Gin, Skyy Vodka, Espolon Blanco Tequila, Bacardi White Rum, Cointreau topped with Coke

Bulldog Gin, Campari, Cinzano 1757 Rosso Vermouth

Jack Daniels, Bitters, Sugar
Created using the impossibly crafted range of Lyre's Non Alcoholic Spirits, we are challenging the concept that great cocktails must be made with liquor. Try one for yourself today!
Lyre's White Cane, Mint, Lime, Orange Bitters, Soda

Lyre's White Cane, Apple Juice, Passionfruit, Lychee Syrup, Soda with Lychee

Lyre's Italian Orange, Lyre's Non Alcoholic Prosecco, Soda Water

Lyre's Spiced Cane, Fresh Lime, Vanilla Syrup, Fever-Tree Ginger Beer

Lyre's Agave Reserva, Agave Syrup, Lime Juice

Salted Caramel Espresso Martini

16

Lyre's Spiced Cane, Lyre's Coffee Originale, Espresso, Salted Caramel Syrup

Lyre's Amaretti, Lemon Juice, Sugar, Aromatic Bitters

Lyre's Dark Cane, Lyre's White Cane, Lyre's Orange Sec, Lime Juice, Orgeat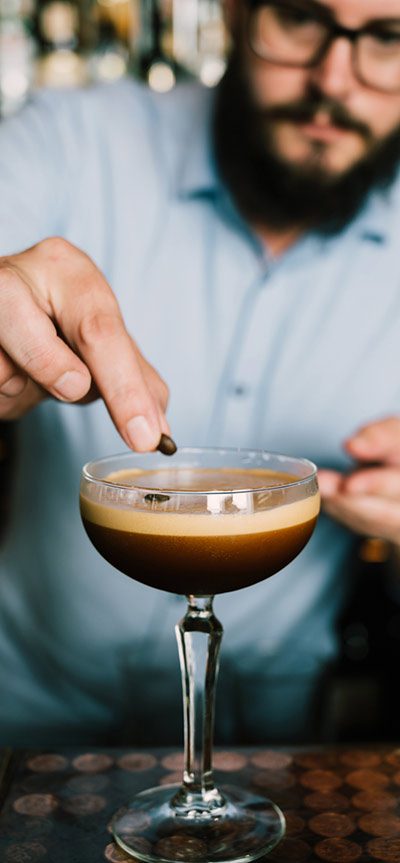 Which cocktail should I order?
Not sure which cocktail to choose during your next visit to The Meat & Wine Co? Try these:
A modern twist on the classic margarita, our Some Like it Hot cocktail blends Espolon Tequila Blanco with fresh lime, agave syrup and a hint of chilli flakes for a drink that offers the perfect balance of sweetness, sourness and spice.
Beat the heat with a refreshing rose and lychee spritz made with Skyy Vodka, rose and lychee syrup and prosecco, or try Mediterranean favourite the Sicilian Iced Tea, a blend of Averna Italian liqueur, Skyy Vodka, lemon juice and sugar.
In the mood for a liquid dessert? Why not try our signature Banana Maple Old Fashioned with Russells Reserve aged bourbon, banana and maple syrup and chocolate bitters? Alternatively, forgo the alcohol altogether with our popular mocktail the Pineapple Express, made with a range of fresh juices, almond syrup and a hint of cinnamon.

In the mood for something different?
Alongside our cocktail list, we offer a hand-picked selection of wines, beers, ciders and spirits. So, whatever your libation of choice may be, you're sure to find something to suit your taste on our beverages menu.