Flash pickled scallops, pickle brine, chilli, creme fraiche, lemon oil, pancetta crumb & soft herbs

Shorthorn fillet steak, Parmesan crisps, porcini salt, wild rocket & fresh horseradish

Finely diced Wagyu fillet, smoked yolk, pickled cucumber, mustard & toasted crostini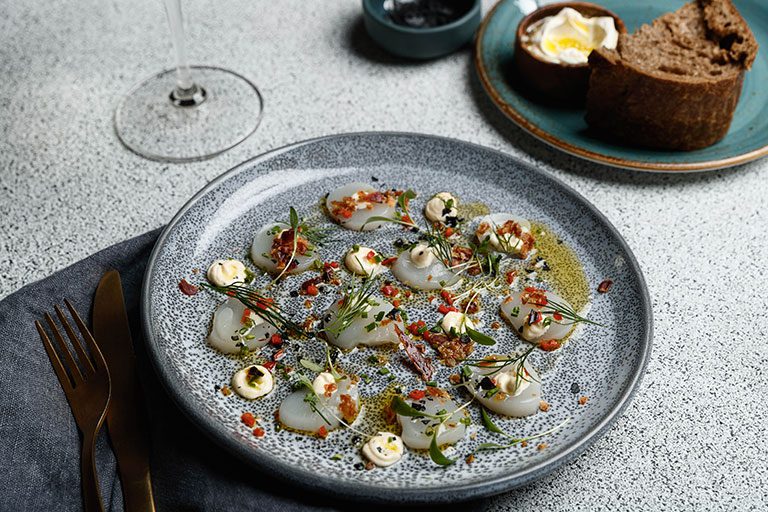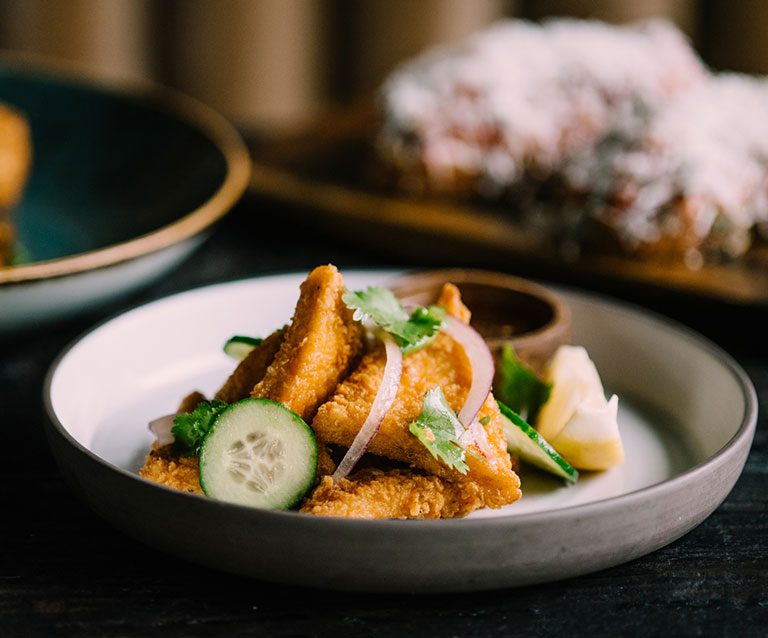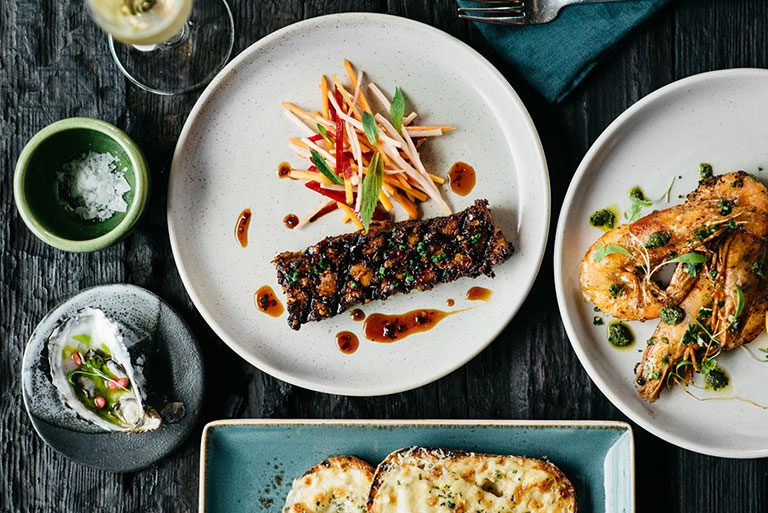 Miche sourdough, cultured butter & extra virgin olive oil. Served warm

Toasted buttermilk buns, garlic butter, Parmesan and garlic crisps

Roma tomato, avocado, shallots, garlic oil, basil and Parmesan

Traditional South African beef sausages with coriander & cumin, served with sweet & sour capsicum and salsa verde

Portuguese marinated prawns, barley, tomato & coriander salsa

Chilli Glazed Pork Belly

17

Sticky chilli glazed pork belly with shaved cabbage slaw

Lightly fried calamari, cucumber, onion, lemon and nam jim sauce

Tasting Plate (serves 3-5)

55

Szechuan Calamari, Pork Belly, Bruschetta, Boerewors
Served with your choice of crunchy chips or farm salad.
Traditional South African beef sausages with coriander & cumin, served with sweet & sour capsicum and salsa verde

New Yorker cuts grilled to your liking with our signature basting

Fermented chilli, miso, sesame, soy, spring onion, ginger and garlic

Peri peri spiced chicken thighs with lemon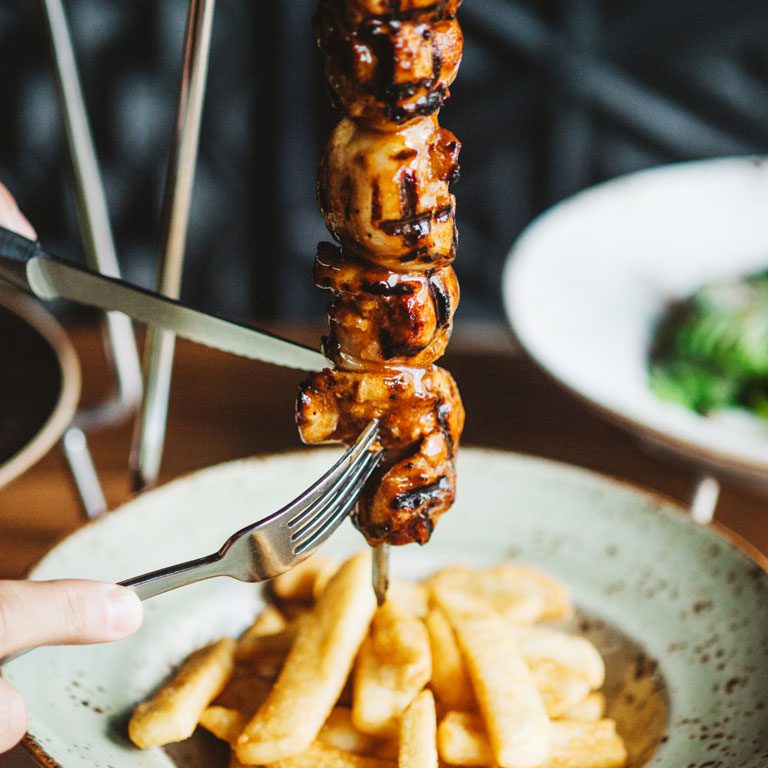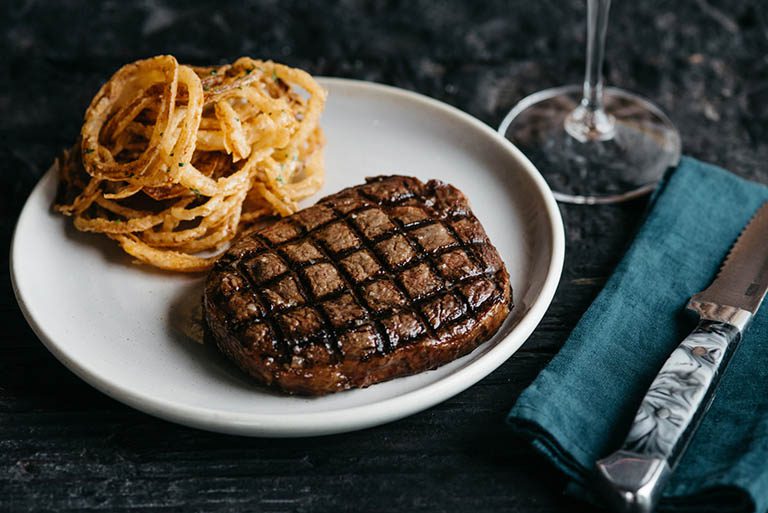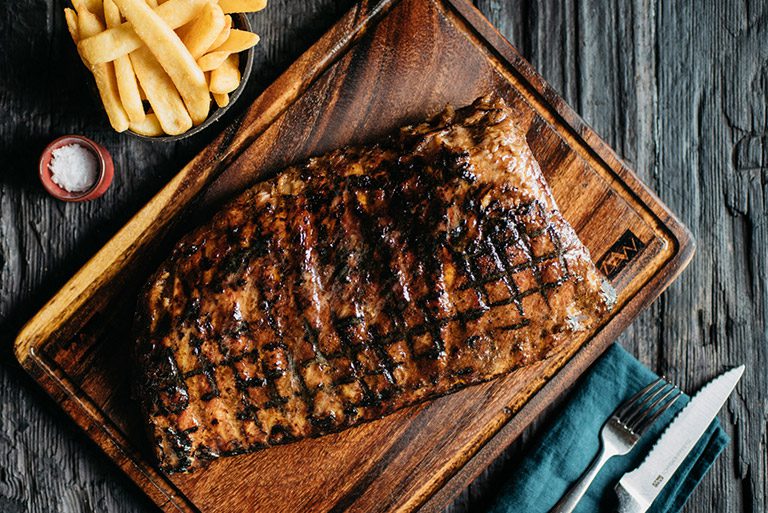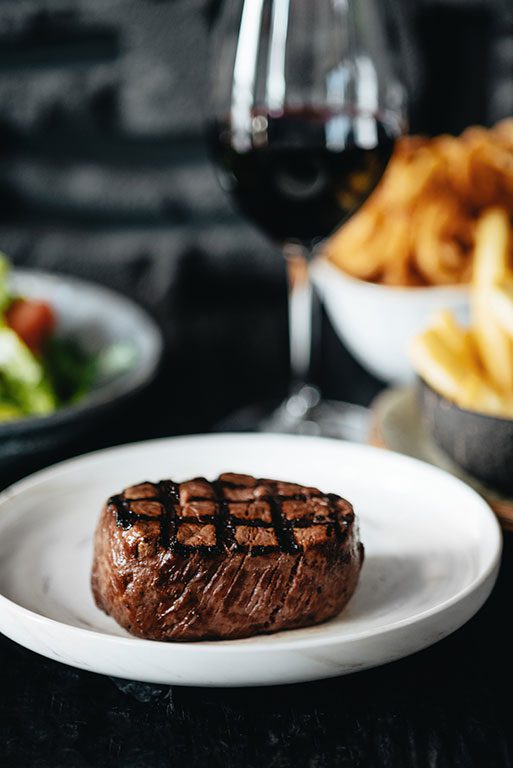 Steaks - From The Paddock
Monte is the premium line of beef exclusively sourced for The Meat & Wine Co. Grilled to your liking with our unique basting and served with crunchy chips or farm salad.
New Yorker (MB2+) 350g

49
Wagyu Rib-Eye (MB6+) 300g

86

Wagyu Rump (MB 6+) 500g

55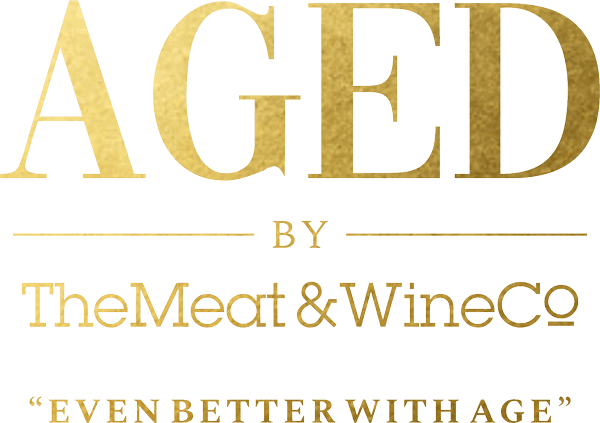 Exclusive AGED program and speciality cuts. Please ask your waiter today.
| | |
| --- | --- |
| Blue: | Sealed, very red in the centre. Room temperature |
| Rare: | Red in the centre. Lukewarm temperature |
| Medium-Rare: | Pinkish-red in the centre. Warm temperature |
| Medium: | Pink in the centre. Hot temperature |
| Medium-Well: | Very little pink in the centre. Hot temperature |
| Well-Done: | No pink, brown in the centre. Hot temperature |
 Slow-cooked and finished on a flaming hot char-grill with our unique basting. Served with crunchy chips or farm salad.
Beef Ribs

Half 39 / Full 69

Pork Ribs

Half 39 / Full 65

A combination of Beef and Pork Ribs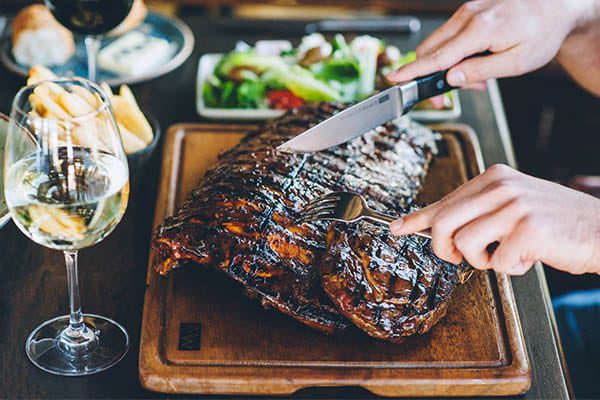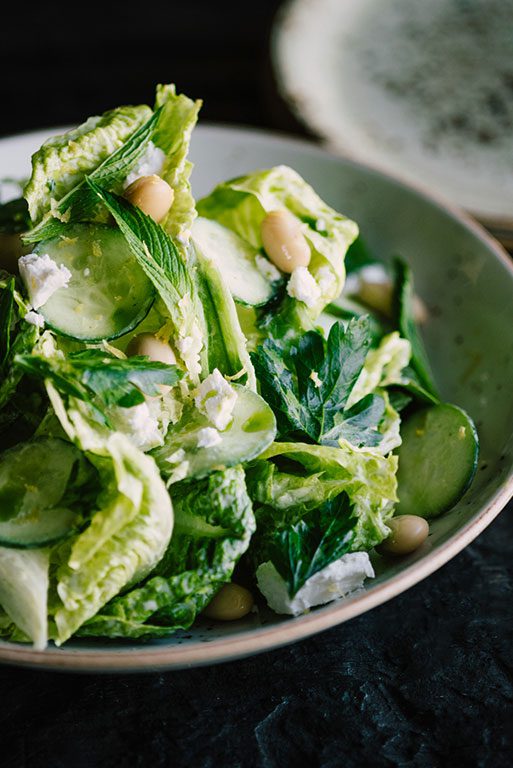 Tender broccolini, garlic butter and toasted almonds

Truffle Mac & Cheese (V)

15

Creamy truffle bechamel, cheddar, mozzarella and chives

Garlic creme fraiche, pancetta & chives

Heirloom tomatoes, raspberry vinaigrette, goats curd, chive, basil pesto, pine nuts

Cos, cucumber, tomato, marinated olives, crumbled feta & Greek dressing

Cos, cucumber, tomato and honey mustard dressing
Angus beef burger patty with caramelised onion, melted cheddar, secret burger sauce, crispy cos lettuce, tomato & our house-made onion rings

Pan fried Australian Barramundi fillet with steamed Mussels in white wine, chilli, garlic, tomato & olive sauce

Portuguese seasoned chicken breast, butternut squash puree, roasted mushrooms, crispy pancetta & red wine jus

250g marinated lamb rump with wagyu fat roasted potatoes, carrot puree, raspberry veal jus

Charred Broccolini Salad (V)

26

Whipped goats curd, pearl barley, raspberry vinaigrette, toasted pine nuts, Parmesan crisps & Basil pesto
Children 12 years & under.
Served with crunchy chips or garden salad

Grilled Chicken Tenders

12

Served with crunchy chips or garden salad

Cheesy macaroni pasta with bechamel sauce
New York style cheesecake, strawberry coulis, fresh summer berries & lemon balm

Chocolate & Hazelnut Fondant (V)

17

Classic in-house baked fondant with a melted white chocolate centre and hazelnut praline ice cream

Strawberry Crème Brûlée (V)

14

Creme brulee with baked shortbread biscuit, creme patisserie, strawberry jam & fresh strawberries

Boozy Banoffee Pie (V)

14

Spiced rum banana jam, dulce de leche, whipped banana cream, shaved chocolate, peanut ice cream & torched banana

Sticky date pudding (V)

13

Rich sticky sponge, date caramel, fior di latte ice cream and candied walnuts

The ultimate dessert platter including Chocolate & Hazelnut Fondant, Strawberry Crème Brûlée, Baked Cheesecake and Sticky Date Pudding
Espresso, vanilla bean ice cream and choice of liqueur: Baileys, Kahlua, Frangelico

Vanilla bean ice cream blended with one of the following: Jameson, Kahlua, Baileys, Frangelico

The Glenmorangie Whisky Experience

26

These Glenmorangie Whiskies have been aged for 10 years in ex-bourbon barrels. Three have then been aged for a further 2 years for an exploration into different barrel finishes:
Glenmorangie 10YO
Glenmorangie Nectar D'or
Glenmorangie Quinta Ruban
Glenmorangie Lasanta

The Ardbeg Whisky Experience

32

For those adventurous types who love the unyielding smoky and peaty flavours of Single Malt Islay Whisky:
Ardbeg 10YO
Ardbeg Corryvreckan
Ardbeg Uigeadail
Ardbeg Limited Release

The Russell's Reserve Experience

26

For those who enjoy the sweet and smooth tones of Bourbon:
Russell's Reserve 10YO
Bond and Lillard
Old Ripy
Russell's Reserve Single Barrel

The Hennessy Experience

28

Twin tasters of stunningly crafted Cognac:
Hennessy VS
Hennessy XO
Unique African-Inspired Steakhouse Menu
Carefully monitored from paddock to plate, our top-graded beef is grilled to perfection on the grill with our signature African-inspired basting. Choose from grass-fed or grain-fed premium beef in your preferred cut, or enjoy a beautifully marbled wagyu steak cooked to your liking. Pair with a quality Australian wine from our extensive wine list for the ideal lunch or dinner.
Our a la carte offering is also more than just a steak menu: we source world-class produce to bring you cutting-edge modern cuisine in Sydney, Melbourne and Perth. From the freshest seafood and tender slow-cooked ribs to vibrant seasonal salads and artisan cheeses from around the world, there's something to please every taste on our carefully curated a la carte menu.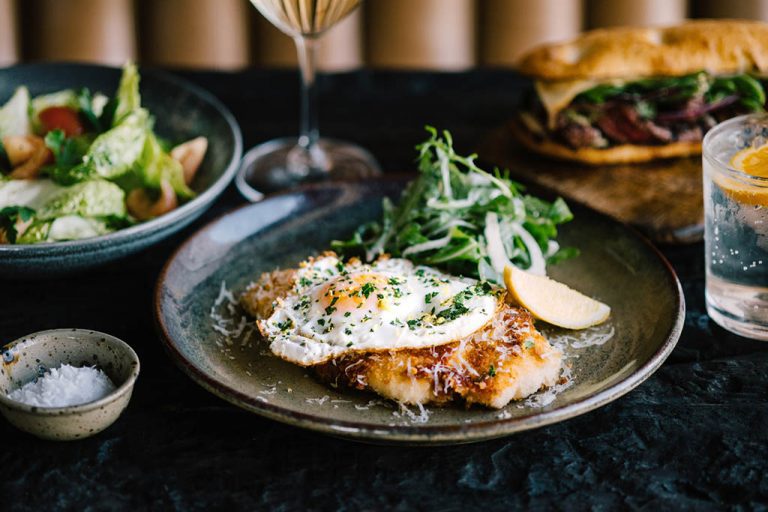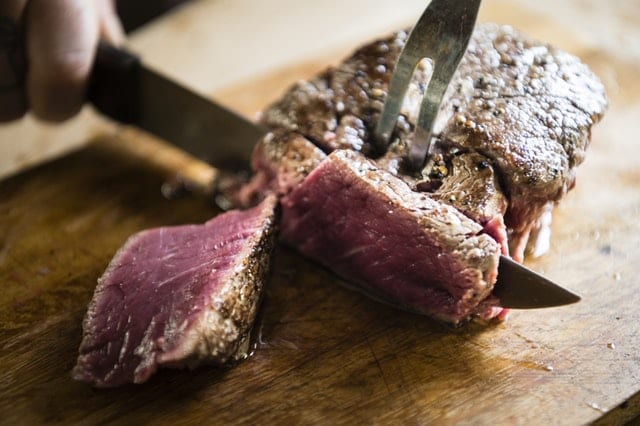 Monte Beef: Producing the Best Steak (in our humble opinion)
We may be biased, but we believe our exclusive line of Monte Beef produces some of the best steaks in the world. Closely monitored from farm to table, our premium beef is sourced solely for The Meat & Wine Co to ensure only the most top-graded produce is served up at each of our steak restaurants.
Like all good restaurants, our people form the cornerstone of our success. Our talented chefs are passionate about providing a superb dining experience to each one of our guests, working with top-quality ingredients to bring you the best steakhouse menu in Australia.
Please ask for our allergy menu. Every possible care has been taken to ensure that these menu items are allergy free, certain items may still contain traces of allergic ingredients as they are prepared in an environment that may contains allergic ingredients.
A selection of Monte Beef products are Halal certified from our supplier and precautions are taken in the cooking methods of our dishes, however our restaurant kitchen environment is not certified by the A.F.I.C. Please ask your waiter.
Sydney
$5 per person on Sundays and public holidays
Melbourne & Perth
$5 per person on public holidays