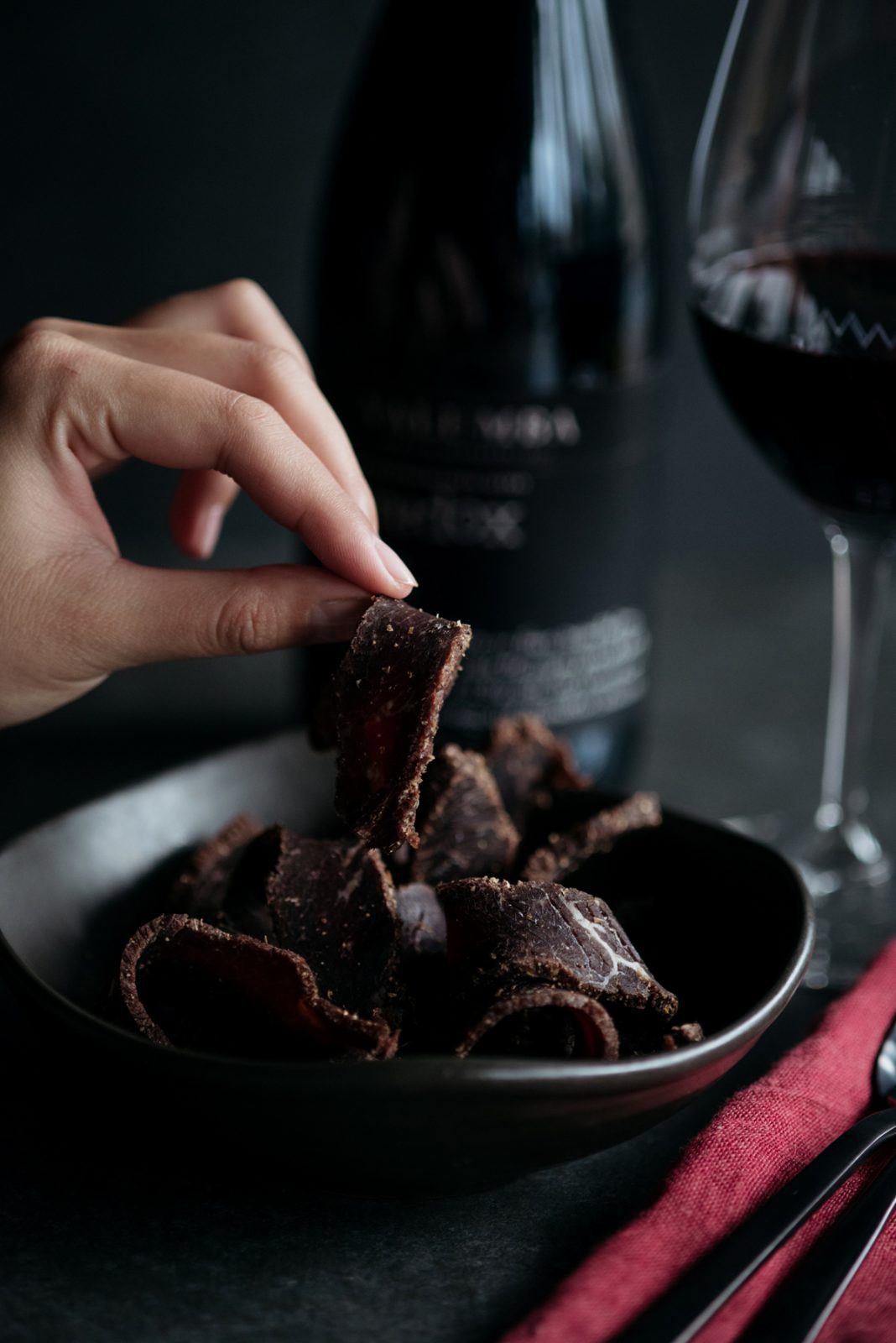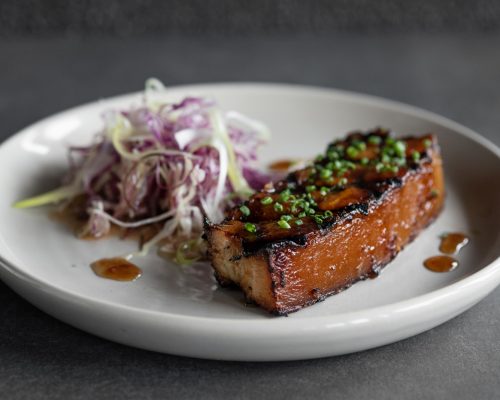 Miche sourdough, French cultured butter and extra virgin olive oil

Buttermilk buns, garlic butter, Parmesan and garlic crisps

Roma tomato, avocado, oregano, basil and Parmesan on sourdough

Traditional South African air dried beef, black pepper, coriander and malt vinegar

Wagyu Girello & dry-aged Rib-Eye, confit egg yolk, condiments, bone marrow & Parmesan miche crostini

South African beef sausages with coriander & cumin, chakalaka sauce, fresh coriander, maize pap & corn croquettes

Anchovy, caper butter, herb crumb, pea salsa and crispy pancetta

Peri peri marinated, Portuguese seasoned barley, tomato & coriander salsa

Sticky chilli glazed, cabbage slaw, Japanese sesame dressing

Lightly fried calamari, cucumber, onion, lemon and nam jim sauce

Tasting Plate (serves 3-5)

59

Szechuan Calamari, Bruschetta, Pork Belly and Boerewors
Served with crunchy chips or farm salad.
Lamb rump cuts marinated in house-made harissa with lemon

New Yorker cuts grilled to your liking with our signature basting

African chilli, miso, sesame, soy, spring onion, ginger and garlic

Peri peri spiced chicken thighs with lemon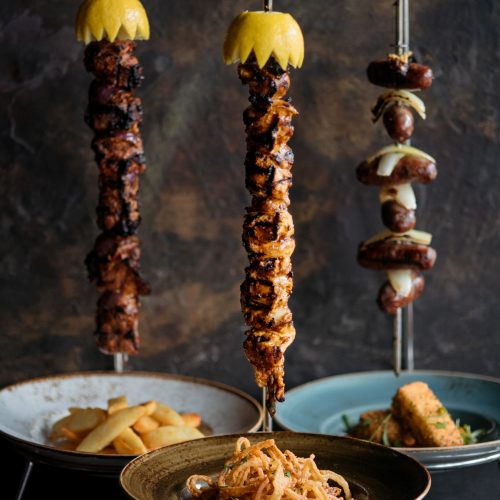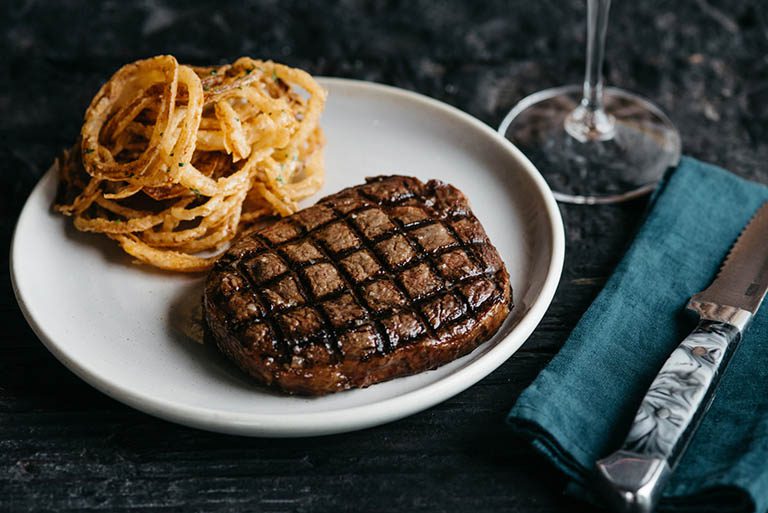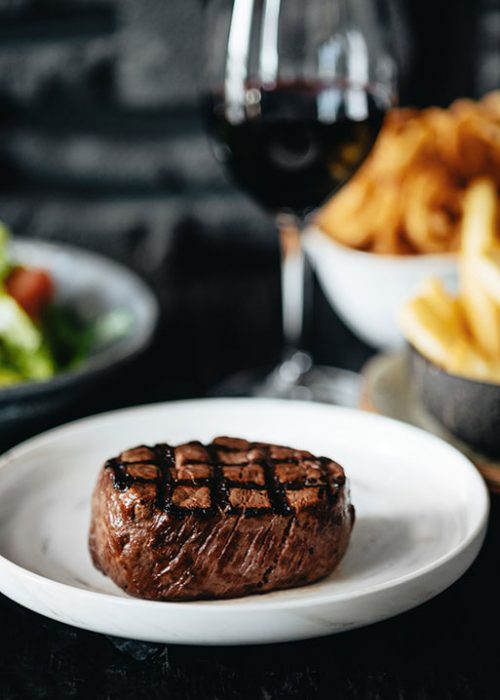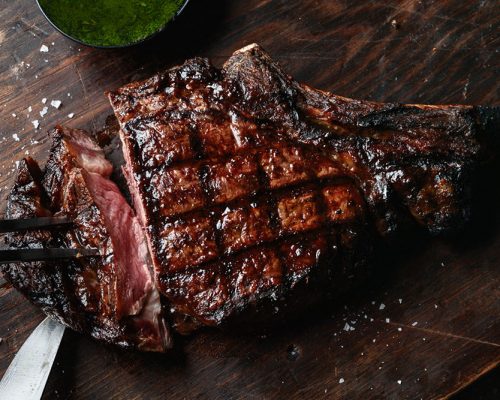 Monte is the premium line of beef exclusively sourced for The Meat & Wine Co. Grilled to perfection with our unique basting and served with crunchy chips or farm salad.
Shorthorn - Grain Fed 150D
Fillet (Marble Score 2+) 300g

64

New Yorker (Marble Score 2+) 330g

49

Rib-eye (Marble Score 2+) 330g

56
Wagyu Rib-Eye (Marble Score 6+) 300g

96

Wagyu Rump (Marble Score 6+) 500g

64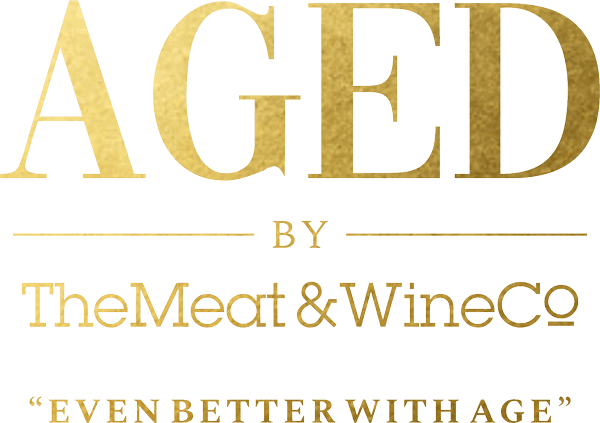 Exclusive AGED program and speciality cuts. Please ask your waiter today.
| | |
| --- | --- |
| Blue: | Sealed, very red in the centre. Room temperature |
| Rare: | Red in the centre. Lukewarm temperature |
| Medium-Rare: | Pinkish-red in the centre. Warm temperature |
| Medium: | Pink in the centre. Hot temperature |
| Medium-Well: | Very little pink in the centre. Hot temperature |
| Well-Done: | No pink, brown in the centre. Hot temperature |
Slow-cooked and finished on a flaming hot char-grill with our unique basting. Served with crunchy chips or farm salad.
Beef Ribs

Half 42 / Full 69

Pork Ribs

Half 42 / Full 65

A combination of Beef and Pork Ribs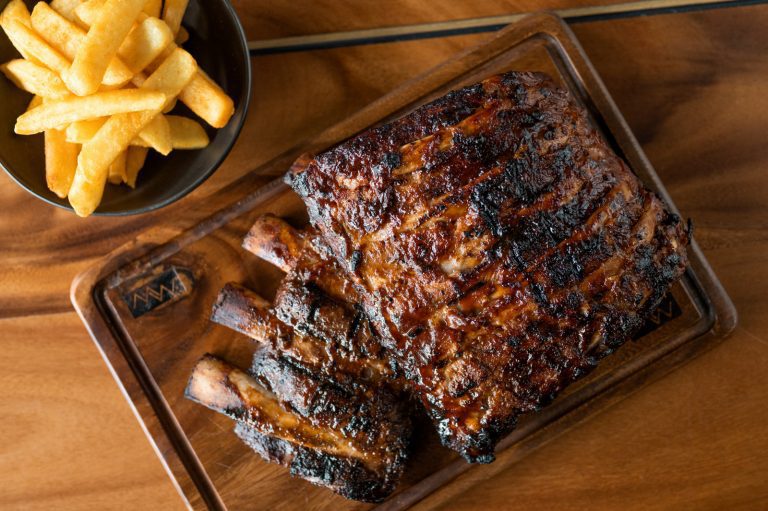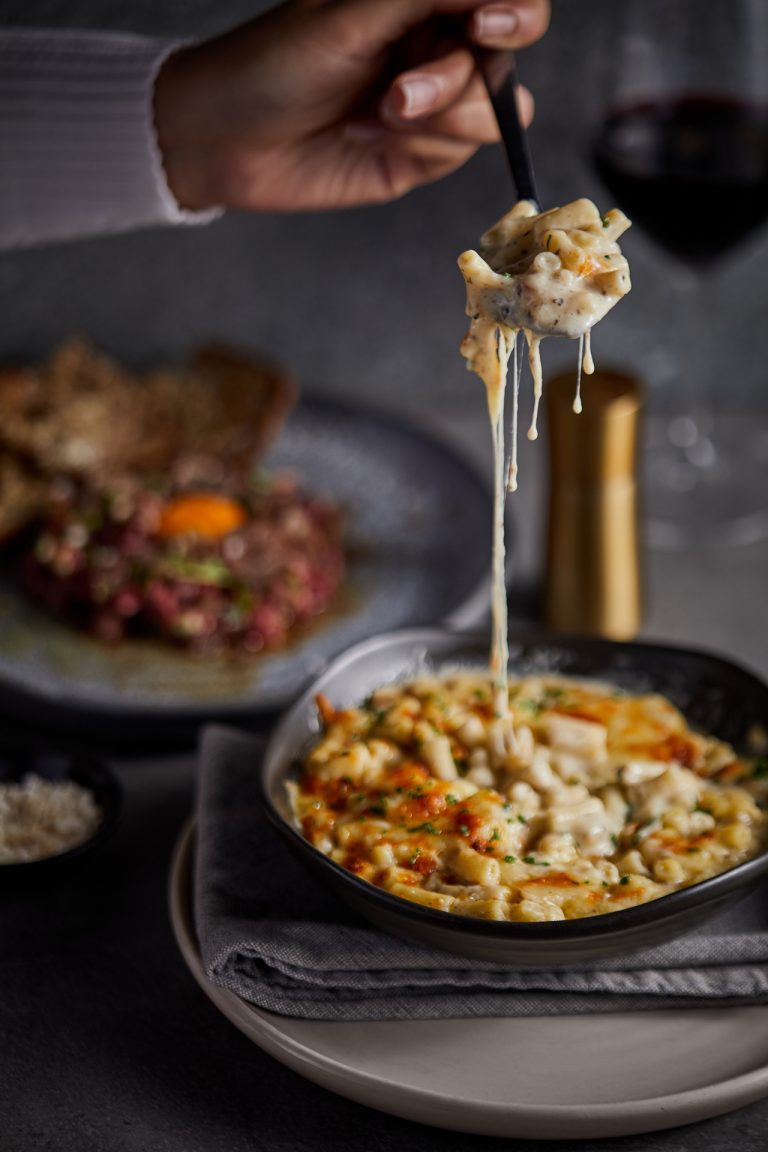 Garlic butter and toasted almonds

Four cheese Mac & Cheese (V)

15

Parmesan, Gruyère, cheddar and mozzarella cheese

Iceberg lettuce, ranch dressing, crispy Pancetta, blue cheese, tomato and crispy shallots

Heirloom Tomato Salad (V) (VG)

15

Goat curd, basil pesto, pine nuts and pickled shallots

Cos lettuce, cucumber, tomato, marinated olives, crumbled feta, red onion and Greek dressing

Bulgur Wheat Salad (V) (VG)

12

Coriander, parsley, kale, pomegranate, feta and chimichurri

Cos lettuce, cucumber, tomato and honey mustard dressing
Angus beef patty, cheddar, cos lettuce, tomato, burger sauce, onion rings. Served with crunchy chips or farm salad

Portuguese marinated, pumpkin puree, wild mushrooms, French lentils, crispy pancetta and veal jus

Flat iron steak, roasted heirloom tomatoes, rocket, Parmesan and chimichurri

Pan fried, cauliflower puree, roasted florets, almonds and seasonal herbs

Harissa Carrot & Freekeh Salad (V) (VG)

28

Whipped ricotta, mixed grain, pomegranate, feta, chimichurri and seasonal herbs
Children 12 years & under.
Served with crunchy chips or farm salad

Grilled Chicken Tenders

12

Served with crunchy chips or farm salad

Cheddar & mozzarella macaroni pasta with béchamel sauce

Served with crunchy chips or farm salad
Peppermint Crisp 'Tiramisu' (V)

16

Whipped mascarpone, chocolate soaked ladies fingers, chocolate & peppermint soil

Chocolate & Hazelnut Fondant (V)

17

Classic in-house baked fondant with a melted white chocolate centre and hazelnut praline ice cream

Ginger snap biscuit, whipped mascarpone and lemon balm

Sticky date pudding (V)

13

Rich sticky sponge, date caramel, fior di latte ice cream and candied walnuts

The ultimate dessert platter includes Chocolate & Hazelnut Fondant, Classic Crème Brûlée, Peppermint crisp 'Tiramisu' and Sticky Date Pudding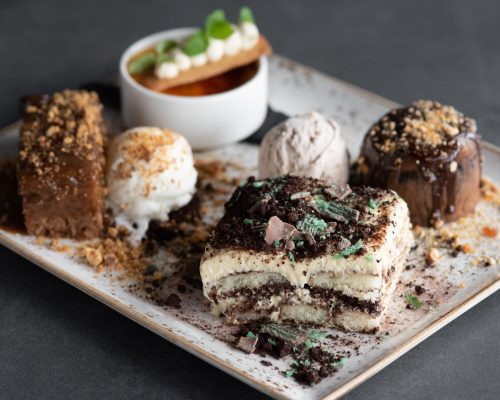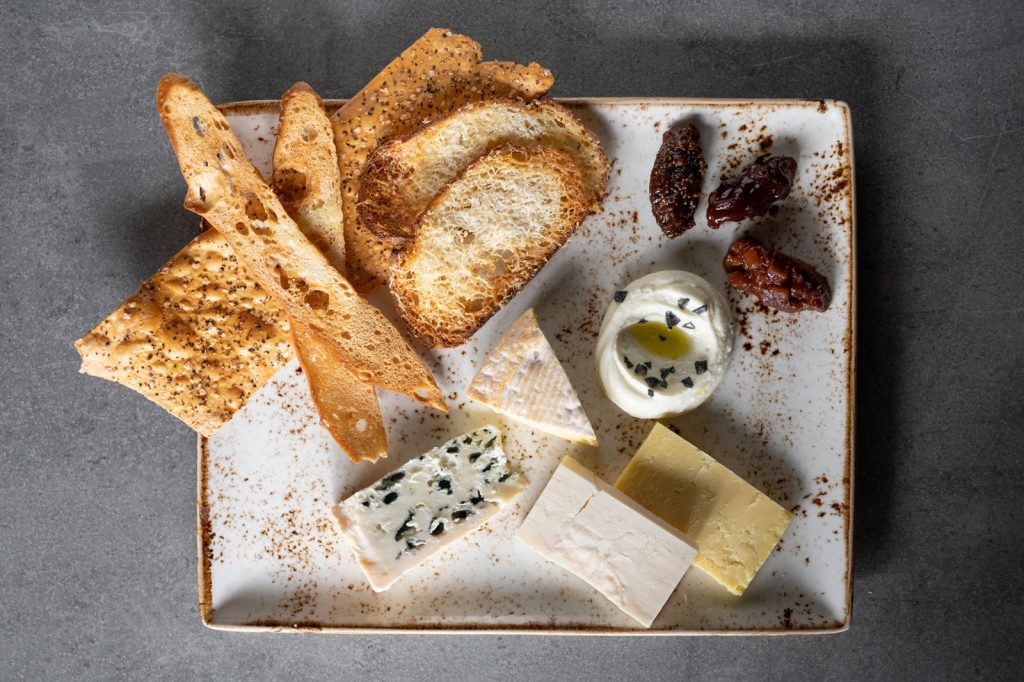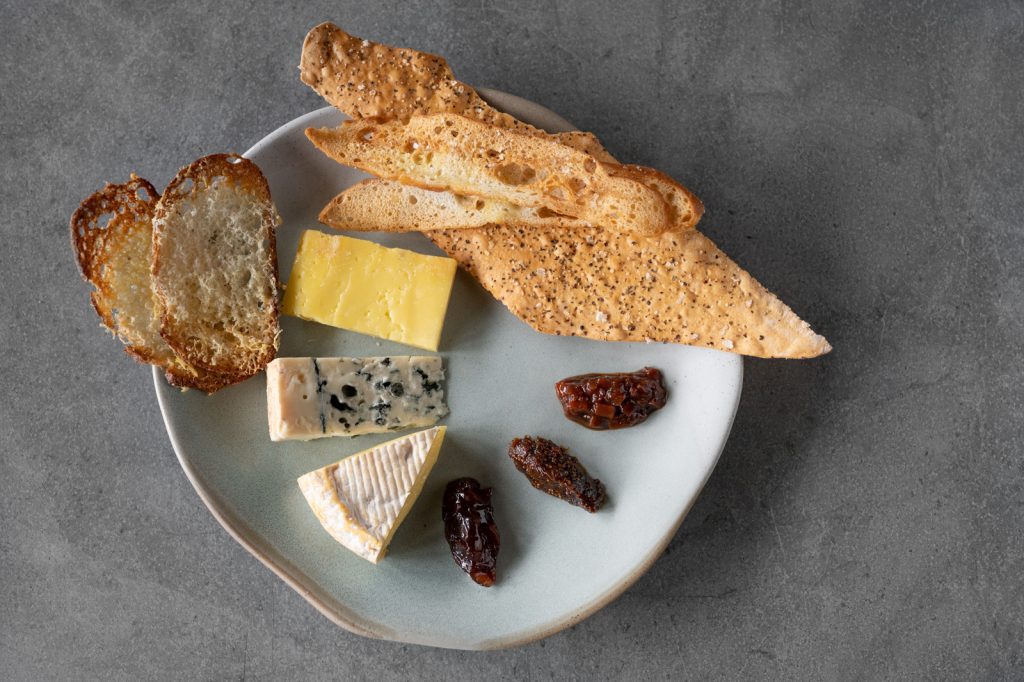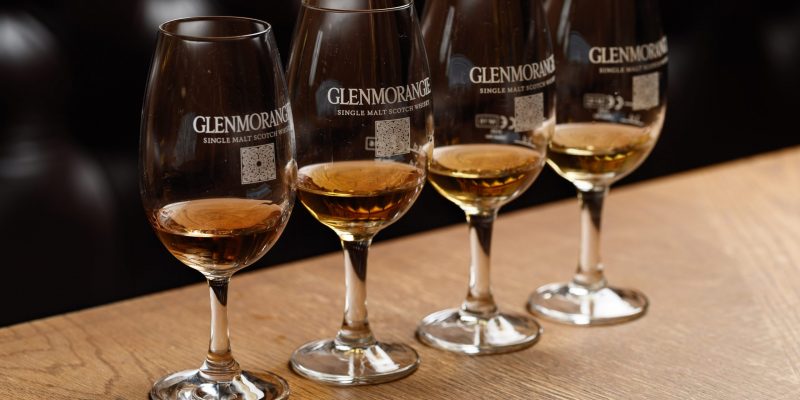 Choose any two cheeses 23 / Each Additional Selection 9
All served with condiments and crackers
L'Amuse Brabander - Goat's milk Gouda

12 / 55

Complex flavours of butter, caramel and toasted hay. Netherlands
All Saints Muscat NV, Rutherglen, VIC
Butterscotch, rum & raisins, caramels with sweet fruit cake

Mountain Man - Cow's Milk Washed Rind

12 / 58

Smooth, mild and creamy. Australia
2020 Vasse Felix 'Cane Cut' Semillon, Margaret River, WA
Honeysuckle, dried apricots, creme brulee & marmalade

Ford Farm Cheddar - Cow's Milk Cave-Aged Cheddar

20 / 240

Sharp, crumbly and modern cheddar flavour, United Kingdom
Penfolds Grandfather Port, South Australia
Rich fruit cake, rum & raisins, licorice with figs & nuts

Papillon Roquefort - Sheep's Milk Blue Cheese

15 / 70

Sharp, crumbly and tangy blue cheese flavour, France
Valdespino Pedro Ximenez 'El Candado', Jerez, Spain
Toffee, molassess & spice, honey with crushed dried raisins

Meredith Chévre - Goat's Milk Fresh Curd Cheese

12 / 55

Light and tangy, Australia
2020 Frogmore Creek 'Iced Riesling' , Coal River Valley, TAS
Apricots, marmalade jam, ripe white peaches, sweet & subtle
Espresso, vanilla bean ice cream and choice of liqueur: Baileys, Kahlua, Frangelico

Vanilla bean ice cream blended with one of the following: Jameson, Kahlua, Baileys, Frangelico

Hennessy VS Cognac, Coffee Liqueur, Fresh Espresso
Unique African-Inspired Steakhouse Menu
Carefully monitored from paddock to plate, our top-graded beef is grilled to perfection on the grill with our signature African-inspired basting. Choose from grass-fed or grain-fed premium beef in your preferred cut, or enjoy a beautifully marbled wagyu steak cooked to your liking. Pair with a quality Australian wine from our extensive wine list for the ideal lunch or dinner.
Our a la carte offering is also more than just a steak menu: we source world-class produce to bring you cutting-edge modern cuisine in Sydney, Melbourne and Perth. From the freshest seafood and tender slow-cooked ribs to vibrant seasonal salads and artisan cheeses from around the world, there's something to please every taste on our carefully curated a la carte menu.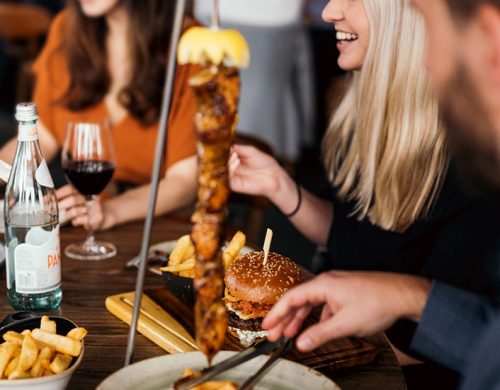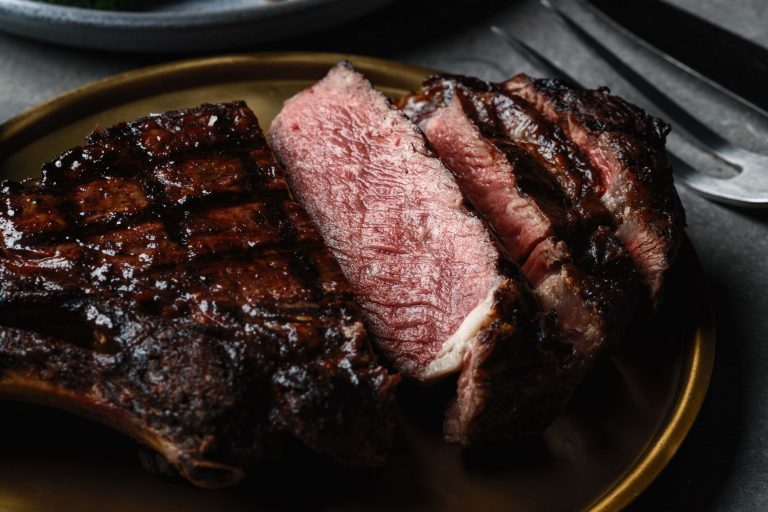 Monte Beef: Producing the Best Steak (in our humble opinion)
We may be biased, but we believe our exclusive line of Monte Beef produces some of the best steaks in the world. Closely monitored from farm to table, our premium beef is sourced solely for The Meat & Wine Co to ensure only the most top-graded produce is served up at each of our steak restaurants.
Like all good restaurants, our people form the cornerstone of our success. Our talented chefs are passionate about providing a superb dining experience to each one of our guests, working with top-quality ingredients to bring you the best steakhouse menu in Australia.
Please ask for our allergy menu. Every possible care has been taken to ensure that these menu items are allergy free, certain items may still contain traces of allergic ingredients as they are prepared in an environment that may contains allergic ingredients.
A selection of Monte Beef products are Halal certified from our supplier and precautions are taken in the cooking methods of our dishes, however our restaurant kitchen environment is not certified by the A.F.I.C. Please ask your waiter.
Sydney
$5 per person on Sundays and public holidays
Melbourne, Perth, Adelaide, Canberra
$5 per person on public holidays