It's that time of the year again, it seems Christmas decorations have miraculously sprouted up throughout the streets once more and festive music dominates our radios for yet another year. Christmas is coming, meaning the slew of festive Christmas parties will once again fill our calendars. But, if you've been put in charge of organising the aforementioned Christmas party, you know that it can be a challenging task, as you're almost too spoilt for choice, especially for Sydneysiders, a state famous for their vibrancy and fun.
So, if you're feeling a little unsure as to how to pick a Christmas party venue in Sydney this festive season, you've come to the right place. In this blog we'll talk you through the very best Christmas party venues for your seasonal soiree.
A Christmas Party Venue By the Water
When you're looking at Christmas party venues in Sydney you've got to take advantage of the beautiful waterside spots. Whether you're snapping a few pre-party snaps in front of the Bondi Icebergs, or you're soaking up those Harbourfront views, Sydney is one of the best places for a waterside Christmas party. Whilst people on the other side of the world might be shaking in their boots and searching for an extra jacket, why not make the most of the stunning Sydney sun? The trick to finding the perfect venue is to isolate the kind of atmosphere you want to have.
If you're looking for beachy and glamorous, then a spot surrounding Bondi is sure to please, but if you're looking for something a little more intimate, but still in close proximity to the action, then somewhere like Barangaroo is ideal. Our Meat & Wine Co Barangaroo location is one of the best Christmas party venues in Sydney. It offers you this quiet glamour with proximity to water views, and of course divine food you'll be talking about until your next Christmas party, how could you say no to that?
A Christmas Party Venue Away From The Hustle And Bustle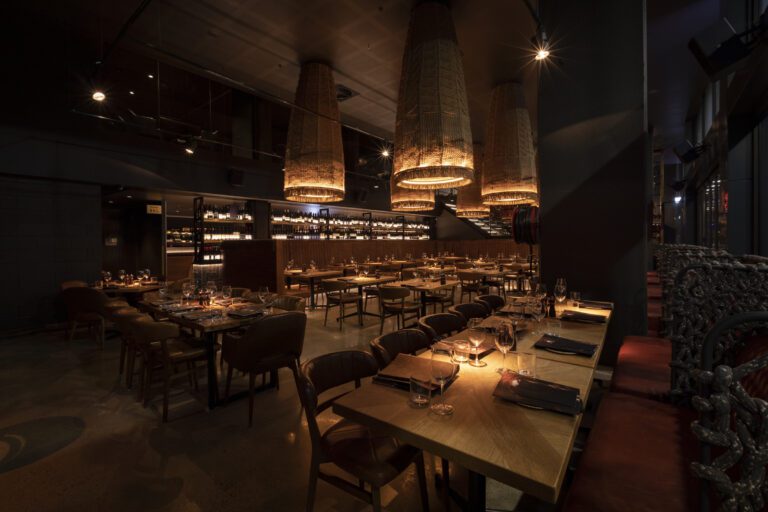 Ocean views and a vibrant atmosphere are all excellent picks when it comes to a festive season function, but sometimes it's nice to get away from all of the noise and simply find somewhere a little quieter for your event. Luckily for Sydney, the state is doused in beauty, so you can find hushed nooks to host your event that still delights guests. A wonderful example of this is Parramatta, the suburb is located in Sydney's west and is ever so slightly removed from all of the noise that tends to arise during the Christmas season.
Shopping for a venue nestled in amongst the suburbs is the ideal choice for a more family-friendly festive affair. Opting for something fun like a pizza or pasta venue can be a winner, particularly for young families, as these kinds of dishes are a favourite amongst the kids. Plus, the meal pairs perfectly with wine, a non-negotiable for a Christmas party.
A Rooftop Christmas Party Venue
Finally, you can't think of a Sydney Christmas event venue without thinking about a rooftop party. A rooftop venue automatically brings the fun. You're a little more removed from the rest of the hustle and bustle, so feel free to crank the tunes up a little more. Plus, Sydney is known for its stunning building architecture, so enjoy panoramic views of the divine city as you toast to Santa heading off on his slay. Rooftop parties pair superbly with finger foods so when shopping for a venue, be sure to look for a spot that offers a cocktail-style menu. A rooftop festive event is an ideal opportunity to try seasonal cocktails and fresh Australian bites, like succulent prawns and scallops. So this season, if you're feeling adventurous and fun, opt for a rooftop for your Christmas party.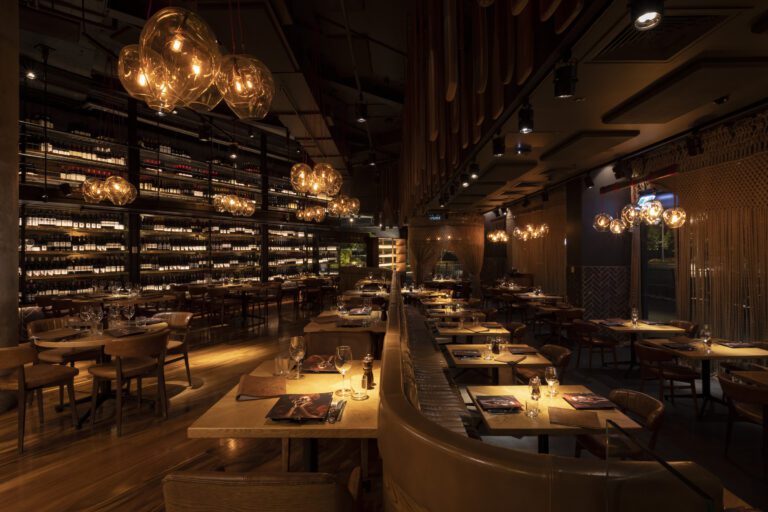 As you can see, there are many routes you can take when looking for the best Christmas party venues in Sydney; from a lowkey and more casual evening in the stylish Sydney suburbs to a full-blown festive bash in the CBD, with water views included of course. Luckily for you, The Meat & Wine Co have four Sydney locations that span all over the stunning city. So if you're looking for the ultimate festive venue this Christmas, book in at The Meat & Wine Co, for an affair you won't forget.