When we recently launched our latest winter menu, we introduced a brand new range of steaks from well-renowned Australian beef purveyors. As a restaurant committed to quality and always impressing our guests, the updated selection has been designed with improvement in mind, which means a better range of even more premium cuts of beef.
That's why we're working with three of Australia's premier beef providers; O'Connor Beef, Thousand Guineas, and Southern Ranges.
Read on to learn more about each provider, which steaks you'll find on the menu at The Meat & Wine Co, and what makes them the best choice for our restaurants.
O'Connor Beef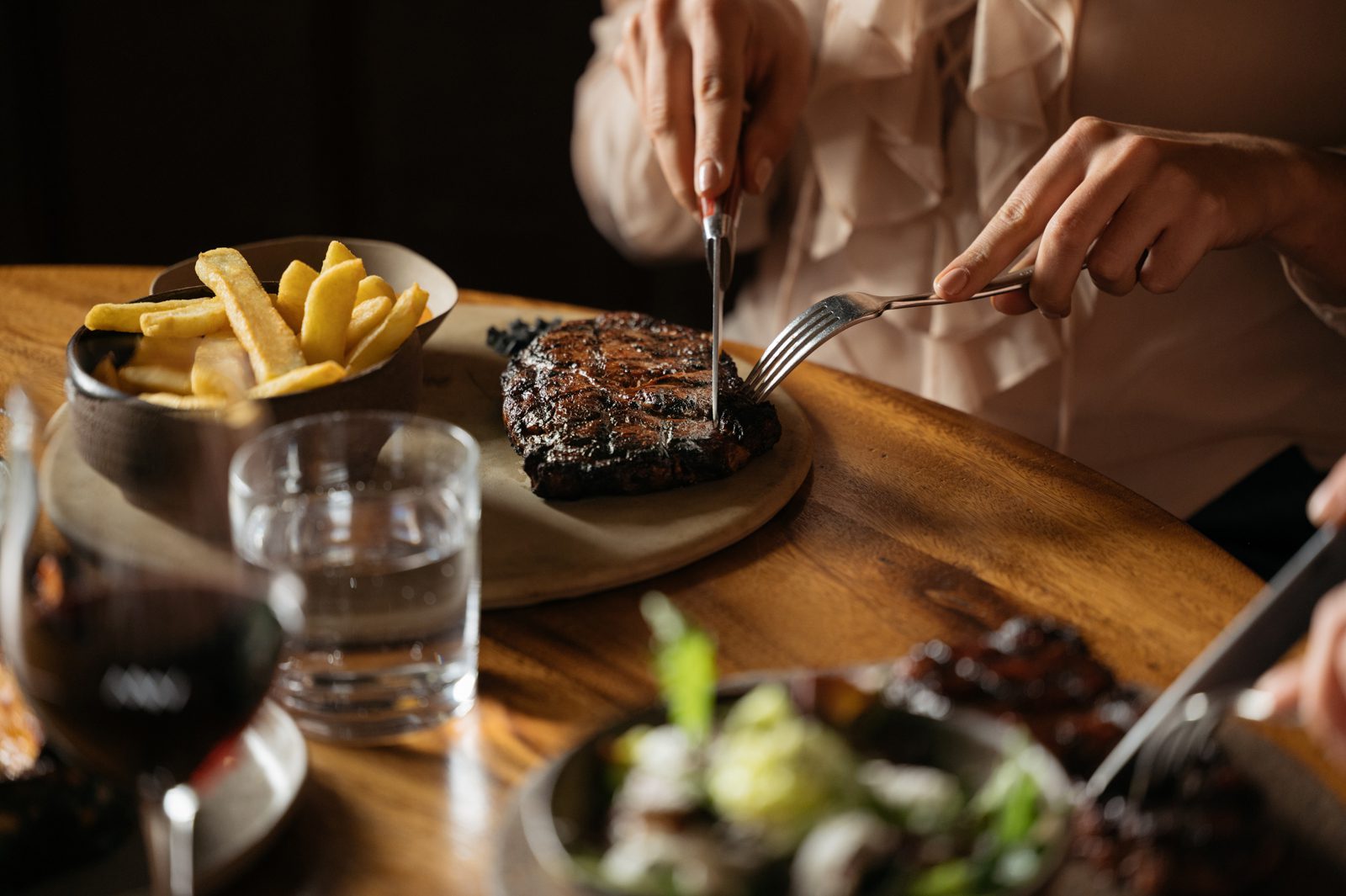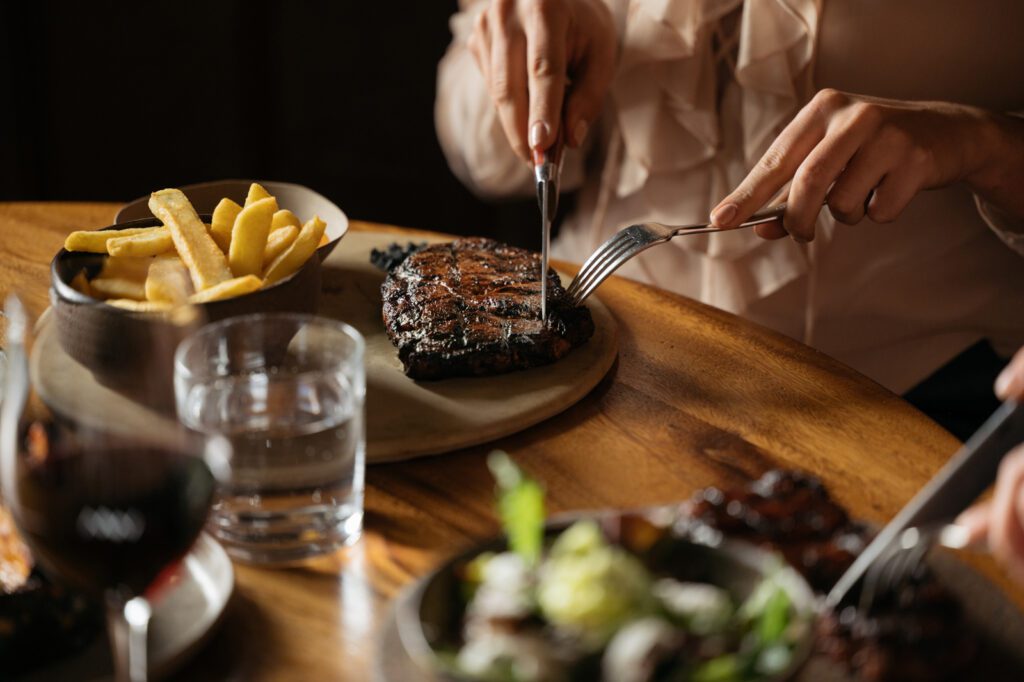 O'Connor Beef comes from the venerated pastures of Gippsland, which are widely regarded as some of the most prized paddocks in the business when it comes to cattle farming. Here, they raise Angus and Hereford cattle.
The high quality is all thanks to the region's pristine water and nutrient-rich soils, not to mention the fresh rural air that breezes through the fields. Here, there are zero hormones or antibiotics used on the beef, which showcases the natural quality of the cattle.
It takes ongoing passion to create beef of such consistent, high quality, which is perhaps explained by the fact that three generations of the O'Connor family have now presided over
the farmland.
Furthermore, O'Connor takes the extra step of dry ageing some of their premium cuts on the bone for a minimum of four weeks. This step amplifies the tenderness and flavours of the beef, making for an incredibly special steak on the plate.
The O'Connor family provides a number of exceptional 240 day grain-fed options as part of The Meat & Wine Co steak range:
Fillet (300 grams), marble score 3+
New Yorker (350 grams), marble score 3+
Rib-eye (400 grams), marble score 3+
Thousand Guineas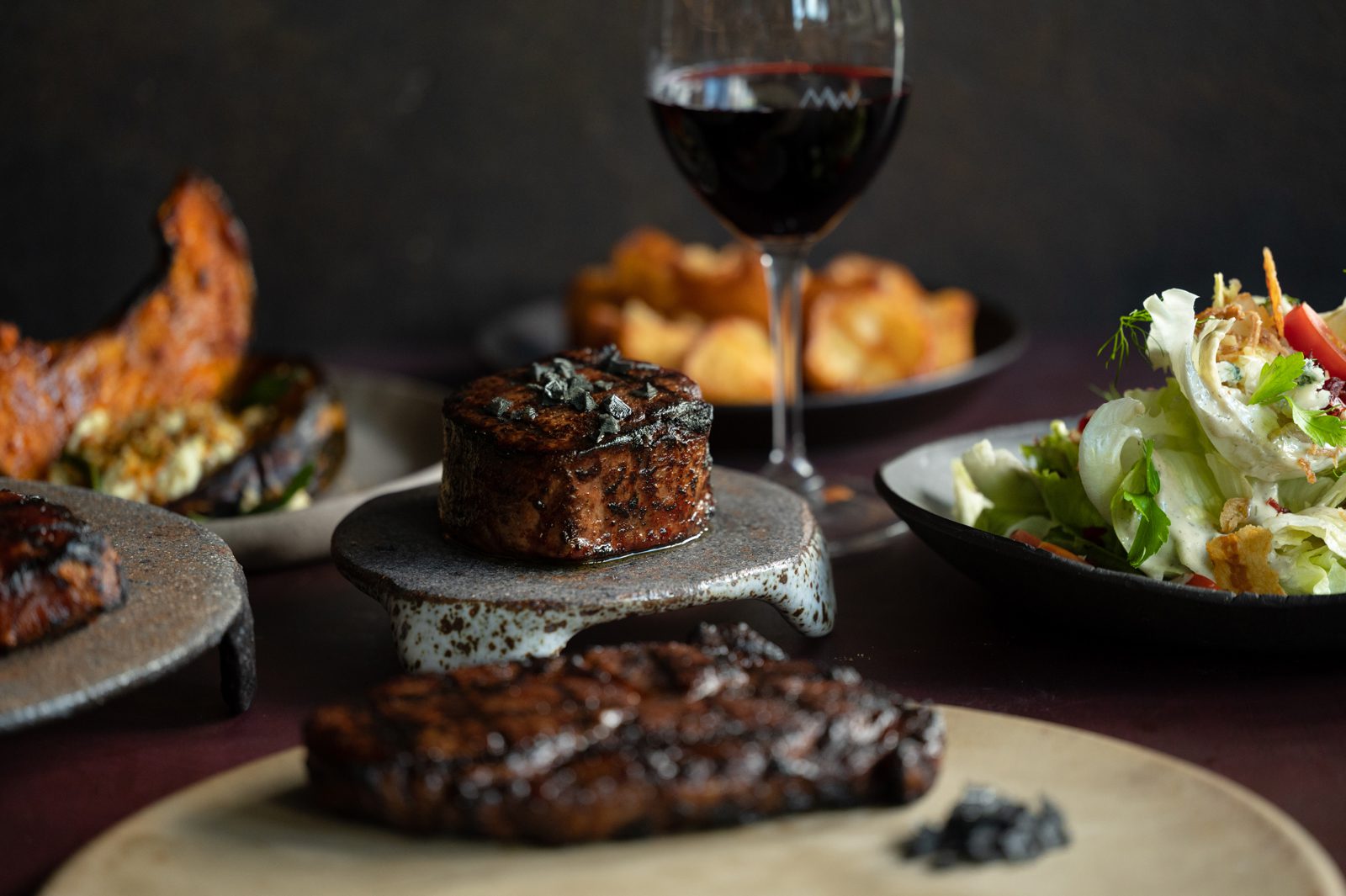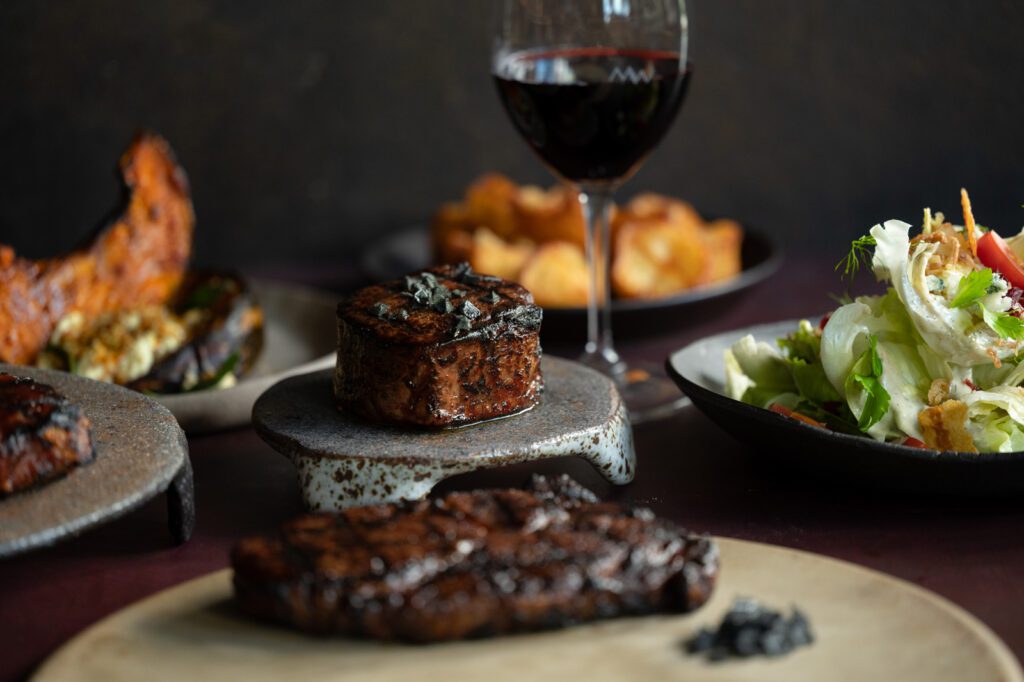 Thousand Guineas is a historic and highly trusted brand renowned for its shorthorn beef.
Even though it's a thoroughly Australian company now, it all began in the 18th century in north eastern England. Two men, Charles and Robert Colling, were working on a breeding program to refine the beef product by selectively breeding cattle with particular desirable traits.
Eventually, a bull was born in 1804. This bull's name was Comet, and at six years old, he sold for 1,000 guineas – a princely record-breaking sum at the time. Comet was a key player in the creation of the modern shorthorn bloodline, and was the inspiration for the name of this industry-leading Australian beef supplier today.
Shorthorn beef is prized across the country, and has been for two centuries. The first shorthorn cattle arrived in Australia in 1825, and quickly accounted for approximately 50% of cattle in temperate areas, and almost all the cattle in the more challenging northern climate. They are known for their marbling and meat quality, and it's easy to see why they have remained a national favourite throughout the years.
Thousand Guineas in particular assures diners of the quality of the final dish. These steaks offer an open texture with a great bite, plenty of juice, and a buttery flavour. It's ideal for special occasions and for steak lovers everywhere.
Yet to make things even more special, Thousand Guineas provide us with Monte beef, our premium line of steak exclusively sourced for The Meat & Wine Co.
You'll find these Thousand Guineas steaks on the menu at The Meat & Wine Co, where they provide an excellent introductory-range beef:
Monte Rump Eye (200 grams), marble score 2+
Monte Fillet (200 grams), marble score 2+
Monte Rib-eye (350 grams), marble score 2+
Monte New Yorker (300 grams), marble score 2+
Southern Ranges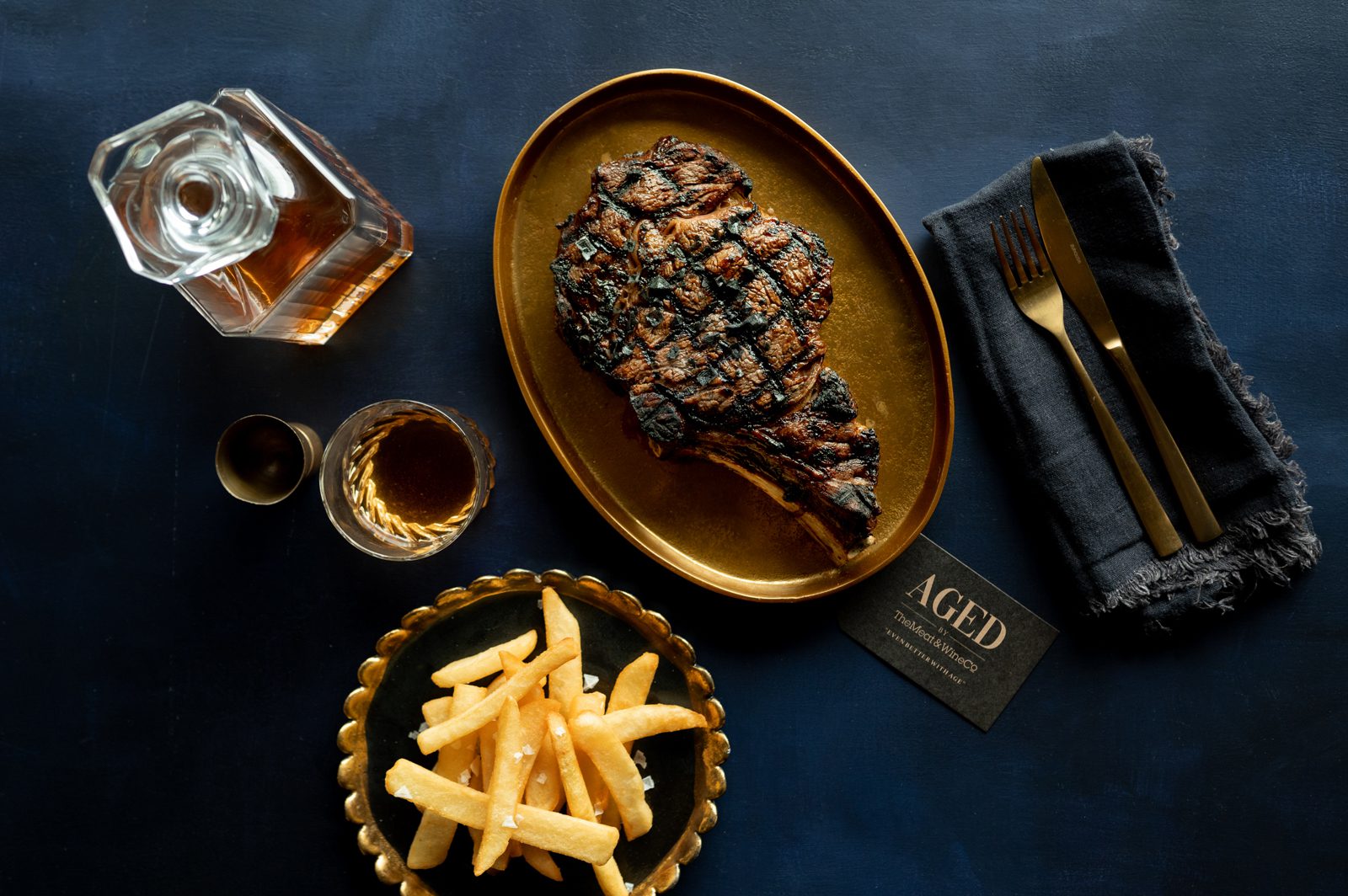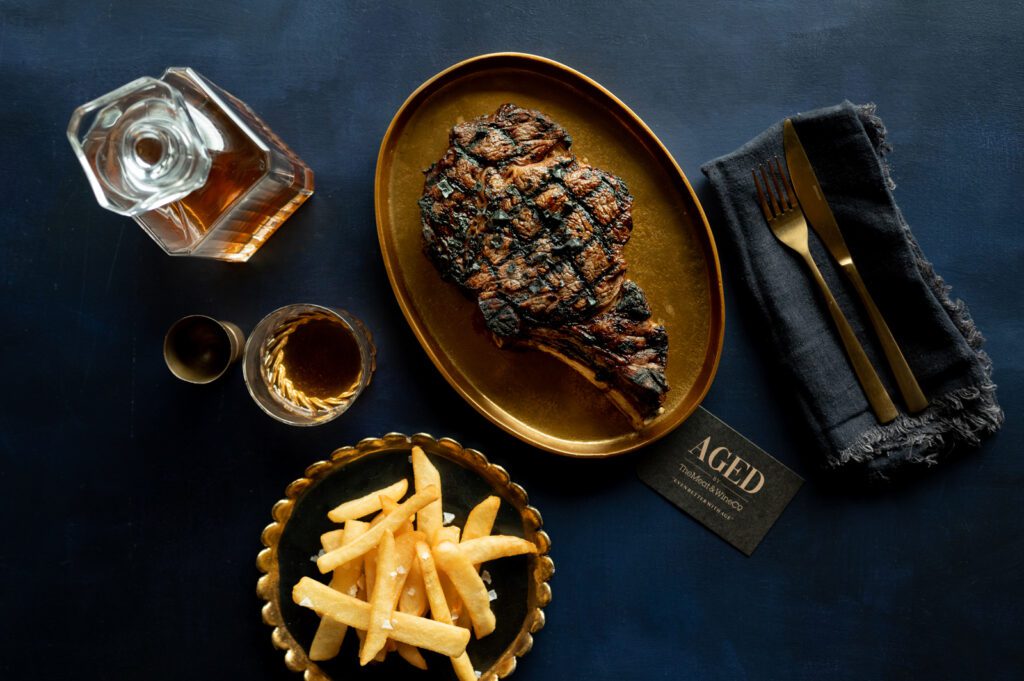 Our Southern Ranges steaks are a selection of premium quality cuts from the Australian Meat Group.
This beef is from only Angus and Hereford breeds, which are naturally superior cattle. To make the most out of the exceptional breeding stock, the Australian Meat Group raises them in the renowned Gippsland region in Victoria.
Much like the cattle from O'Connor Beef, this product benefits greatly from the fertile soils and pristine environment of Gippsland. Additionally, Southern Ranges beef is always 100% grass-fed and antibiotic, hormone free.
On the plate, these steaks offer intense flavours and superior tenderness. They come with a marble score rating so high that it's only usually found in grain-fed beef. All of this is why The Meat & Wine co chooses Southern Ranges for our premiere AGED programme.
AGED is an exclusive dry aged steak offering, which uses our in-house ageing technique to transform the beef into an even more tender and flavourful dining experience. Unlike traditional dry ageing, we use a thick layer of butter to encase the beef as it ages, which allows us to infuse additional subtle flavours into the beef.
Our dry aged steak programme is updated regularly and is based on availability at the time, but we typically offer a traditional dry-aged Southern Range Rib-eye.
Right now, the alternate option is a dry-aged Southern Range Rib-eye that's infused with Smoked Jameson Irish Whiskey. This is a truly unique dish, and a must-try for fans of Irish Whiskey and steak connoisseurs.
Let your tastebuds roam the steak range at The Meat & Wine Co
The Meat & Wine Co is dedicated to offering a variety of top-quality Australian steaks. We choose our suppliers carefully and always know exactly where our steaks come from, how the cattle are raised, and how the beef is prepared before it arrives at our doors.
From there, our expert chefs prepare each steak to your liking, so your tastebuds can relish in the hard work that has gone into each and every plate.
Make your booking at The Meat & Wine Co to experience Australian steak at its very best.