The AGED programme is one of the most unique and special attractions at The Meat & Wine Co.
It offers diners premium dry-aged steak that has been aged in house with our own exclusive technique. To make matters even more interesting, our innovative preparation method allows us to infuse cuts of beef with subtle flavours.
Flavours are only available for a limited time while stocks last, but we're always excited to bring a new infusion to the menu. This time, we're proud to announce the latest flavour infusion for our dry-aged beef: Smoked Jameson Irish Whiskey.
AGED beef infused with Smoked Jameson Whiskey
The latest flavour infusion of Irish whiskey promises a stunning dish where the buttery texture and luxurious aroma of the aged beef shines through, all while working with the non-intrusive permeation of deep smoke and rich Irish whiskey.
It begs the question, why dine on aged steak and drink premium whiskey, when you can enjoy them together in every bite?
Keep in mind, this whiskey-infused dish is not the only dry-aged steak in the AGED programme. We also offer a traditional cut without a flavour infusion, which is an excellent option for those who are trying dry-aged meat for the first time and want to experience the classic dish.
That said, even if you are new to dry-aged meat, if you love whiskey, this is not a dining experience you'll want to miss.
Beef sourced from Southern Ranges SR4
Part of the magic of our iconic AGED programme is the premium quality of our steak. We use 100% grass-fed beef from Southern Ranges SR4, a superior steak that's raised on the rich and verdant pastures of Gippsland in Victoria.
The Gippsland region known for its perfect cattle farming conditions, thanks to its ideal climate and endless grassland. Here, Southern Ranges grazes the genetically superior Angus and Hereford breeds.
Steak sourced from Southern Ranges also comes with the guarantee that the beef is antibiotic free with no added hormones. All steak also has a marble score of 4+ to ensure richness and quality, and the result is a meal that offers the premium tenderness and flavour that can usually only be found in grain-fed beef.
Sourcing from Southern Ranges means that before the steak even arrives in our kitchen, we can already rest assured that the quality is world-class. Then, when we carefully prepare the steak with our unique dry ageing system, we know we're only enhancing that superior quality to the next level.
How we infuse our beef with subtle flavours
For those new to the dry ageing process, it can be fascinating to learn a little more about how it all works – and how our unique treatment of the beef allows us to add flavour infusions.
Overall, the purpose of dry ageing is to amplify the natural flavours and tenderness of the meat. That's why when we start with premium beef, we can create an exceptional final meal on the plate.
To do this, large slabs of beef are placed into a specially designed dry ager for one to three weeks. This machine looks like a fridge, but has sensitive temperature and humidity controls that ensure the beef ages carefully, without risking mould or other contaminants. During this time, the meat naturally begins forming a crust around the outside, which helps to seal some moisture in and keep mould out.
Normally, the beef is allowed to continue ageing and build up a thick outer crust. However, at this point, The Meat & Wine Co adds a thick layer of butter to the cut. This essentially stops the drying process by ensuring no more moisture leaves the beef, but it does allow the ageing process to continue as proteins and enzymes in the butter slowly break down the beef.
This unique step is important, as it stops so much of the beef from turning into a hard, unusable crust, which ultimately drives up the cost of the final dry-aged steak. It is also vital as we can infuse the butter with our own choice of flavours, giving the beef a beautiful subtle hint on the tongue.
After a further four to six weeks in the dry ager with its buttery coating, the dry-aged beef is ready to cook and serve.
However, we first bring your personal steak to the table upon ordering, so you can take a look at the incredible effects of ageing before it takes a turn on the grill.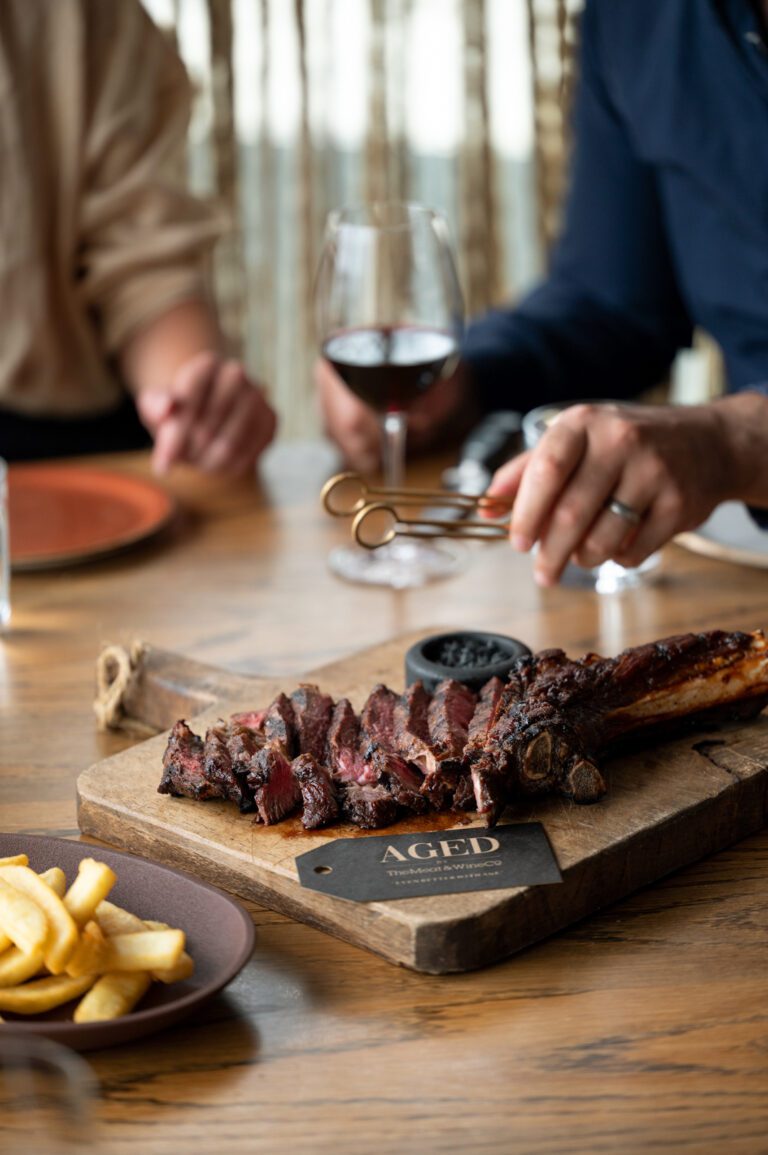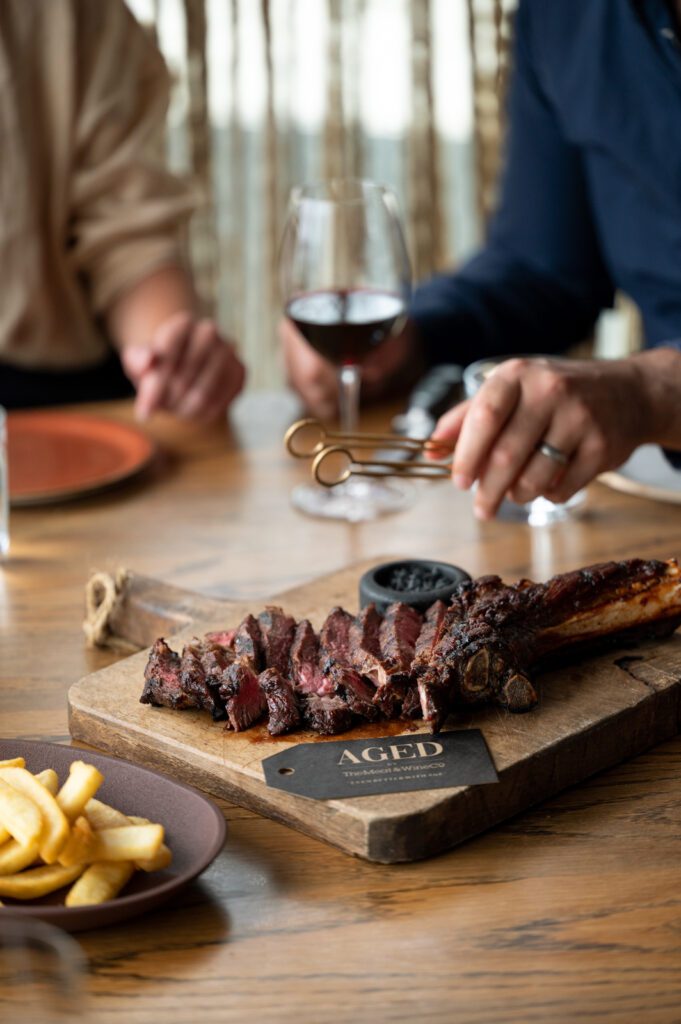 The perfect pairing for AGED Smoked Jameson Whiskey
The beef and Jameson Irish Whiskey work together in perfect harmony, and it's hard to imagine a way to improve this dish.
However, we do strongly suggest a special wine pairing for our aged steak.
For this dry-aged steak in particular, we feature a sensational Brokenwood Shiraz. This Hunter Valley wine is a 2021 drop, with fragrant, floral aromas at the forefront and French oak in the background.
It is medium bodied and a classic Shiraz, with long tannins stretching out to the end of every mouthful. It is robust enough to stand up to the rich flavours in the beef, while also complementing those flavours and helping you to get the most out of your dining experience.
If Shiraz isn't usually to your liking, be sure to speak to your server about finding a more fitting wine for your tastes.
Book today to discover Irish whiskey infused dry-aged steak
It is rare enough to find premium dry-aged steak on a menu, let alone one that has been aged in house with a smokey Irish whiskey flavour infusion. Yet you can find it here at Meat & Wine Co, including all across Melbourne in South Yarra, Southbank, Hawthorn East, and Chadstone.
Wherever you're based, make your dining reservation today to start looking forward to this unique dry aged experience.