With the change of seasons comes a change in preferences. We start to crave warm and comforting foods on cold and rainy nights, and seek out seasonal fresh produce that highlights the very best of winter dining.
As such, The Meat & Wine Co is excited to release our new winter menu, which has been carefully crafted to meet diner demands, and to incorporate some of Australia's exceptional seasonal produce.
Here are some of the highlights you can expect to discover at The Meat & Wine Co this winter.
Start your meal with this unique baked scallop entrée for something completely different yet utterly unforgettable.
These scallops are poached in vermouth, an aromatised fortified wine that imbues a complex and divine herbal flavour profile to the dish. They are then baked with mushroom duxelles and Gruyere cheese for added texture and flavour.
This is the perfect entrée for a chilly evening when you're looking for something warm and comforting yet totally unique.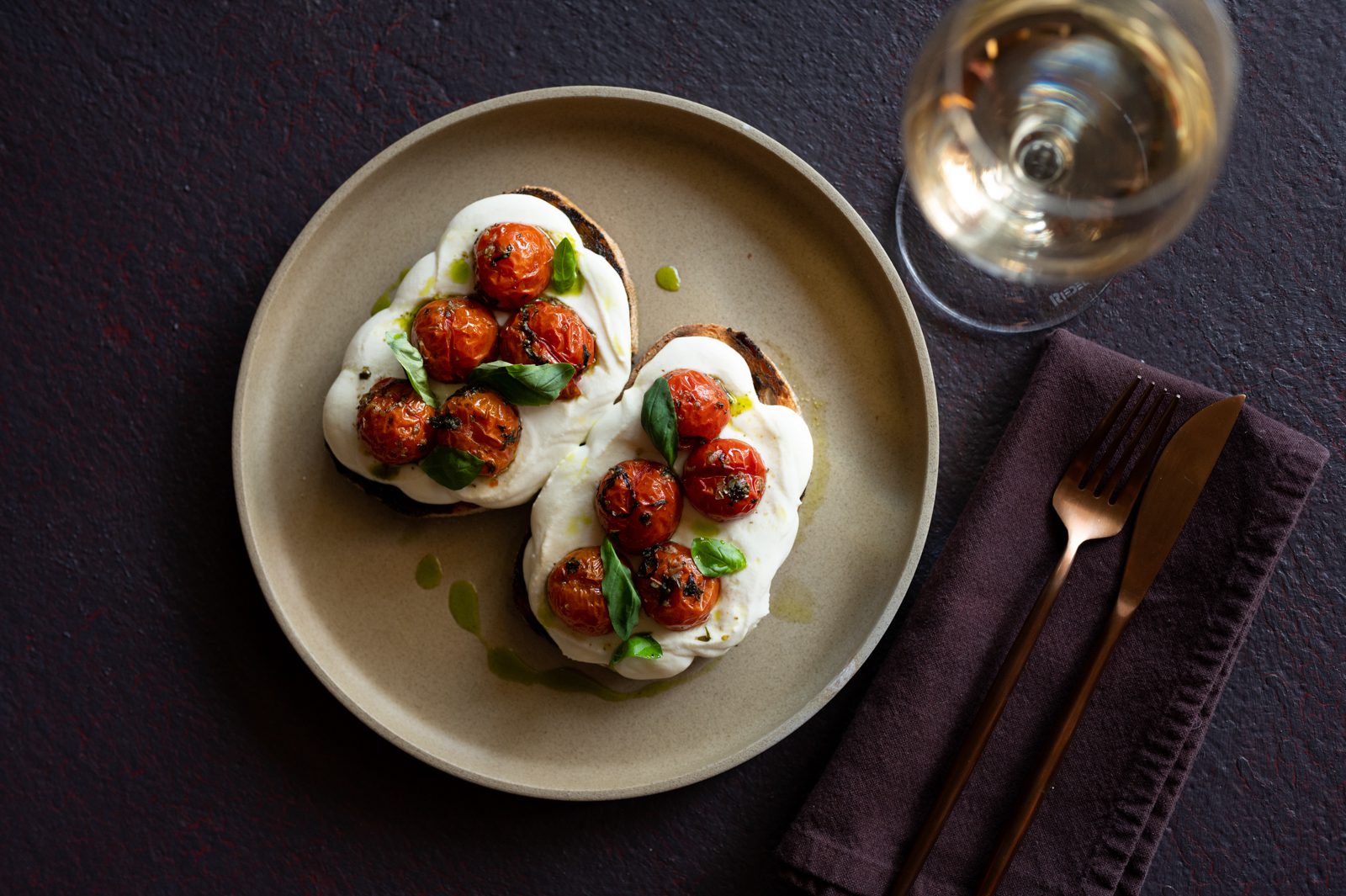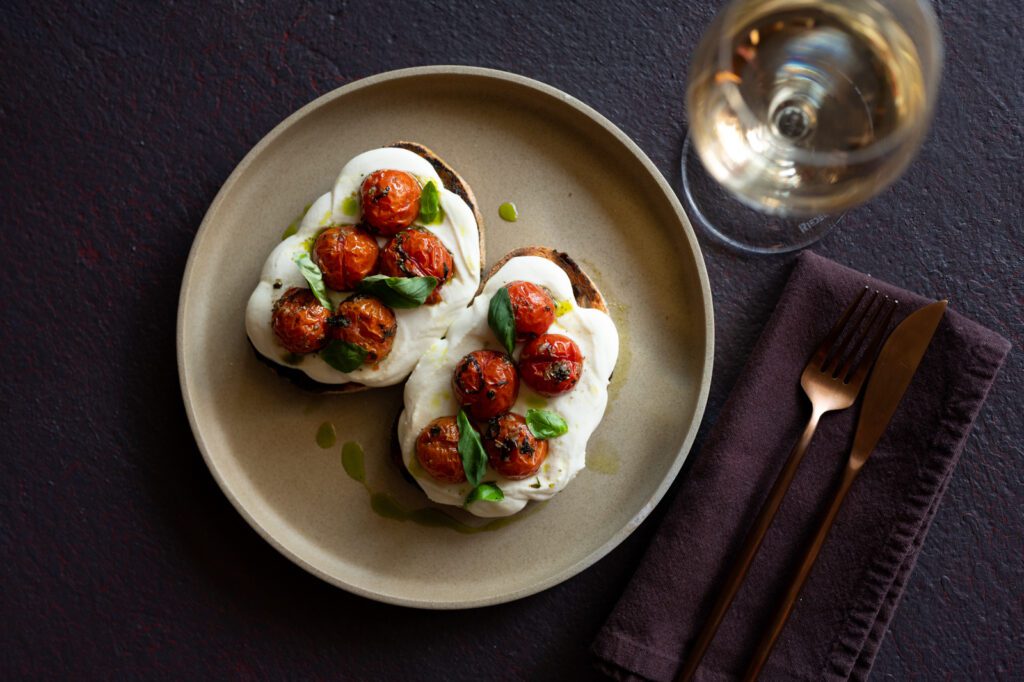 A bruschetta is a classic, simple dish that promises a tasty way to begin any meal. Yet at The Meat & Wine Co, we have ensured that this entrée is anything but basic.
This premium bruschetta uses slow-roasted, marinated cherry tomatoes for a richer, sweeter flavour profile. It also uses a light and fluffy buffalo ricotta from Vannella Cheese, a world-class Italian cheesemaker now situated in New South Wales. All that is carefully served on a char-grilled sourdough for one of the best bruschetta dishes we've ever tried.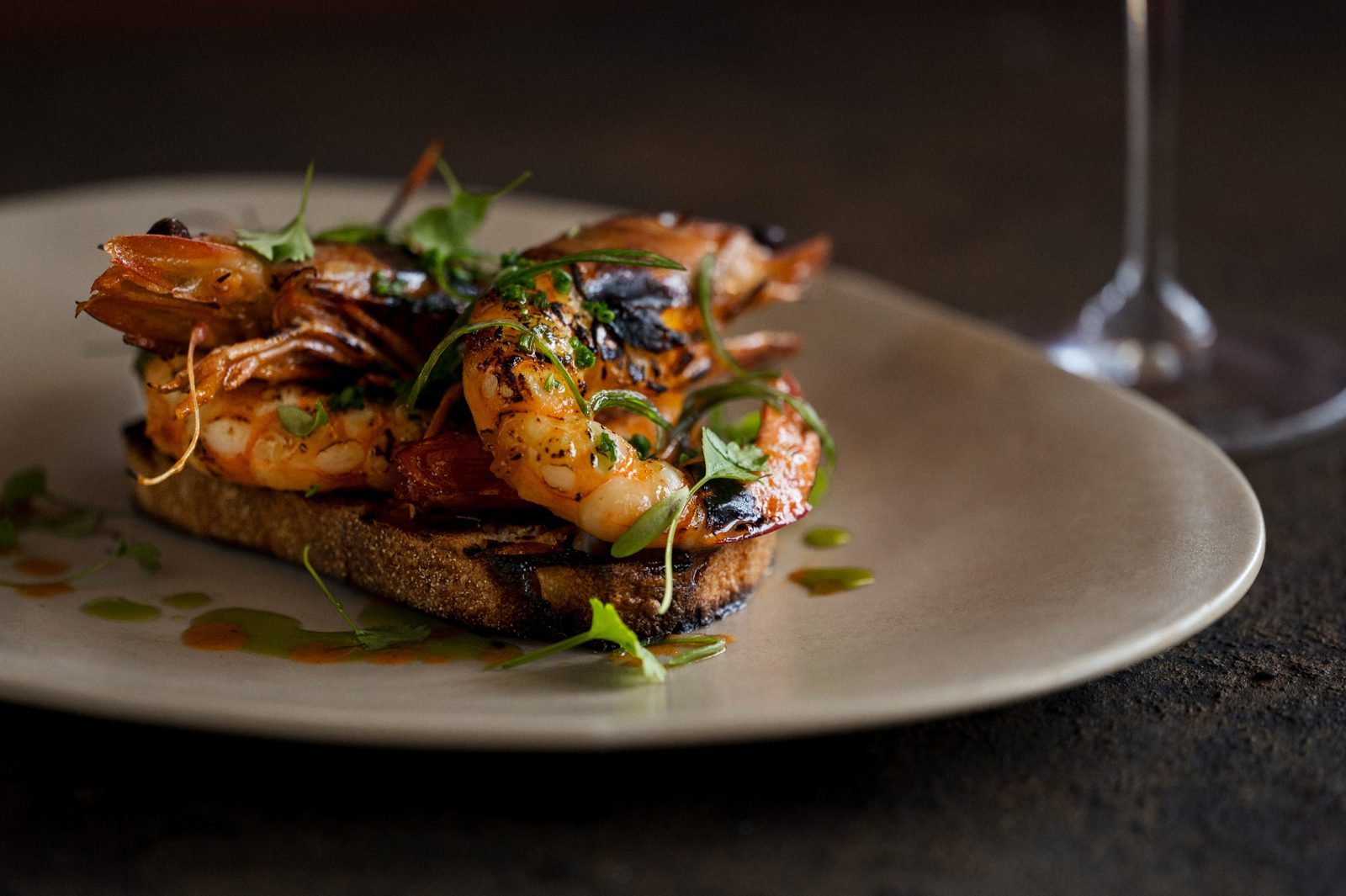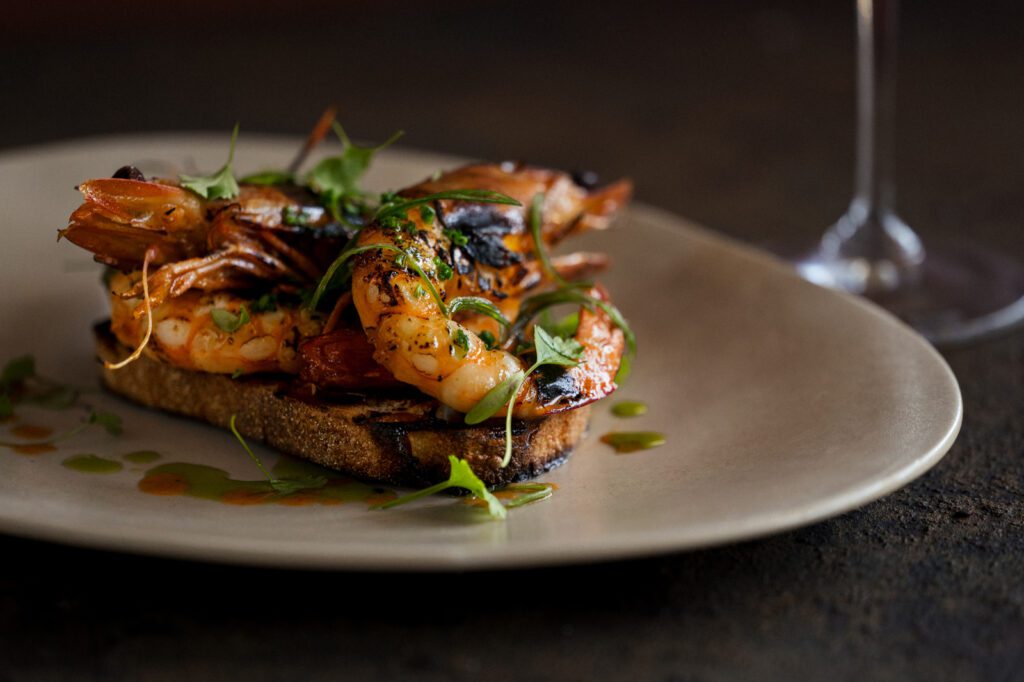 This King Prawns entrée is an Afro-inspired dish with fresh wild Queensland produce.
It incorporates a traditional Mozambican peri-peri sauce that uses bird's eye chillies, onions, peppers, garlic, and lemons for a powerful flavour hit in every bite. The fresh prawns are large (U8 grade), and come with toasted sourdough on the side.
This is an excellent option for a lighter dish to start that doesn't hold back on flavour.
AGED Wagyu Tartare – Entrée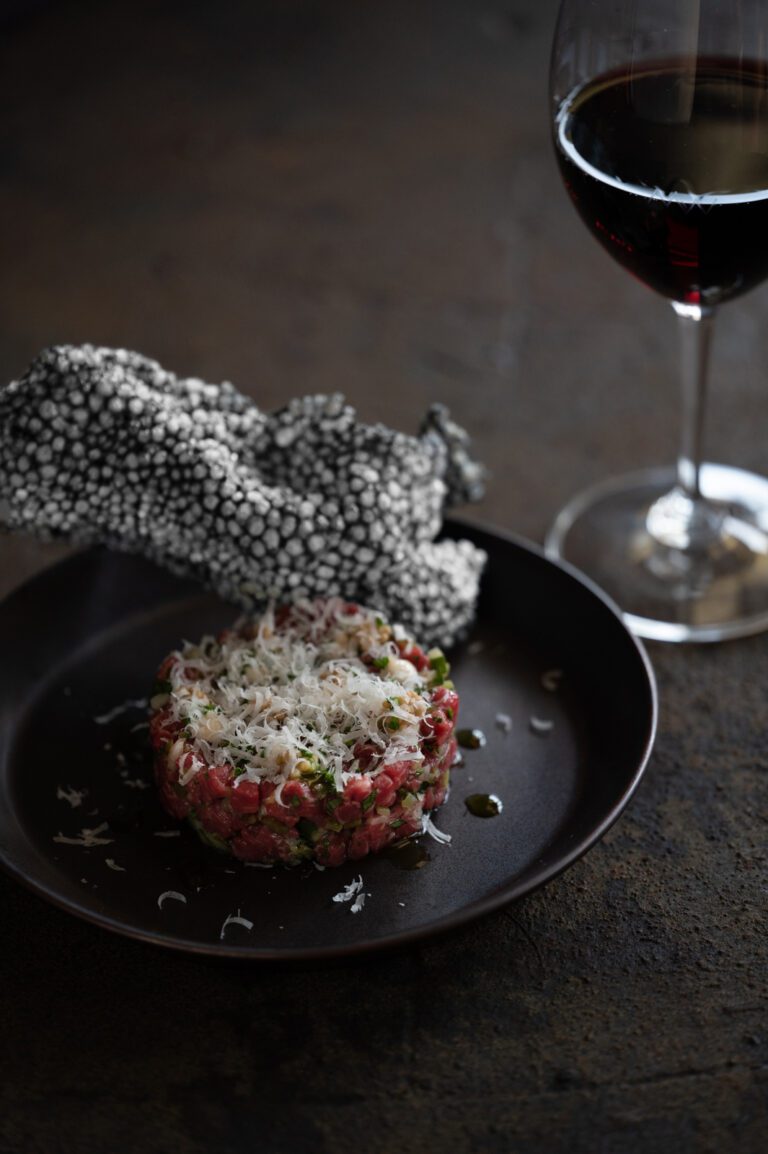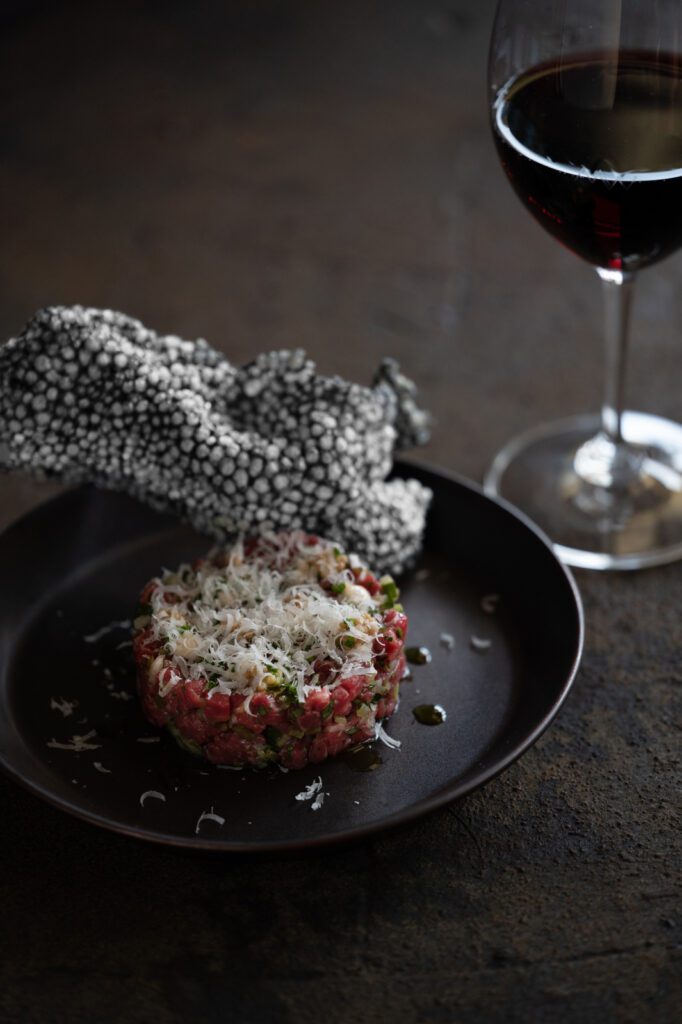 Another exciting entrée on the menu is the AGED Wagyu Tartare.
Made with Wagyu Girello, the lean 'eye of the round', and dry-aged rib-eye, this tartare brings together some of the best ingredients in the restaurant for an understated and exquisite bite. These two ingredients balance richness, beefiness, and umami flavours, and are well complemented by the pickled mustard seeds, sous-vide egg yolk, and tapioca crisp on the plate.
This is an ideal dish to start with to try Wagyu for the first time, or to enjoy a richer small bite to begin and a lighter main meal.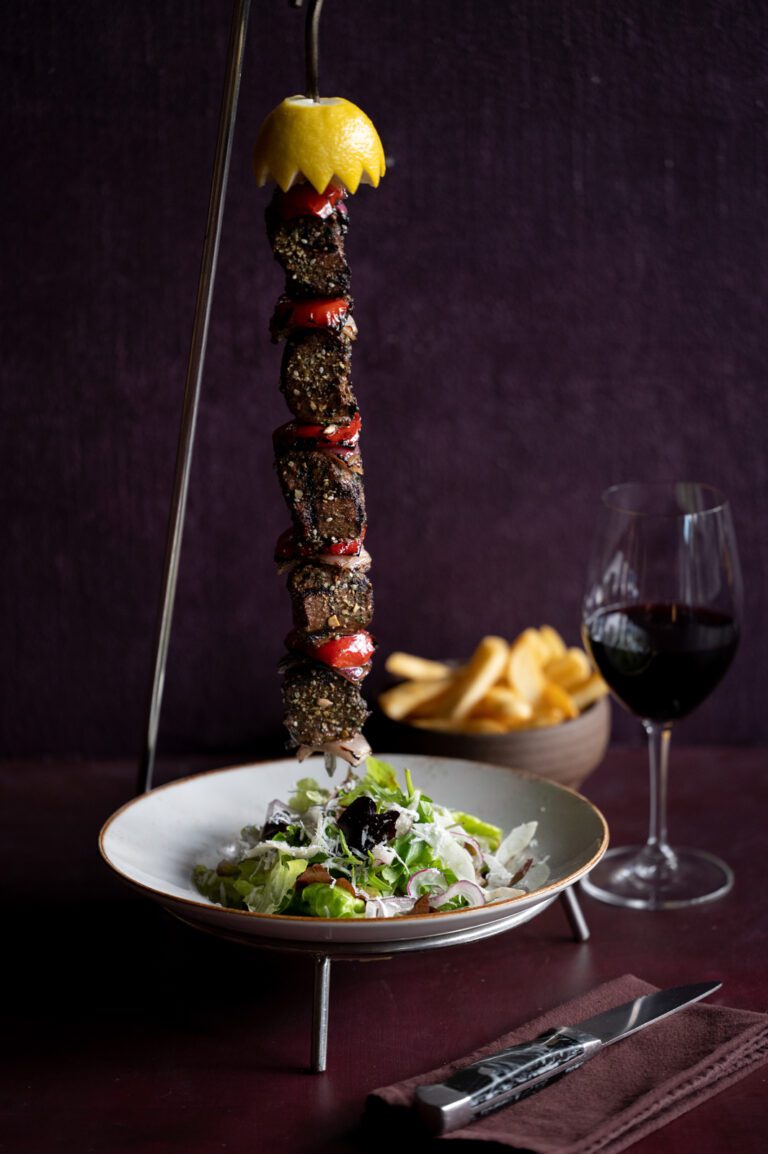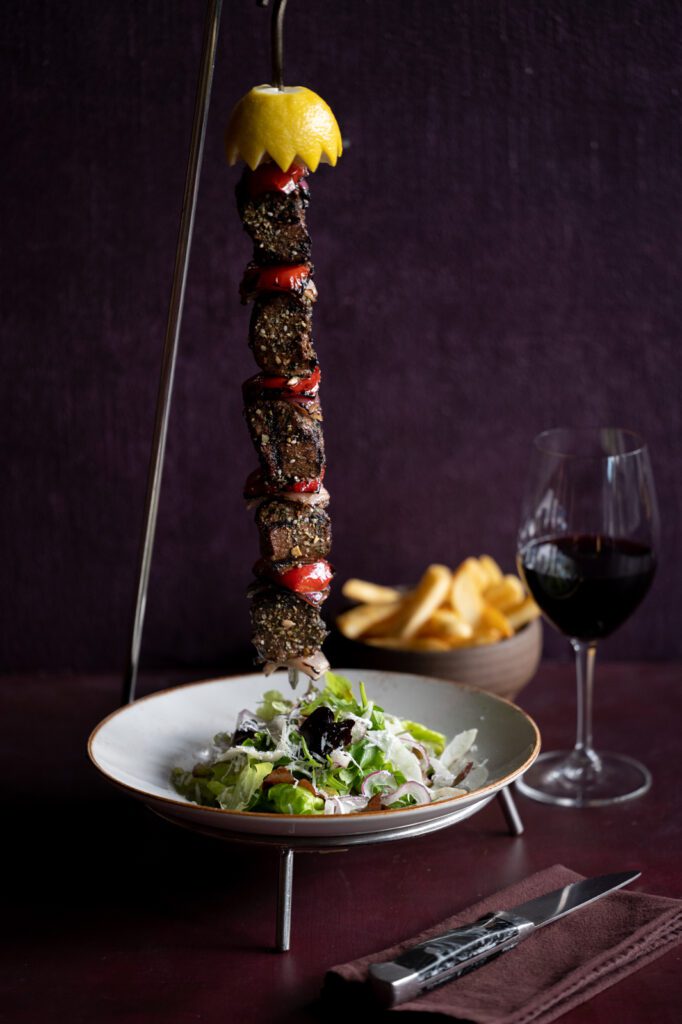 The Meat & Wine Co is known for our towering skewers, which are not only spectacular to look at, but an absolute treat for the tastebuds as well.
Our lamb skewer is a must-try this winter, with its rich lamb back strips perfectly cooked for a flavourful, crispy finish. The meat has been prepared in a Mediterranean marinade for added depth and intrigue.
This dish comes with your choice of a house salad or crunchy chips, but be sure to add a medium or full-bodied red wine to your order to perfectly complement your meal.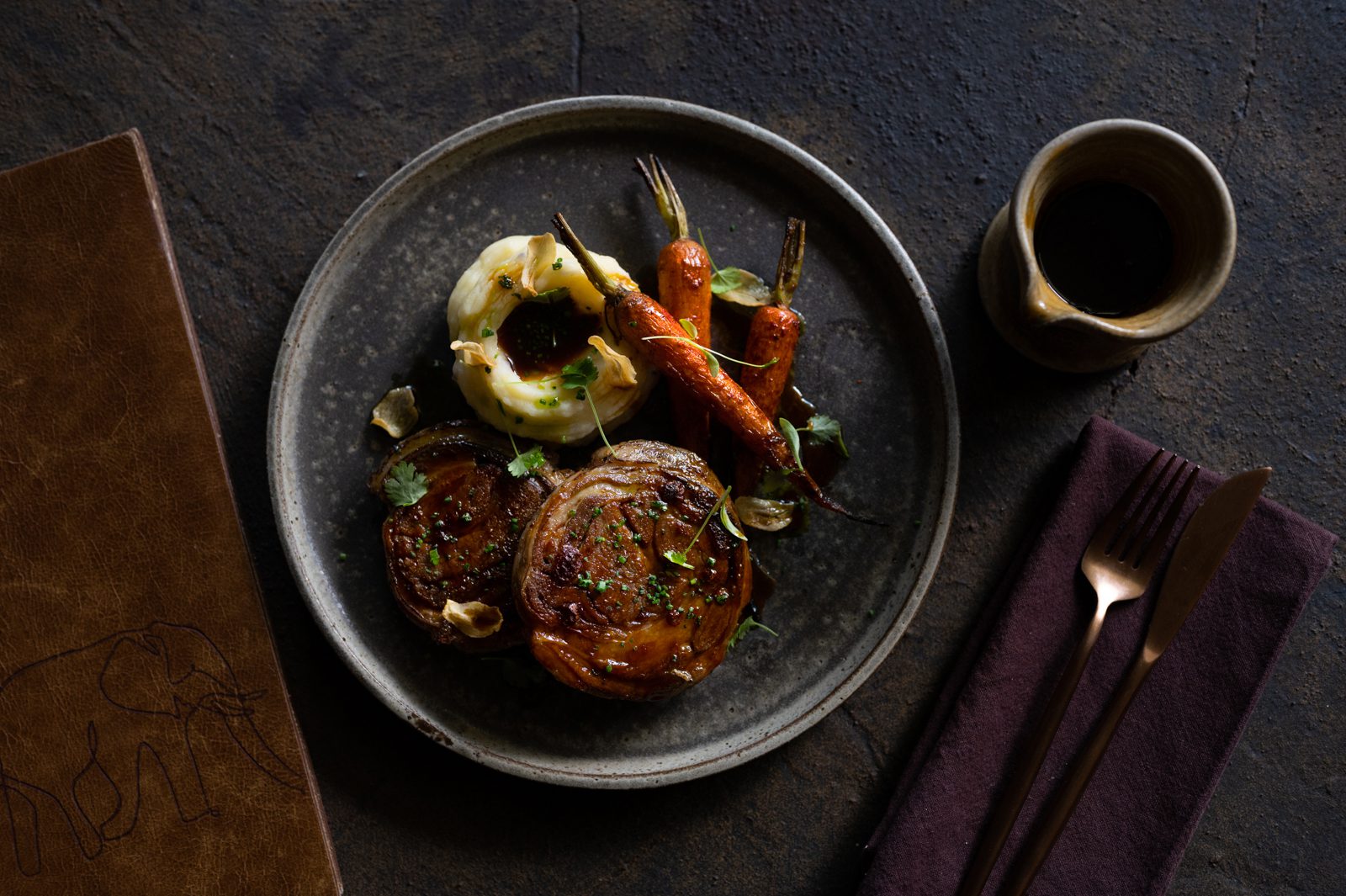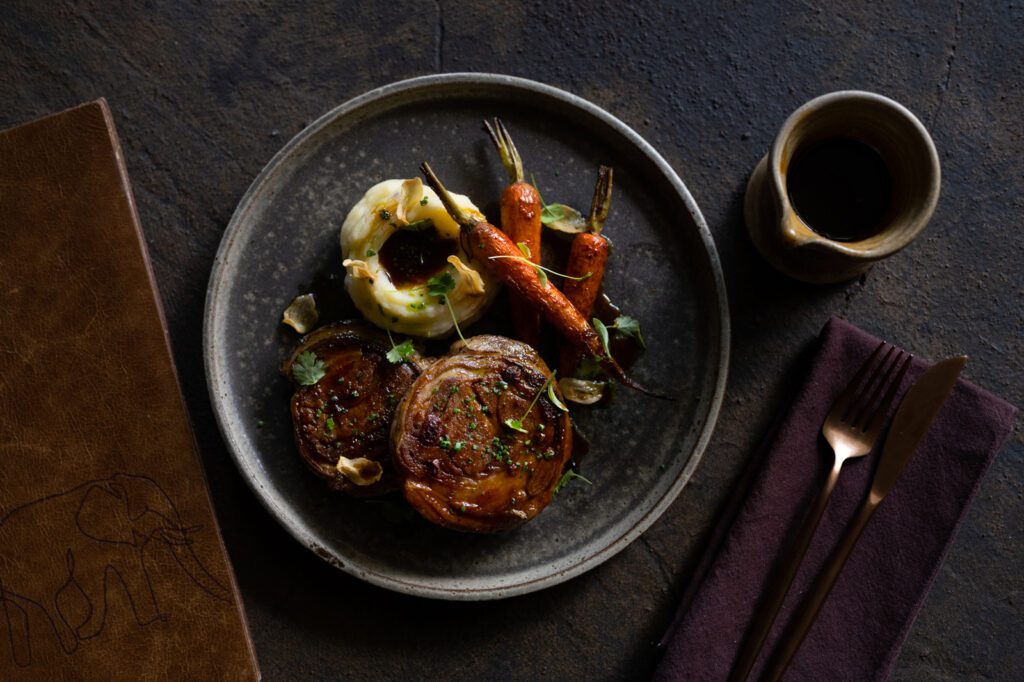 Many diners are familiar with the porchetta dish, a traditional favourite featuring slow-roasted pork. In this dish, The Meat & Wine Co introduces guests to a new take on this old classic, replacing pork with lamb and making a few delectable changes that elevate the meal into a surefire new favourite.
This lamb belly is rolled with a mix of garlic, rosemary, nutmeg and pepper, all before being slow cooked in-house for eight to 10 hours. It is joined on the plate by a wintry mustard mash, miso glazed carrots and veal jus for a hearty and hot meal that's beautifully rich and savoury.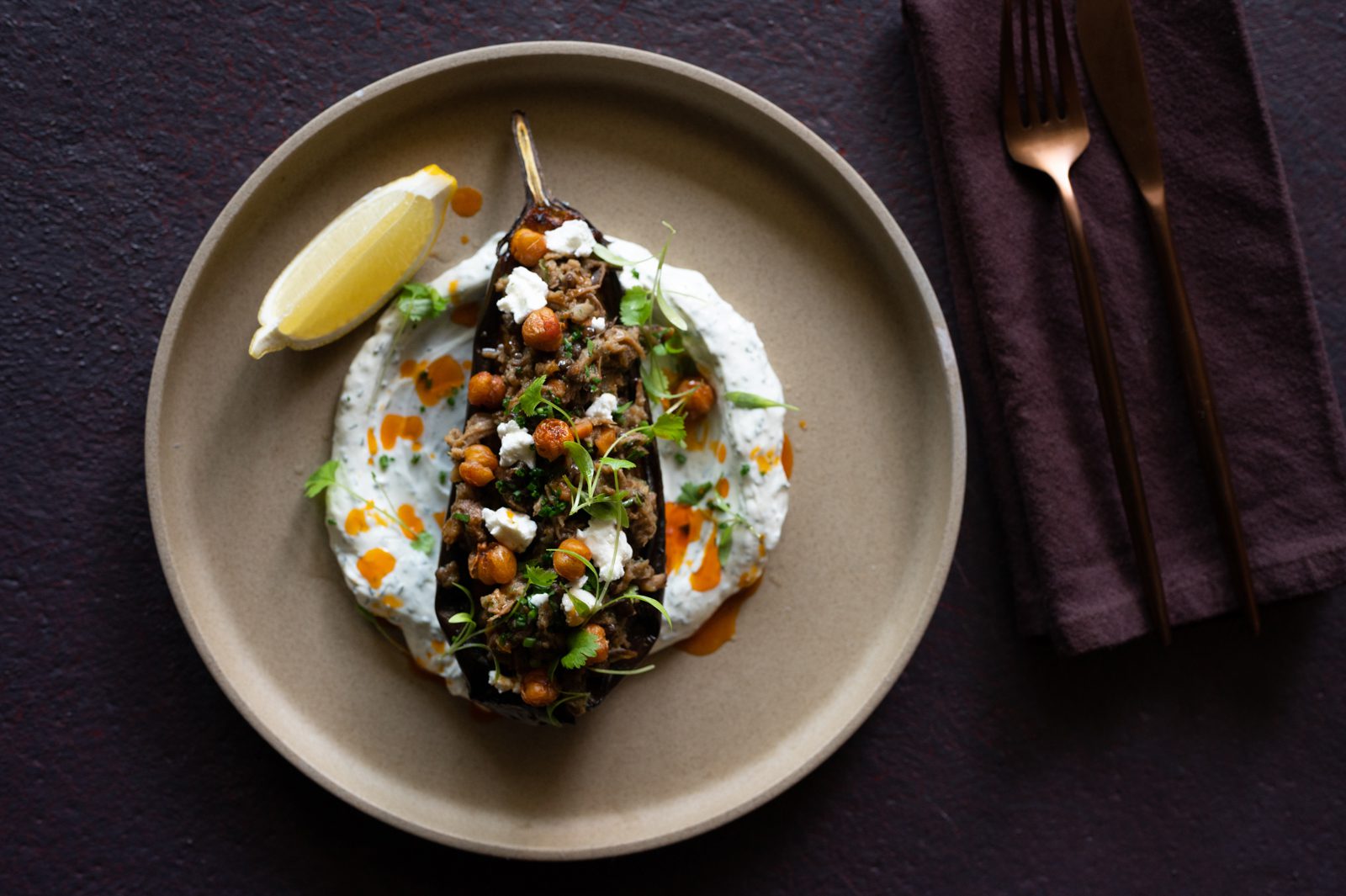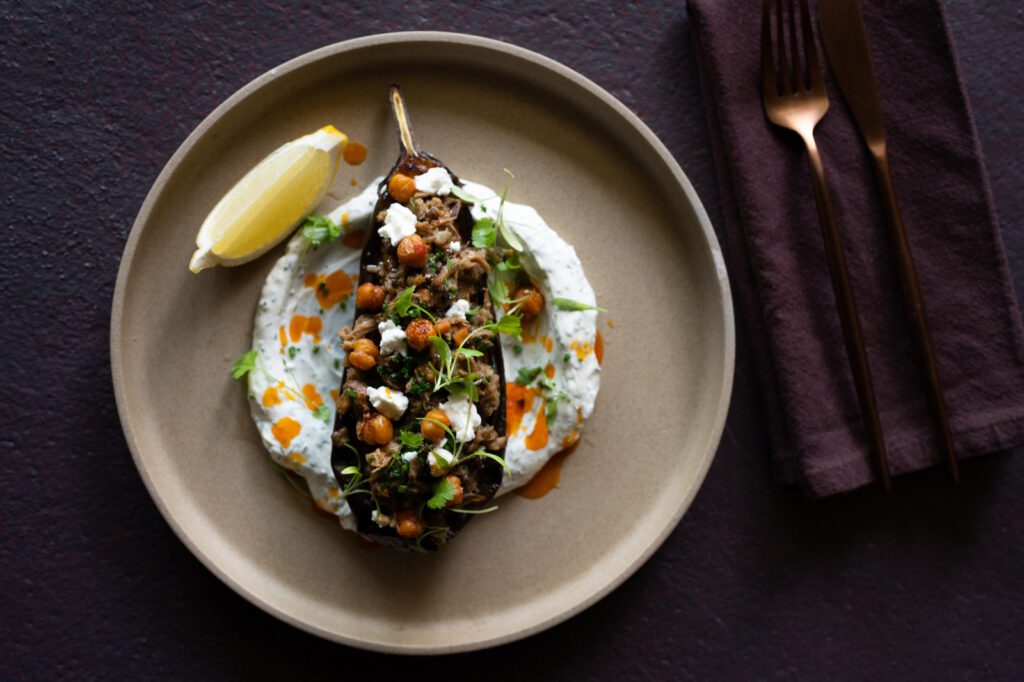 What better meal on a chilly night than a comforting, warm and filling Roasted Eggplant?
This innovative and visually beautiful dish incorporates a Fable ragu for a meaty texture and umami taste, with a refreshing dill yoghurt, crispy chickpeas, and the delicious salty tang of feta.
Overall, it's a dish that perfectly balances flavours, textures, and temperatures, and pulls them together in a colourful meal that will warm you up from the inside out.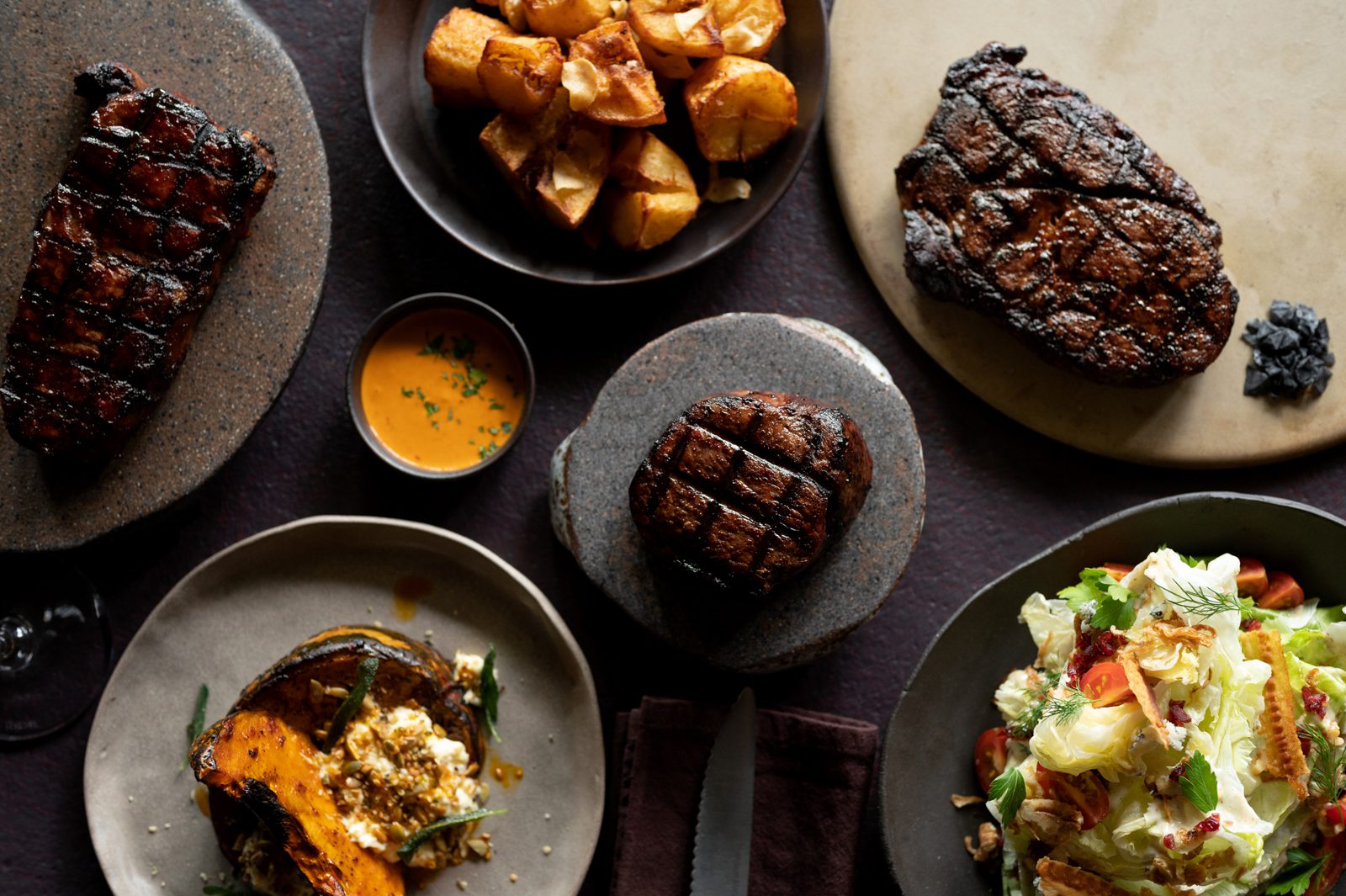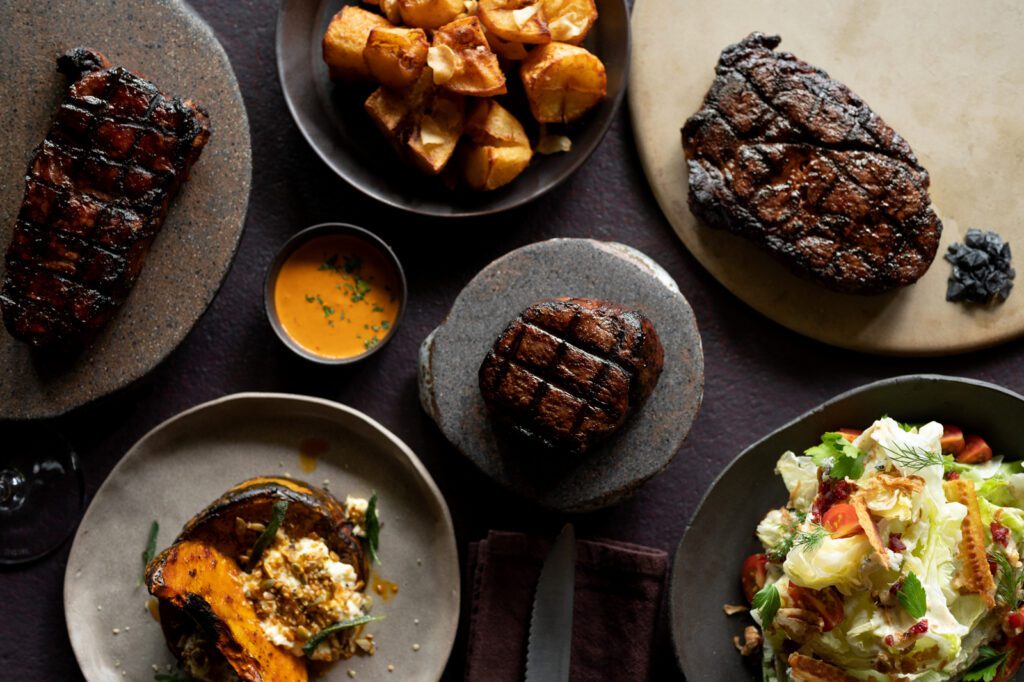 Rather than single out just one steak, the winter menu steaks all deserve the spotlight.
With beef sourced from some of Australia's leading suppliers such as Southern Ranges, Thousand Guineas, and O'Connor, Meat & Wine Co is confident in our premium cuts.
Our Monte beef from Thousand Guineas has the oldest breed registry in the world, and offers an open texture with a buttery flavour. Our superior Black Angus beef comes from O'Connor, where cattle make the most of the lush pastures and the farmers select only the very best for their Superior branded beef. And our 100% grass-fed beef is from Southern Ranges, which ensures all beef is intensely flavourful, tender, and top quality.
Each order is grilled to perfection with our unique basting, and is served with crunchy chips or a house salad.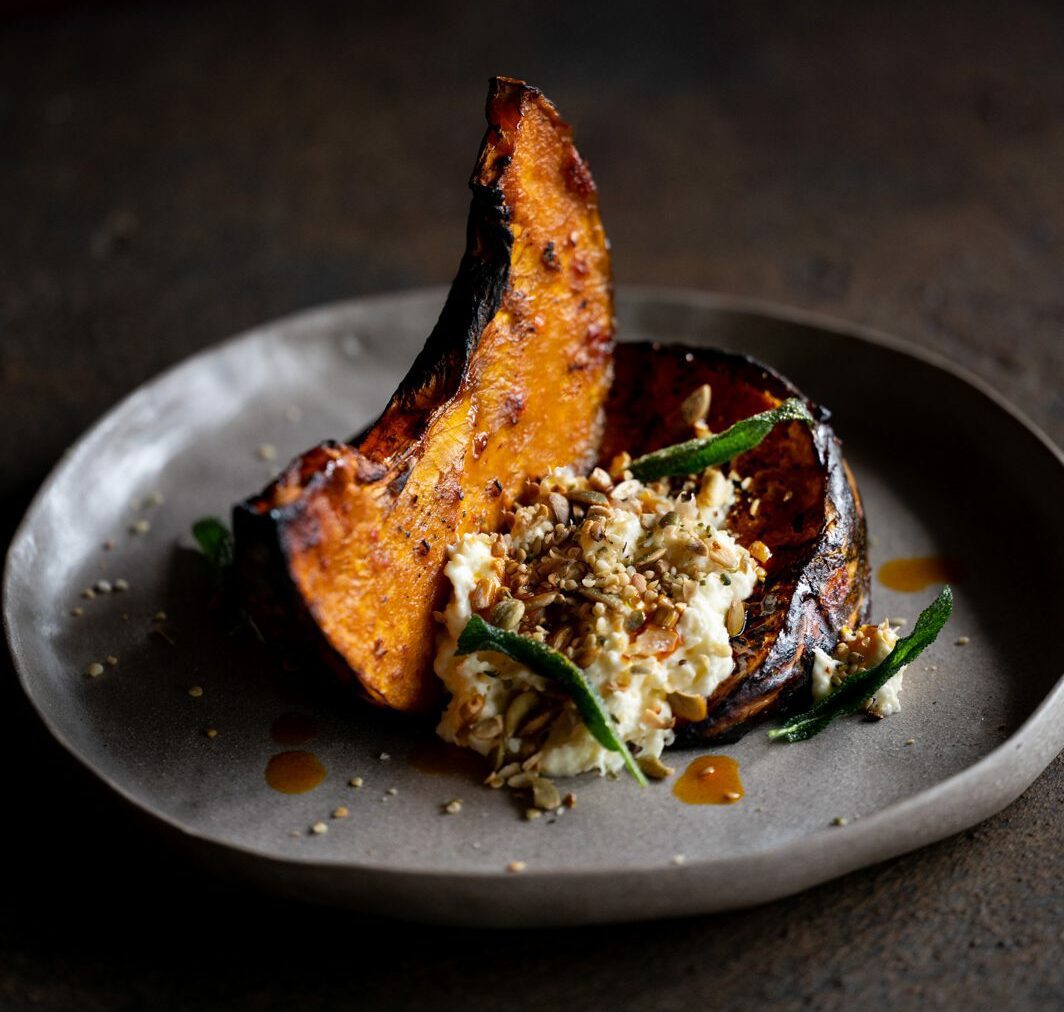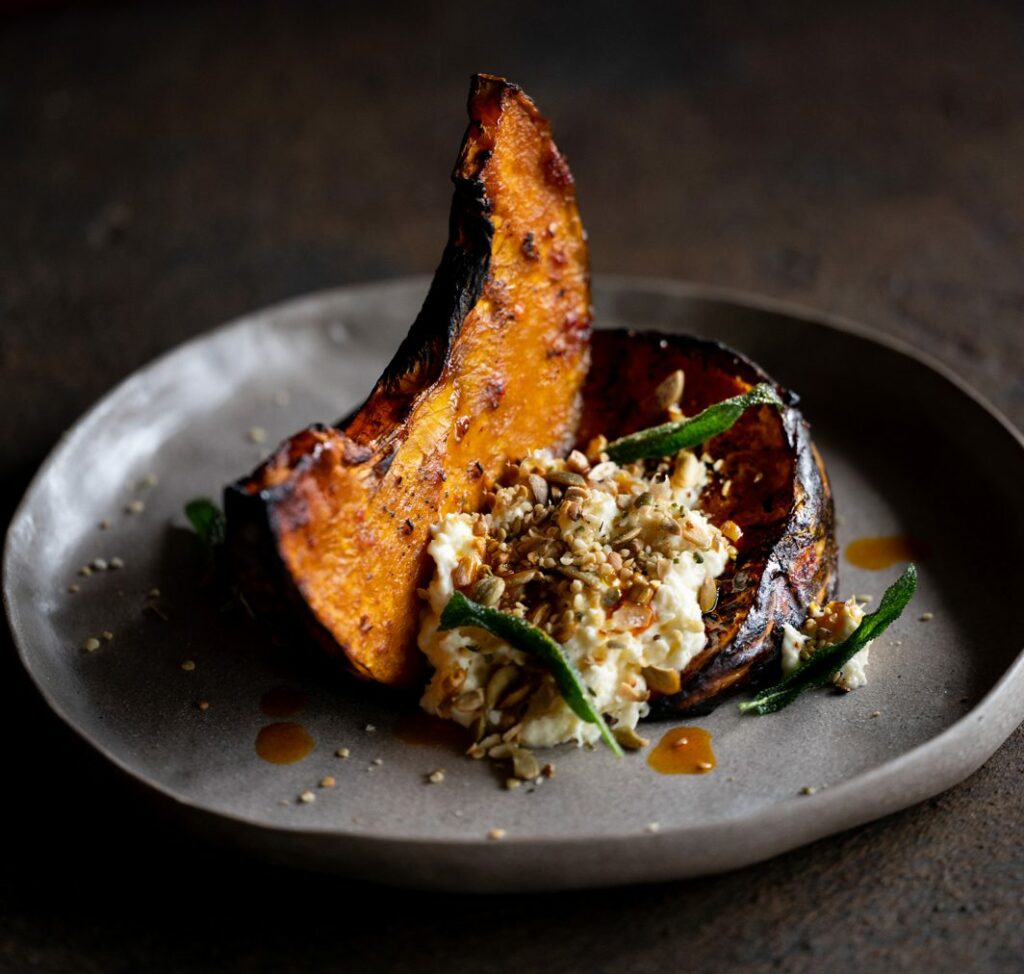 Is there any other side so wintry and warming as roasted pumpkin?
This delicious dish is the ideal accompaniment to your main, with pumpkin that has been marinated and roasted with miso, maple, and African chilli sauce. It is joined on the plate by Vannella's decadent stracciatella cheese, dukkah, and house-made pumpkin chilli oil.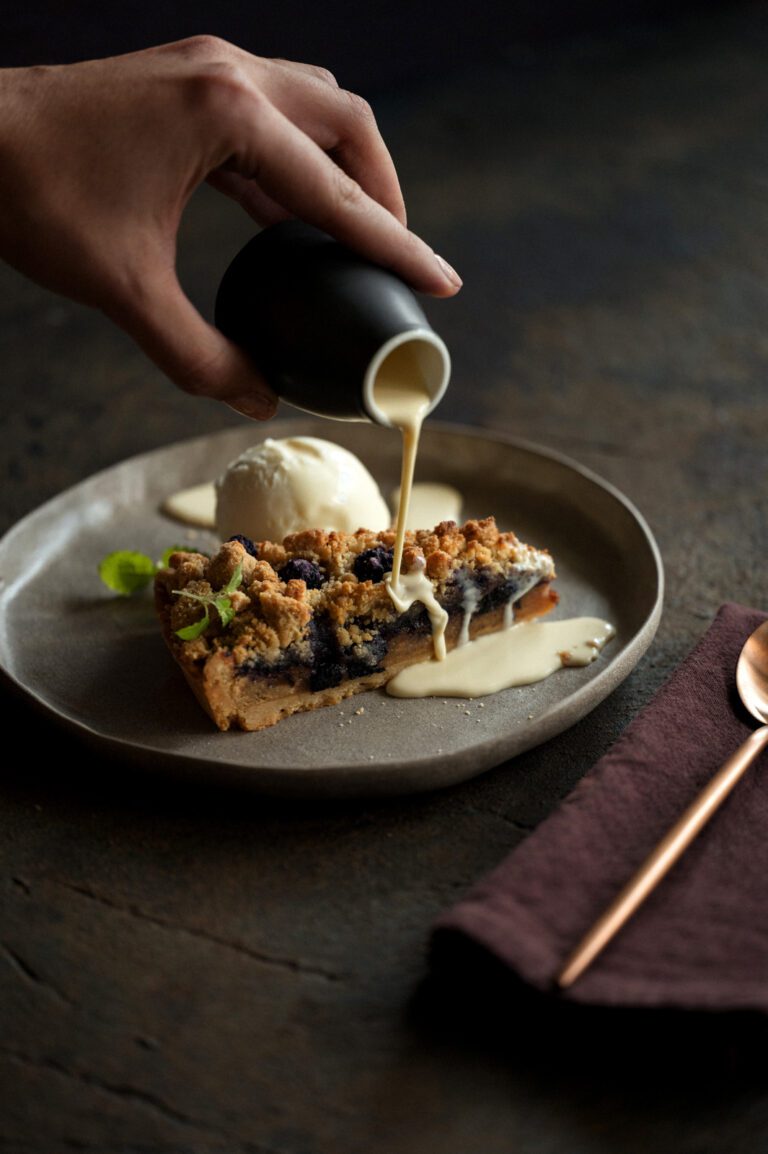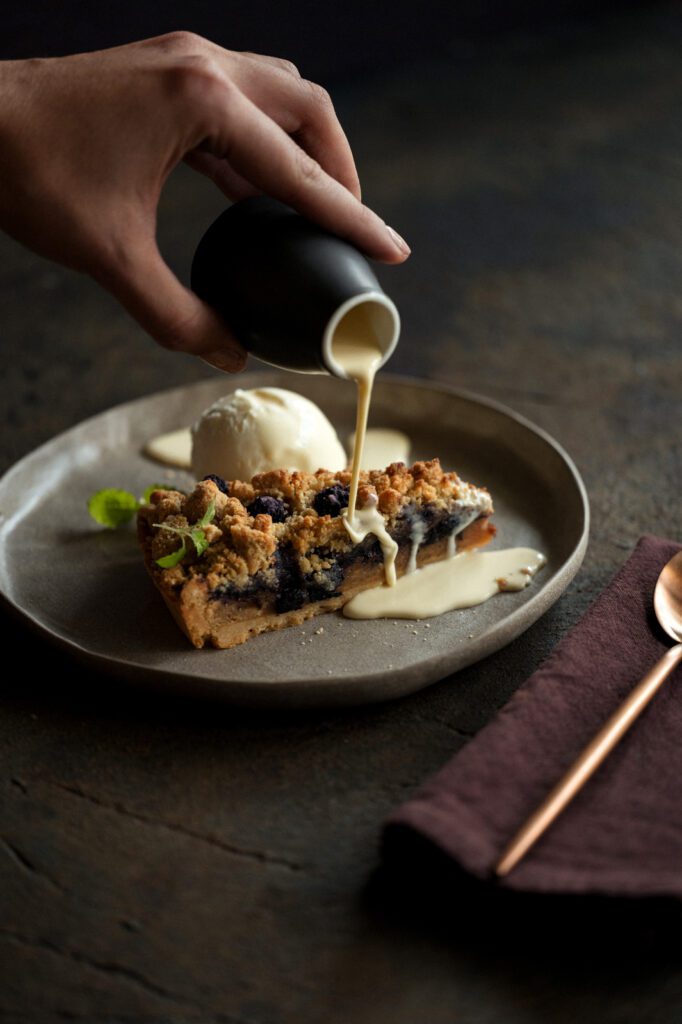 Finish on a high note with this Blueberry Tart.
Made with a shortcrust shell, this indulgent tart combines a layer of gooey caramel butter with white chocolate chips, followed by a thick layer of blueberry jam, and topped with a blueberry and crumble mix.
It's all finished with crème anglaise and fior di latte gelato for a supremely satisfying sweet finish.
Chocolate Fondant – Dessert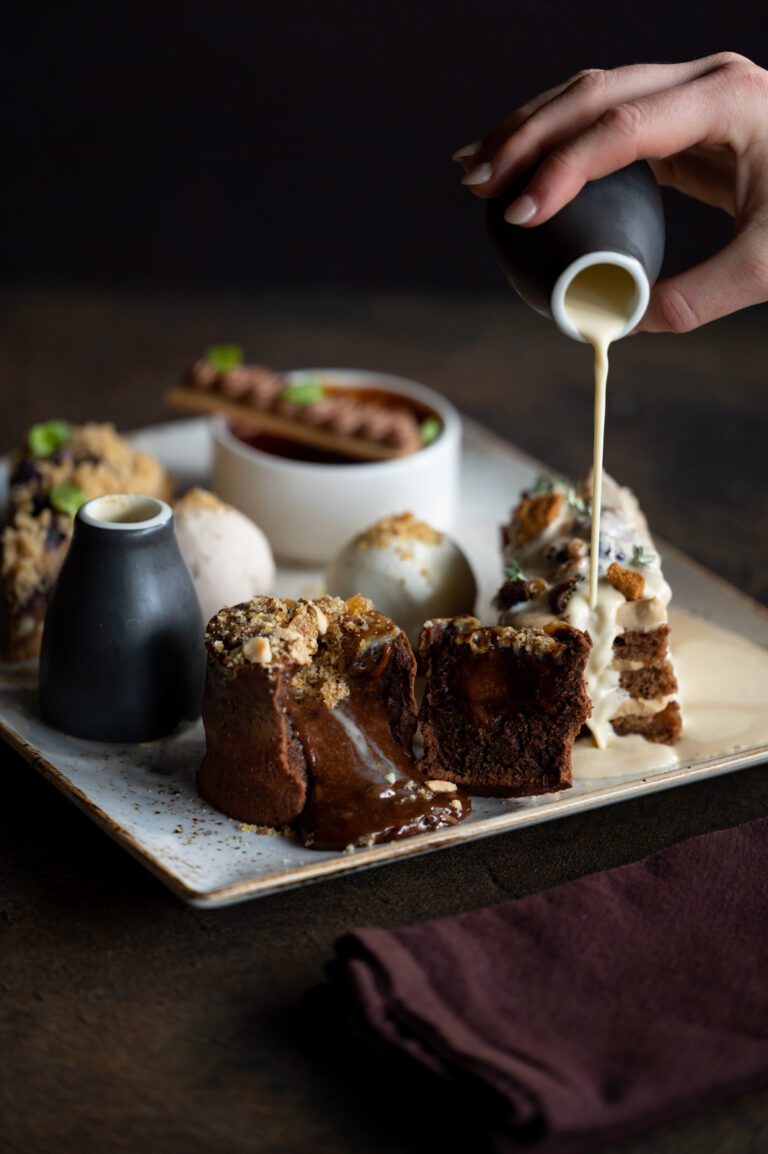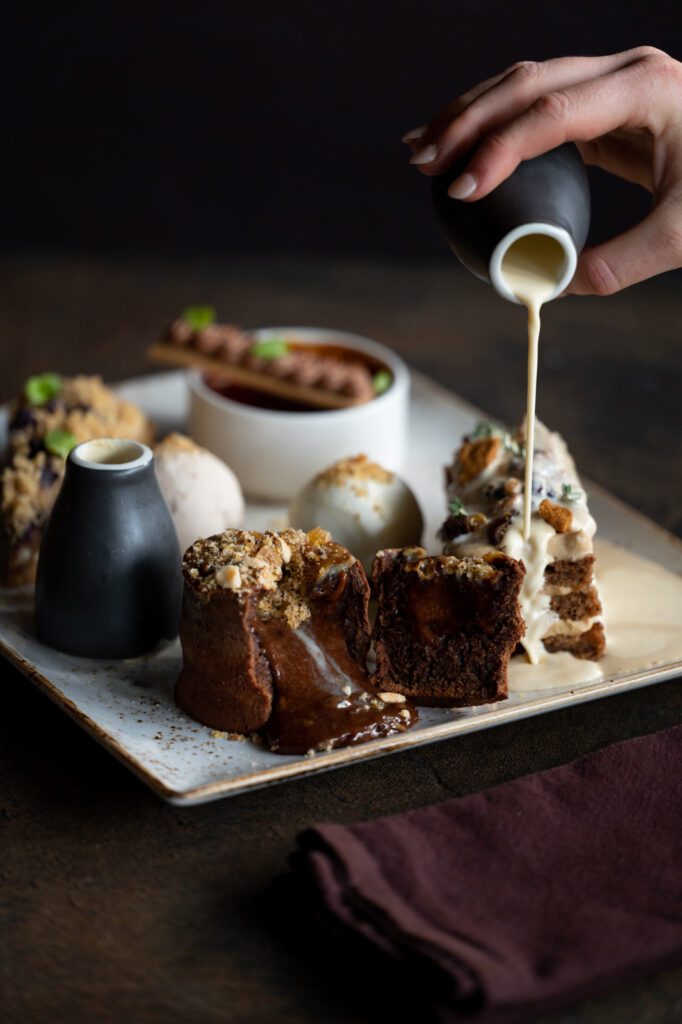 For chocolate-lovers, there's no choice but to try this Chocolate Fondant.
This fondant is baked in-house with a melted white chocolate centre and a hazelnut praline ice cream for a rich and gooey treat that answers all those sweet cravings.
Reserve your seat at the table this winter
Gather together your friends and family for a warm and welcoming meal at your local Meat & Wine Co this winter. Make your reservation online today.