Christmas Party Venues Sydney
Have your Christmas dinner with us!
'Tis the season, and picking the right venue for your corporate Christmas party or family Christmas meal is key to making sure it's a celebration to remember. At the Meat & Wine Co, we have four premium Christmas party restaurants in Sydney, located in Barangaroo, Bella Vista and Parramatta.
We are one of the most well-known and loved premium steakhouses in Australia, with an exclusive dry aged steak program. But there's more to The Meat & Wine Co than just steak. Our a la carte menu is inspired by fresh seasonal produce and curated with care. We draw from our most popular dishes to create set menus for your Christmas dinner in Sydney, and pair them with our top wines and beverages.
So if you're looking for company Christmas party venue ideas in Sydney, or want to get the friends or family together for a Christmas Eve dinner in Sydney, everything you need to celebrate the season is right here.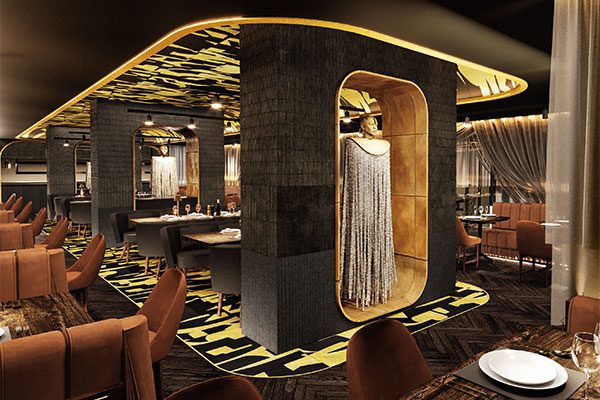 Christmas Party Venue Sydney CBD
Elevate your dining experience to new heights with The Meat & Wine Co's private dining space in the heart of Sydney CBD.
Immerse yourself in an atmosphere of sophistication and privacy as our dedicated team caters to your every need.
Walking distance from Museum Station or Town Hall Station
2 private dining rooms seating 8 – 10 guests
Ability to join the private dining rooms to seat 16 guests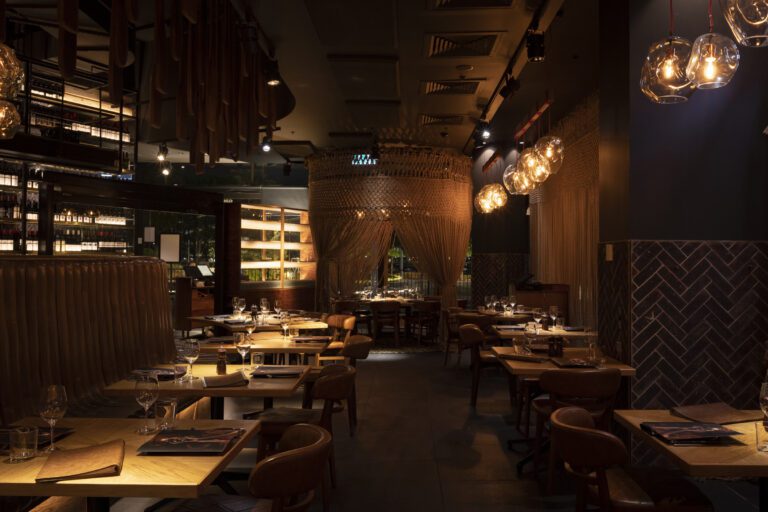 You won't find a more ideally located venue for corporate Christmas parties than The Meat & Wine Co Barangaroo. Make this year's work Christmas party the best one yet in a prime location overlooking Sydney Harbour.
5 private dining rooms
Dining areas seat groups of 4 to 22
Private whiskey room available
Zoned areas for privacy
TVs available
Walking distance to Wynyard station and Barangaroo Wharf
Total capacity: 300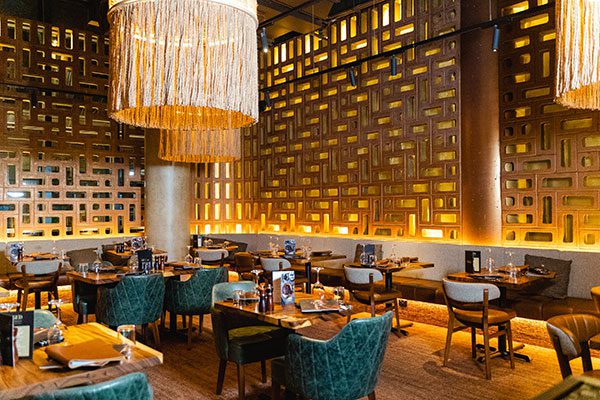 Our Bella Vista restaurant is an elegant and warm location where you can expect to find one of the more premium dining experiences in the Norwest. Our Bella Vista venue hire offers diners an upscale yet understated get together with the exceptional food we're known for, an extensive wine list and cocktail menu, and friendly service that will go the extra mile to ensure your function or event runs seamlessly.
Walking distance to the Norwest Station
Parking available
Walking distance from the Norwest Business Park
Total capacity: 100 inside / 100 Outside
Private dining spaces: None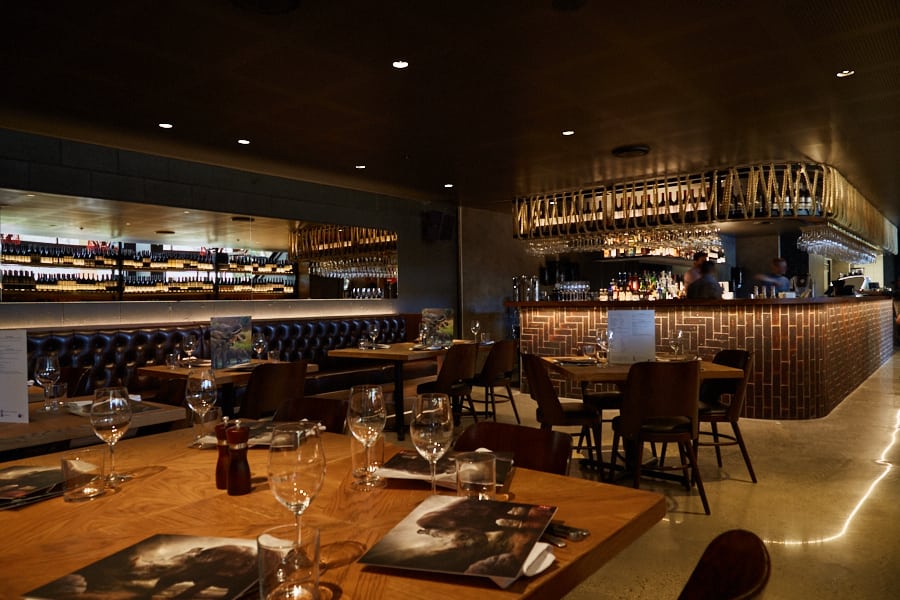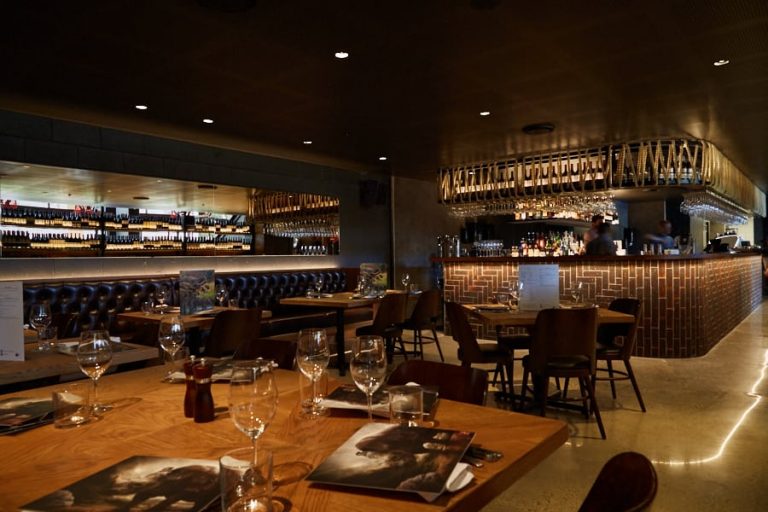 Located in Meriton Suites Church St – the tallest building in Western Sydney – The Meat & Wine Co Parramatta sits at the edge of the Parramatta River and makes the ideal choice for a waterside Christmas party in Western Sydney.
3 private dining rooms, each seating 12 guests
Ability to join the private dining rooms to sit 24 or 36 guests
Semi private dining room, seating 50 guests
Walking distance to Parramatta Station and Ferry Wharf
Total capacity: 200
The Meat & Wine Co Christmas party Sydney Menus
Enjoy a Christmas lunch or dinner with all the trimmings that holds true to our everyday ethos of using top-quality meat and produce in everything we offer. From appetising hors d'oeuvres on arrival to fresh entrees, cutting-edge main dishes and delectable desserts, there's something on our Christmas menus to tempt every palate – and say cheers to a great year with a hand-selected range of wines, beers and non-alcoholic beverages.
Celebrate Christmas just the way it should be at The Meat & Wine Co: with great food and good company.
Let us take care of your entire Christmas party experience with our flexible Christmas set menus. Choose from four different pricing tiers, each with a number of carefully selected hors d'oeuvres, entrees, mains and desserts to suit a variety of preferences.
These set menus range from $95 to $150 per person, ensuring you get the experience you want – no more or less. Set menus are available for groups of 10 or more, and all include a bite to start on arrival, a selection of entrees, mains (including the option of our succulent steaks), salads to share, and dessert.
Our AGED Sharing Set Menu is the ultimate Christmas party dinner in Sydney, further elevating your steak experience. Enjoy our succulent Grass Fed, MB 4+ Dry-Aged Southern Range Rib-Eye, only at The Meat & Wine Co.
If you're looking for Christmas lunch restaurants in Sydney, The Meat & Wine Co serves an express lunch set menu from Monday to Wednesday between noon and 4pm. Select from two-course ($52), or three-course ($59) lunch menu including a choice of some of our most popular dishes as well as specially curated entrees, mains and desserts.
Diners can choose from a variety of dishes, including our Shorthorn Rump Steak, Hot Poke Bowl, Pork Ribs, and other popular dishes.
You can also opt for a beverage package, which includes standard, premium, and deluxe options depending on the variety of drinks you'd like to offer your guests.
Planning a corporate Christmas party in Sydney? Add a customised touch with your own company branding alongside The Meat & Wine Co's set menu. Simply let our team know what you're looking for, and we can organise this personalisation for your event completely free of charge.
About Christmas parties at The Meat & Wine Co Sydney
To secure your booking at The Meat & Wine Co, credit card details must be provided for all reservations of 11 or more guests. Should you cancel your reservation within 48 hours of the arrival time or fail to show for your reservation, a fee of $50 per person will be incurred.
We also recommend guests arrive 15 minutes prior to your booking time to ensure we're able to serve you on time.
To find out more about Christmas parties at The Meat & Wine Co, see our full terms and conditions below.