There's magic and merriment in the warm, summer air, and that can only mean one thing: the Christmas season is well and truly upon us. In just a few short weeks, you'll find that stores will be all hustle-and-bustle as people rush to get a head-start on all their festive Christmas gift-shopping.
In all this chaos, one of the most highly anticipated moments of reprieve is always your work Christmas party. These refreshingly unprofessional jaunts often prove to be an invaluable asset to any company's annual calendar, as it allows employees to blow off some steam alongside really getting to know the people that they've sat just feet away from throughout the year.
Of course, with this particular annual event being so highly awaited all year long, it can be tricky for managers to navigate office Christmas party planning. I mean you always have a lot of people to please, all of which are likely to have their own party preferences. Yes, it can be a complicated process, but fortunately we're here to help.
Here are 7 key party planning elements to consider when organising your next great work Christmas party:
Attendees

Budget

Atmosphere

The Date

The Location

The Food

Entertainment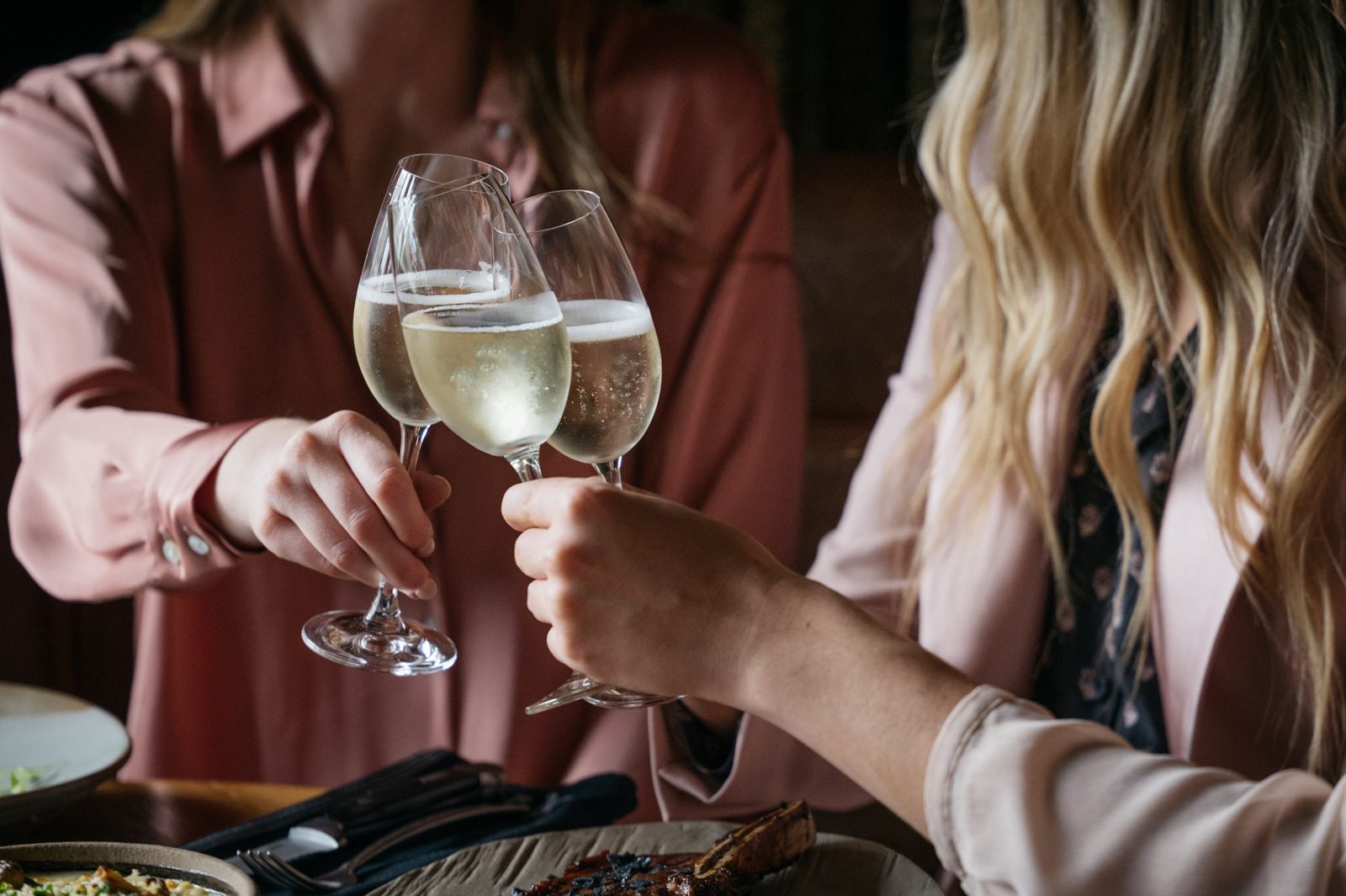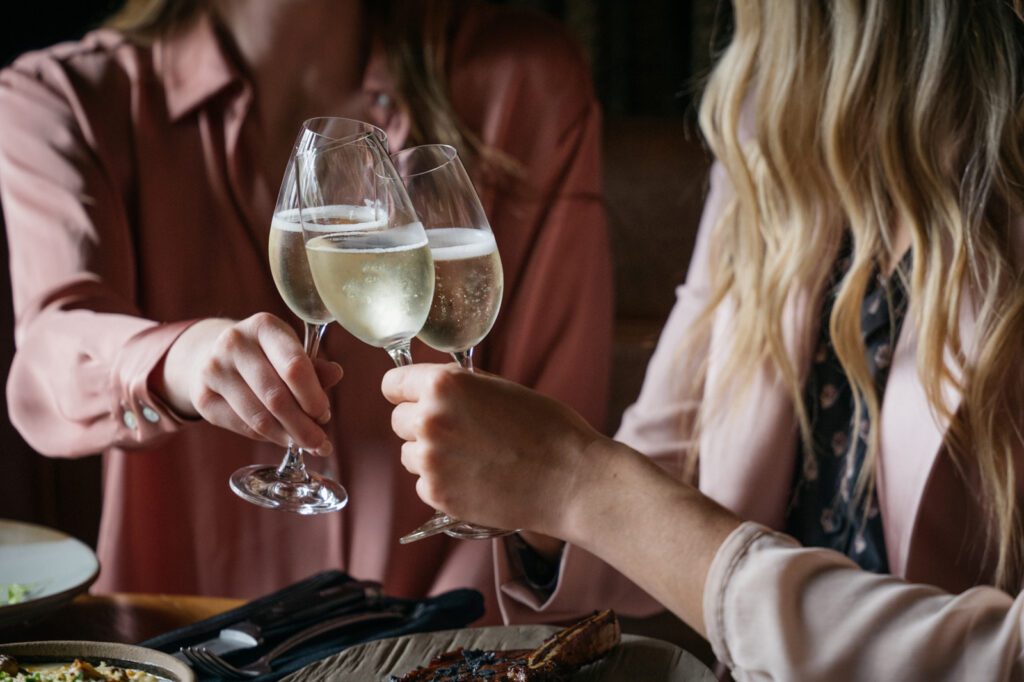 The very first thing to do is to make sure you know how many people are coming or are likely to come. Getting a gauge of your guest list can naturally help take a lot of the guesswork out of the work Christmas party planning process.
Knowing how many guests will be attending can help you determine how big of a Christmas party venue you'll need, as well as how much food you need, any dietary requirements to cater for, and a myriad of other considerations. Simply put, so many aspects of a party are determined by its guest list, so this should always be the starting point when organising your office Christmas party too.
The very next thing you should outline is the budget for your office Christmas party. How much can you afford to spend on this celebration? And can the budget handle all expenses, or will staff need to pay a fee for themselves or their plus ones in order to confirm or reserve a spot?
Of course, the more attendees there are, the more you'll likely have to spend on your office Christmas party. More people to sit means more seats, which will undoubtedly mean a bigger venue. And as catering for parties is often per head, every additional seat filled is likely to add to your party planning expenses as well.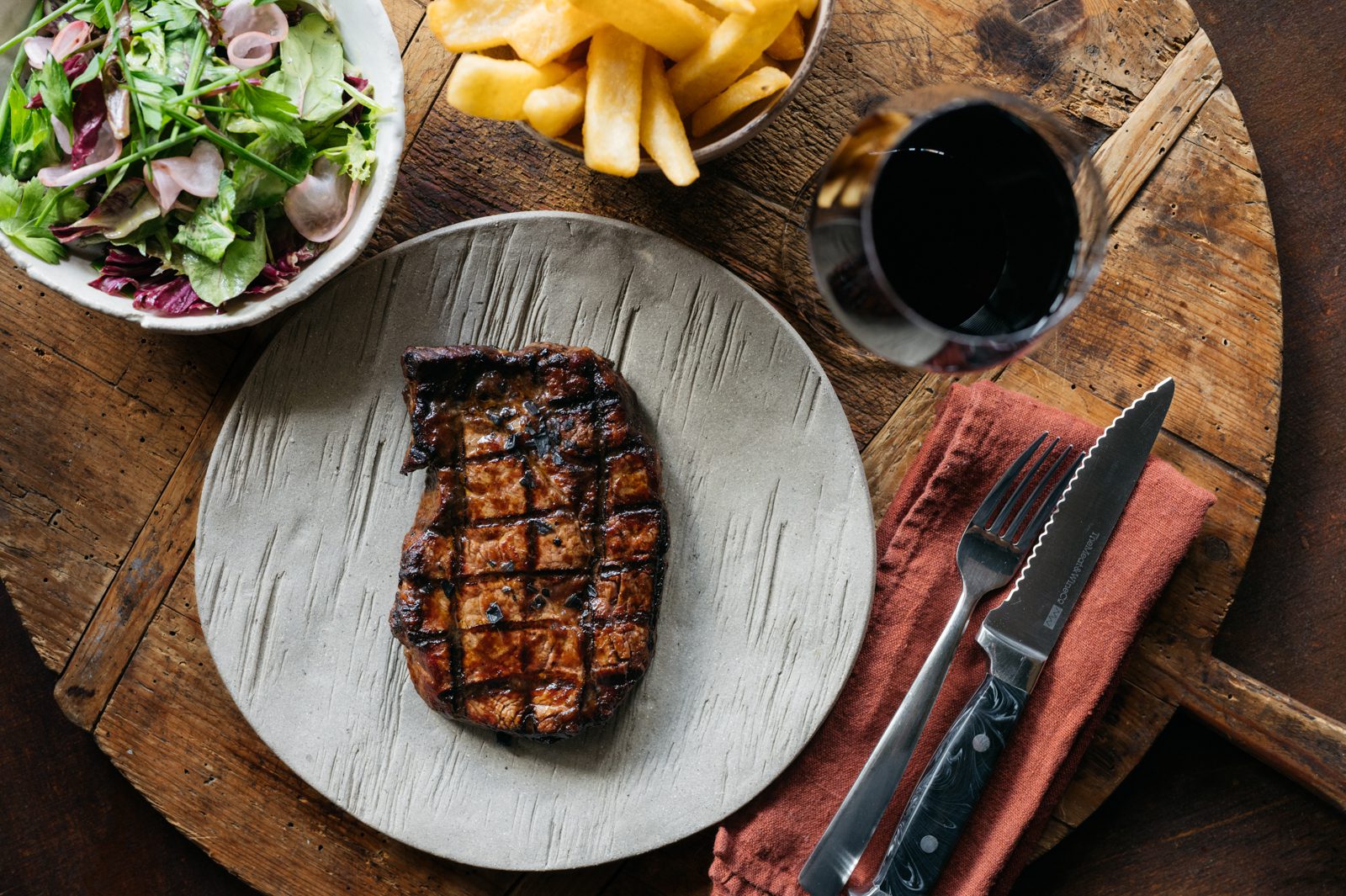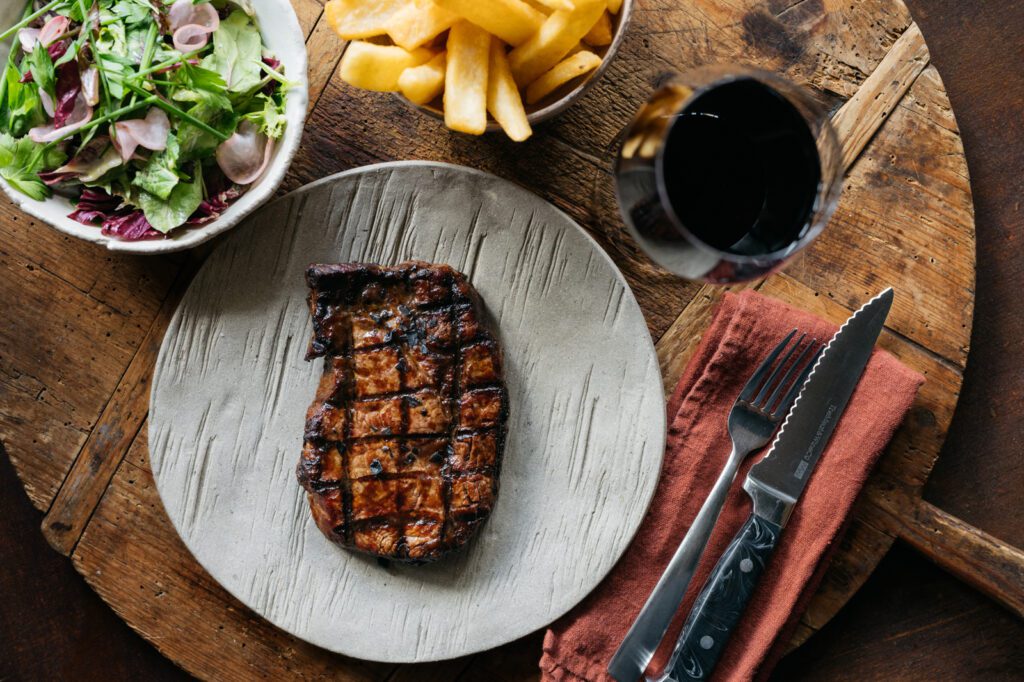 The next party planning element you'll want to consider is what kind of vibe or atmosphere you'd like your office Christmas party to present. Do you want your work Christmas party to be more formal or casual? Upscale or a good, old-fashioned sit down? Drinks or just dinner?
Formal events lend themselves well to intimate chats long into the night, tasty food, good wine, and of course, the opportunity to get dressed to the nines. Casual dinners, on the other hand, are fun because they foster a warm and inviting atmosphere that encourages your partygoers to build real connections with one another. Personally we think it's the best bet to go with an informal setting, as most work Christmas party venues in a decent price range aren't overly stuffy. And although it may be fun to have a super fancy, formal office Christmas party, it can also be argued that you've spent the whole year acting professional. Why not let your hair down at Christmastime?
You'll also want to make sure that everyone who's been invited can actually make the party, which means either sending out a digital calendar invite or passing out actual RSVPs if you want to go the pen and paper route. Keep in mind that everyone has a life outside of work, and that life comes with its own commitments that may perhaps restrict your guests from attending an after hours workplace Christmas party.
You can make attending your work Christmas party as easy as possible for finding a venue that's fairly central or equidistant from your employees. For example, if everyone works around Perth, then the CBD would probably be a viable location for your employees. If everyone is a short trip away, then that places less constraints on people's time, and increases the likelihood that they'll be able to come along. Regardless, be sure to ask your employees what their schedules are like in a company group chat so that you can increase your chances of finding a time slot that works for everyone.
Now that we've got a list of guests, a budget, an atmosphere for the party, and a date and time set, we can finally start to check out some truly stellar venues. Some people go for unique venues like party boats or activities to create an experiential party. But we think that the best way to show your employees your appreciation after a year of hard work is with a nice meal, or a culinary experience.
If you're looking for somewhere to book your office Christmas party, then The Meat & Wine Co. is the perfect place for all your party needs. With our beautiful atmosphere, gorgeous menus, and unbeatable wines, booking a table or function space at The Meat & Wine Co. is sure to effortlessly elevate your work Christmas party this year.

The Meat & Wine Co offers great Christmas party & function venues across Australia, meaning you'll be able to find your perfect office Christmas party venue no matter where you are.
Book a Christmas party venue at your selected location by clicking the links below: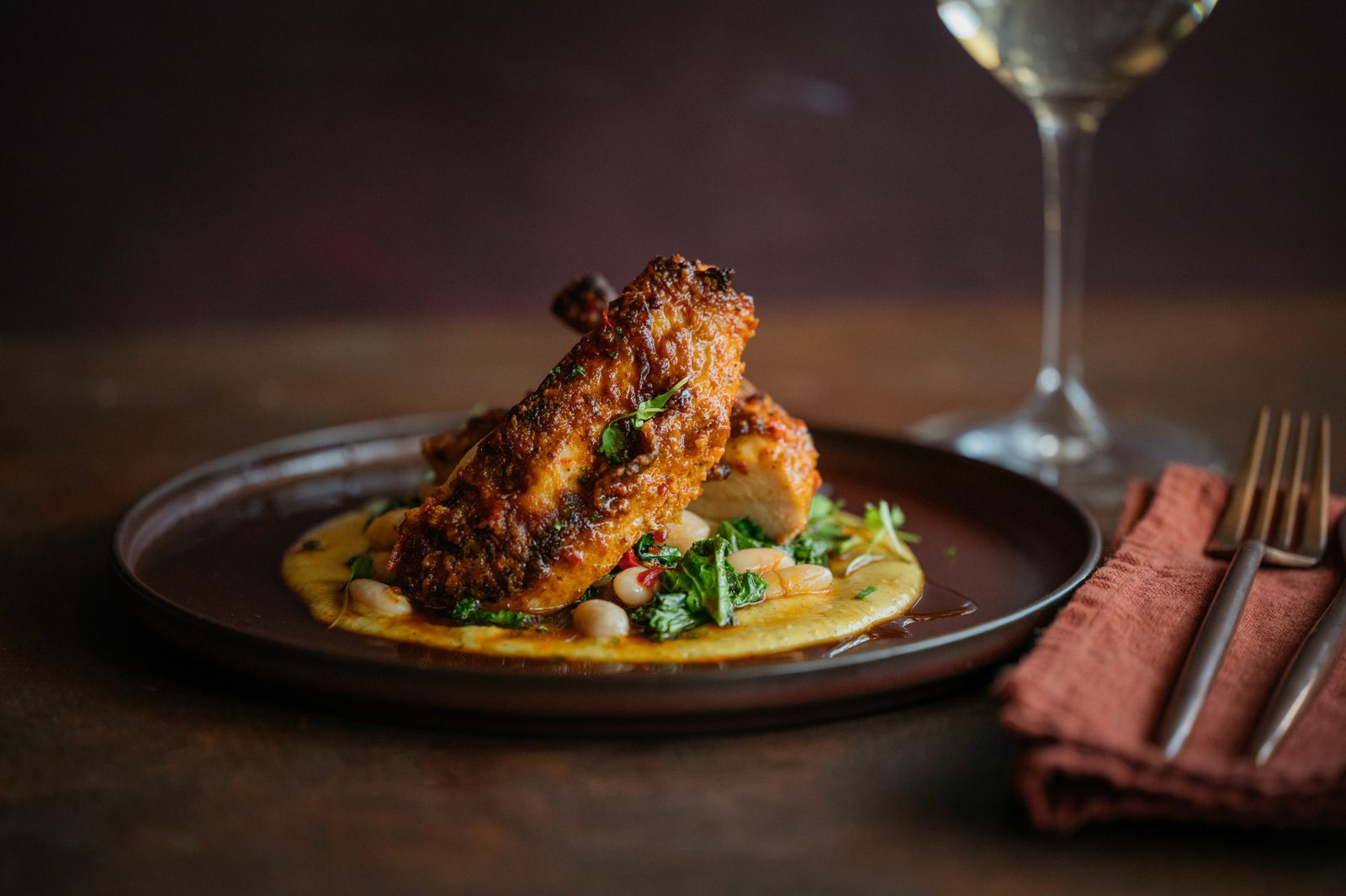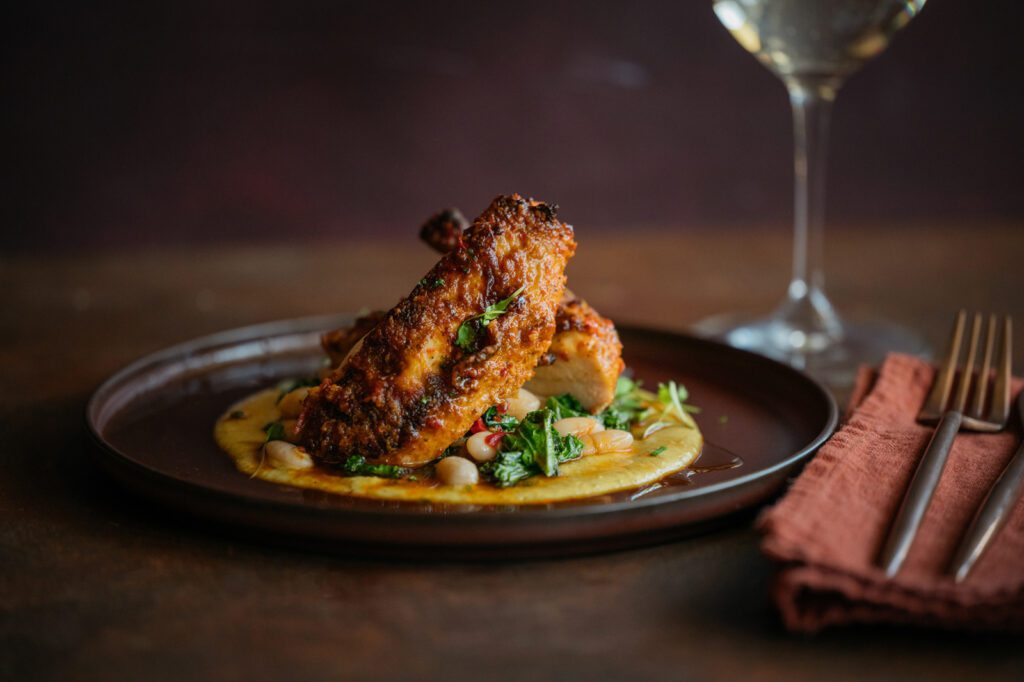 As we've mentioned here and there throughout our little exploration of party planning, you need to have some attention to detail when organising food or catering for your work Christmas party. After all, it would spoil your party pretty quickly if someone's allergies started to play up. If you've decided to follow our advice and settle on a restaurant, make sure that they're aware of any dietary requirements you and your guests may have.
If you're feeling a little lost with organising food for your office Christmas party, then you'll be over the moon to hear that The Meat & Wine Co. actually offers specialty Christmas-inspired menus right alongside our Christmas party venues for hire. This means that you can enjoy all the heartiest Christmas foods at your office Christmas party without even needing to lift a finger. From fan favourite mains like steaks or barramundi grilled to perfection, to delicious desserts infused with ginger, toffee, and other festive flavours, our Christmas packages are sure to please all your office Christmas party guests.
Want dinner and a show? What about other kinds of after-dinner entertainment? If you'd like your work Christmas party to include a few fun activities, you can consider taking your guests to other fun places after sharing a meal.
Simply try and put together a list of activities that you're sure your staff will enjoy. This list can be created independently or perhaps even with a little teamwork by gathering employee input. In other words, ask your staff what they feel good about, and what kind of activities they might enjoy. Then take a majority rules vote, and place your bookings!
Now that all your office Christmas party planning is done and dusted, all that's really left to do is watch your RSVPs roll on in and get excited for your party! And rest assured, when you book your office Christmas party with The Meat & Wine Co, you'll have more than plenty to get excited about.
No matter what state or city you're working and partying in, The Meat & Wine Co.'s stellar Christmas party function spaces are sure to provide the perfect atmosphere, ambience, and delectable food and drink options to help your festive fiesta become a scintillating soiree to herald the merry season.
With unique Christmas packages complete with mouthwatering Christmas-inspired set menus, to our gift card options to give to employees as end of year gifts or perhaps even prizes, The Meat & Wine Co. have all your company cheer requirements well and truly covered.
Book your office Christmas party at The Meat & Wine Co today to help kickstart your festive season.