It's the most wonderful time of the year! Christmas is just around the corner, and the mad dash to the purchasing and making of gifts is in full swing. There's nothing quite like Christmas time. Having the family around, enjoying good food and drink, and the joys of giving and receiving gifts, all make Christmas a beautiful and joyous time of year. And to top it all off, the Christmas season also heralds a break from working life, and no matter how much you might love your job, the rare opportunity to take time for yourself is always a welcome Christmas gift in itself.

However many employers take Christmas as an opportunity to celebrate with their staff, giving employees a chance to get to know each other away from their desks, decompress from the year, and just generally let their hair out after a job well done. Whether you're booking a venue or have an activity planned, the office Christmas party is a great opportunity to show your employees that they're appreciated and that you care about them. To that end, here are 10 great work Christmas party ideas guaranteed to set the right vibe.
Wine & Dine

Bowling

Karaoke

Escape Room Party

Laser Tag/Paintball

Classic Office Party

A Comedy Show

Party Boat/Bus

Murder Mystery

Rooftop Bar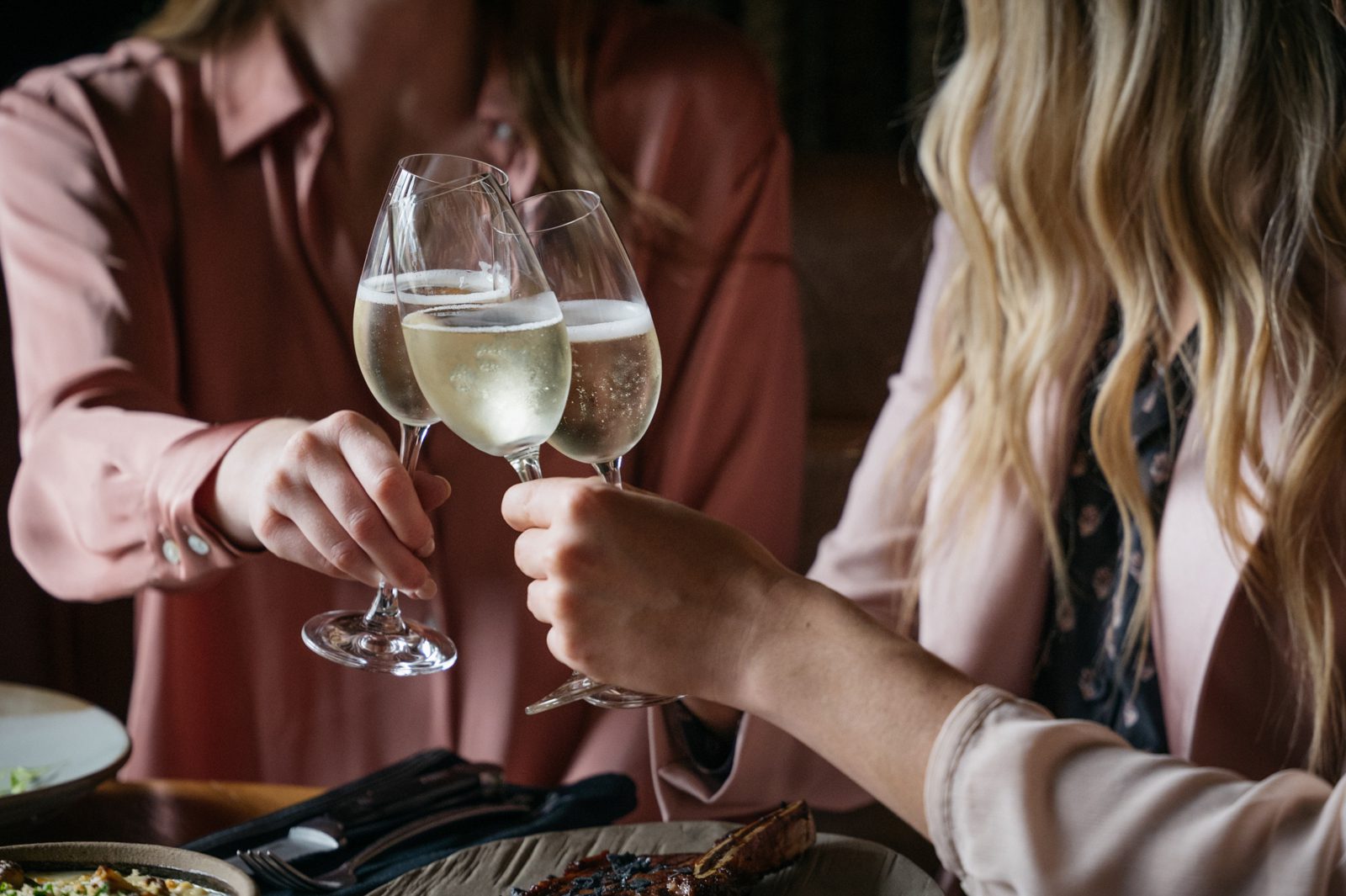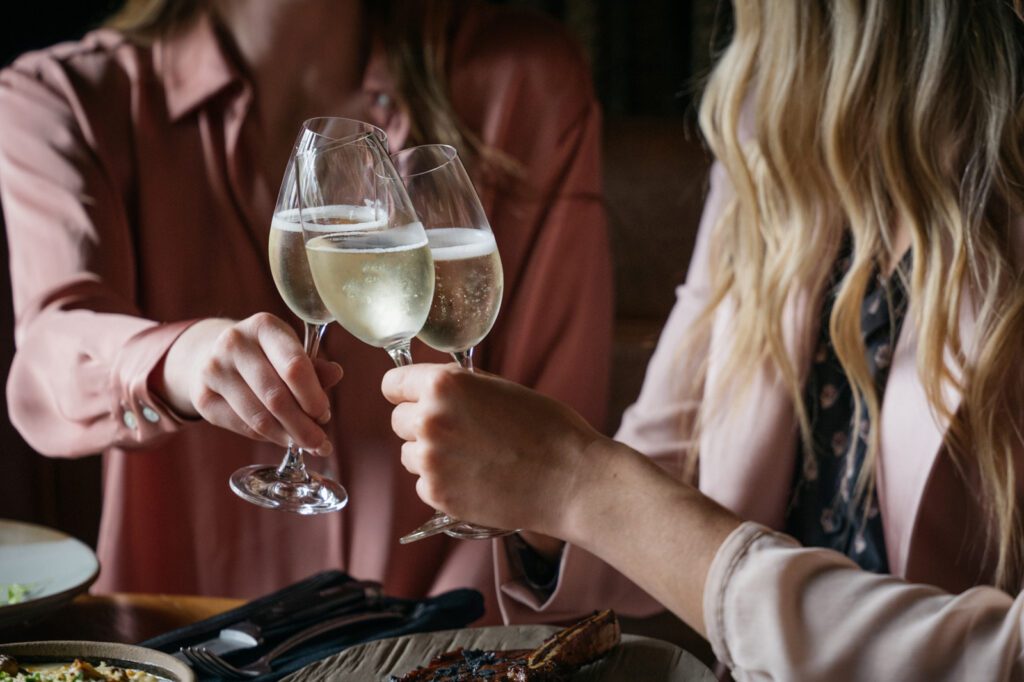 We're undeniably a nation of foodies here in Australia, which is precisely why a good dinner and drinks out on the town is always sure to make for yet another great office Christmas party idea. And thanks to the fact that we are indeed a nation of avid foodies, you'll find that there is truly no shortage of delectable diners and gourmet haunts that you may be able to enjoy with your fellow team members.
Simply select an ideal menu that agrees with everyone's palate. Do you want to go for exotic delicacies for a themed Christmas dinner party, or home-grown classics like those available at The Meat & Wine Co.? Regardless of what you do choose, you can take comfort in the fact that dining out is such a popular work Christmas party idea because everyone likes food, and everyone loves good food. But to make your job a little easier, we'd like to share that top-notch restaurants like The Meat & Wine Co offer Christmas bookings which are perfect for an office Christmas party.
Everyone loves bowling. It's a known crowd-pleaser. The energy and excitement of knocking down some pins coupled with extended rest times and opportunities to be a spectator just as much as a player, means that there's always room for everyone. Those who want to, can bowl to their heart's content. Those content to sit and mingle with the rest of the office can engage in that as well, all while enjoying various snacks and beverages.
Most bowling places also contain some kind of arcade complete with fun games like skee ball or a claw machine, making this another great work Christmas party idea. And a little friendly competition is always a great opportunity to offer a bit of a prize to your staff, like a brand new coffee machine or perhaps even some extra time off over the Christmas break!
Karaoke is another great way to get everyone up and dancing at your workplace Christmas party. Not only does karaoke provide the perfect setting for breaking down barriers between staff members from different departments, but having this particular activity at your office Christmas party may even help you learn a thing or two about your coworkers, like their favourite songs or bands, or the fact that they performed in choirs!
The fear inside all of us at performing can be removed by hiring a karaoke room, and keeping performances private and restricted to people we know. The best thing about karaoke is that it's not about having a good voice, it's about having a good time. Even bad singing is celebrated, hell even expected when it comes to karaoke. Not to mention a wide range of delicious food and drink to get the party going all night! Combine karaoke with Christmas songs to get the vibe going.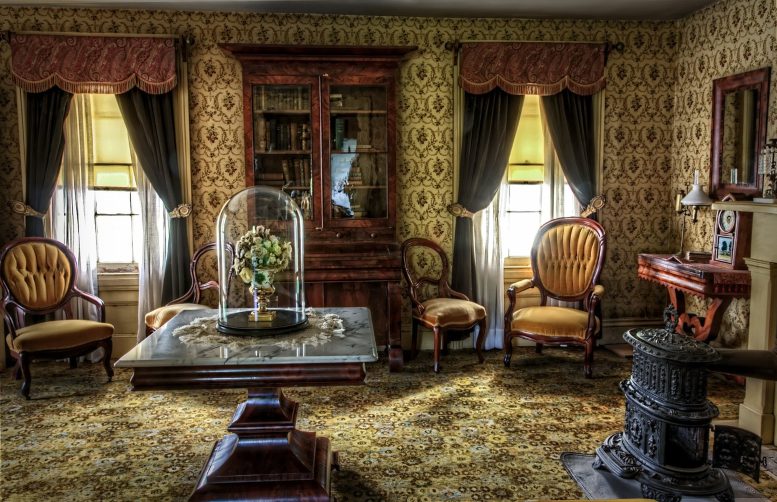 Photo credit: Big Escape Rooms
Escape rooms have become exceedingly popular in recent years, and why not!? They're fun, inventive, and unique, and they just so happen to hide professional team-building skills in a fun and immersive activity that everyone will enjoy.
If you've never been to an escape room, it usually consists of a puzzle room or two that have been built around a story (a rogue A.I. locking its human engineers in an industrial plant; being jailed or held against your will for a crime you didn't commit; trapped in a bunker during a zombie apocalypse etc.). You and your team usually also have a limited time to investigate the room, find all the puzzles, solve them, and then escape with your lives intact! Well, it's not really that severe, but you get the gist.
These activities make for great office parties due to the combination of immersive entertainment, panicked puzzling, and effortless team-building.
What would the world be without a little catharsis? Chaos, that's what. Pure, unadulterated, chaos. But catharsis in the context of venting frustrations at work can be challenging, and there may be some resentment left over from the past year. Well, this is where things can get a little bit…Purge-y.
If you want to give your coworkers an amazing cathartic opportunity for their work Christmas party this year, then you seriously can't go wrong with a few rounds of laser tag or paintball. Just think about it! You'll get to run around and shoot your colleagues to your heart's content. What joy! And if you're not a fan of guns, then why not try archery paintball, perfect for those who'd like a mediaeval twist to this particular office Christmas party idea?
Yes, this is one of the most common workplace Christmas party ideas, but there really is nothing wrong with a classic. Transforming your office into the perfect space for a Christmas party can help provide your staff with a unique Yuletide celebration that they'll be sure to cherish for years to come. Having an office Christmas party right in your office may also help your staff feel a lot more at home and comfortable in your office.
And of course, there are other financial benefits to hosting an on-site office Christmas party. The money that you save on venue hire can easily be used to incorporate some other fun Christmas party activities. Karaoke? Hire a machine for the night. Dance party? Hire some party lights and a smoke machine and you're set. A delicious dinner? Get some gourmet creations delivered right to your office. Game night? Everyone brings a board game (or you use a TV connected up to some consoles) and people can play whatever they want.
Another fun activity that can help flesh out your office Christmas party and provide opportunities for bonding is organising an office Secret Santa gifts exchange. Having to source some fun gifts for coworkers you may not have chatted to much in the past can naturally help deepen your relationships at work. And of course, if you're not sure what to get, restaurant gift cards are always a good plan.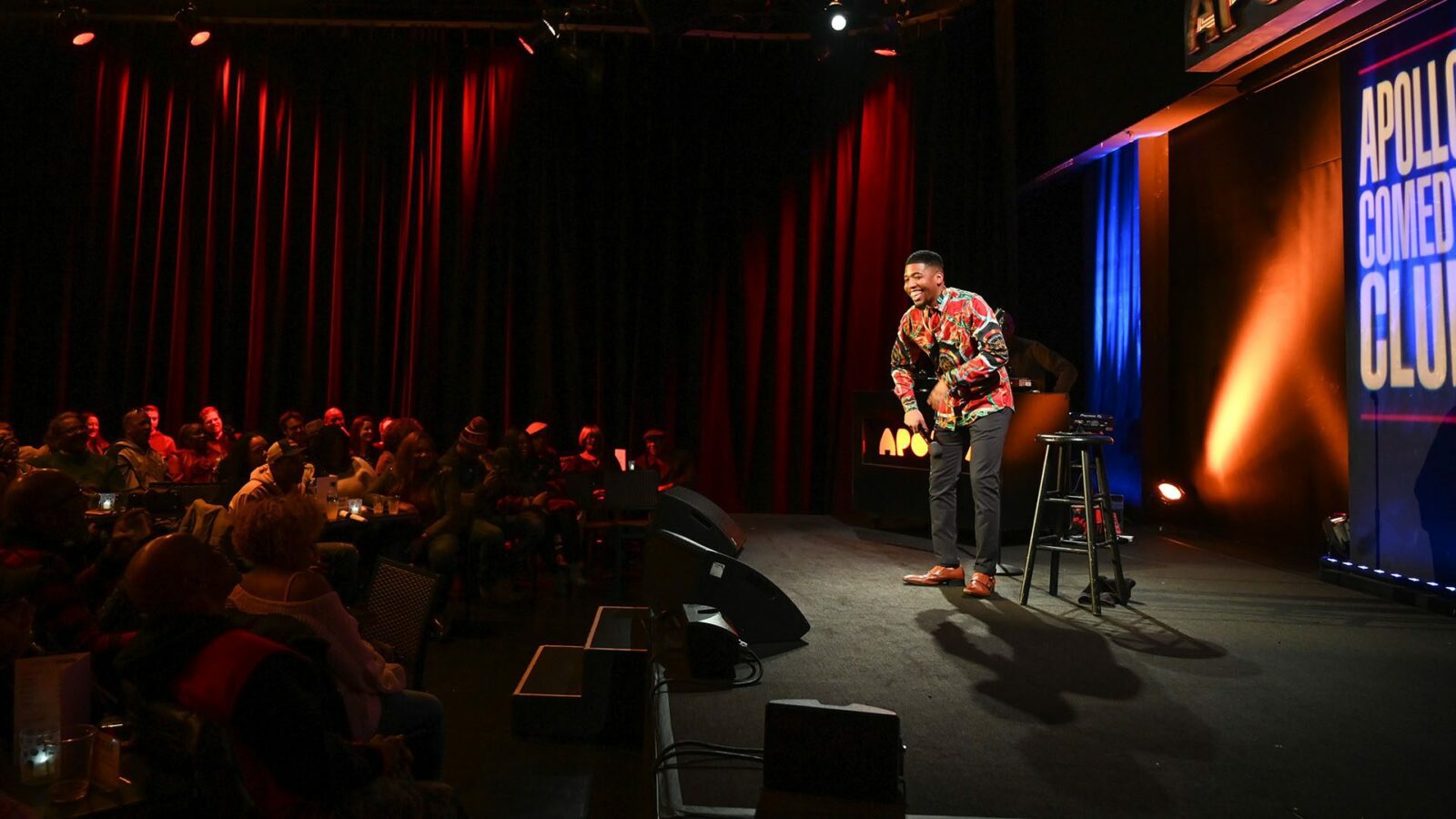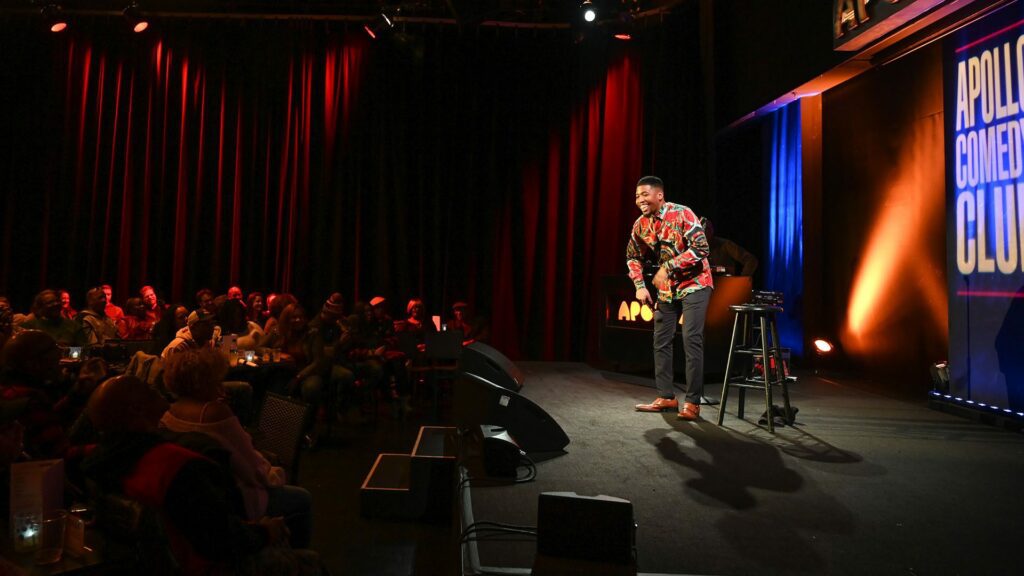 Photo credit: Apollo Theatre
Want to have a hoot and a half alongside a 'ha ha ha' at your work Christmas party this year? Then a comedy show may just be the perfect activity to bring in the merry season for your office.
Although we will admit that this particular idea can be a little riskier as many modern comedians broach more and more controversial topics. That being said, if you ask your co-workers first and they all like the sound of it, there are likely to be plenty of comedy events or even some theatre shows that your entire staff will be sure to enjoy in your city. And with so much emerging young talent, there'll likely be something fresh and surprising to get a good laugh or two out of your colleagues.
A party boat offers a truly unique setting for your office Christmas party, especially here in Australia with our summery Yuletide season. Just imagine being out on the water, enjoying a cool breeze as you cruise along with some good music, food, drinks, and conversation. The atmosphere on a party boat whether during the day or at night time, can make for a truly wonderful work Christmas party.
However, if your colleagues prefer things a little more terrestrial, good times for all can still easily be had on a party bus! Just be sure to map out your route ahead of time, and consider adding some fun stops along the way for a bit of extra entertainment.
Do you want the fun of an escape room with the fatalism of laser tag and paintball? Then why not host a murder mystery party for your office Christmas party this year? Murder mystery parties tend to be pretty unique in that it's likely something you've always thought about putting together but never really knew how. Thankfully, planning a compelling and engaging murder mystery party is actually a lot easier than you may think it to be.
Simply have everyone gather at an agreed-upon location (possibly the office, spruced up for the occasion) for a nice dinner. Throughout the evening, guests are given roles to play. Someone is the murderer, and they will have to act accordingly, making sure that suspicions of them and their activities are kept to a minimum in order to get away with their vicious crimes. When people start dying, the remaining party guests have to solve the case before any more (figurative) blood is shed.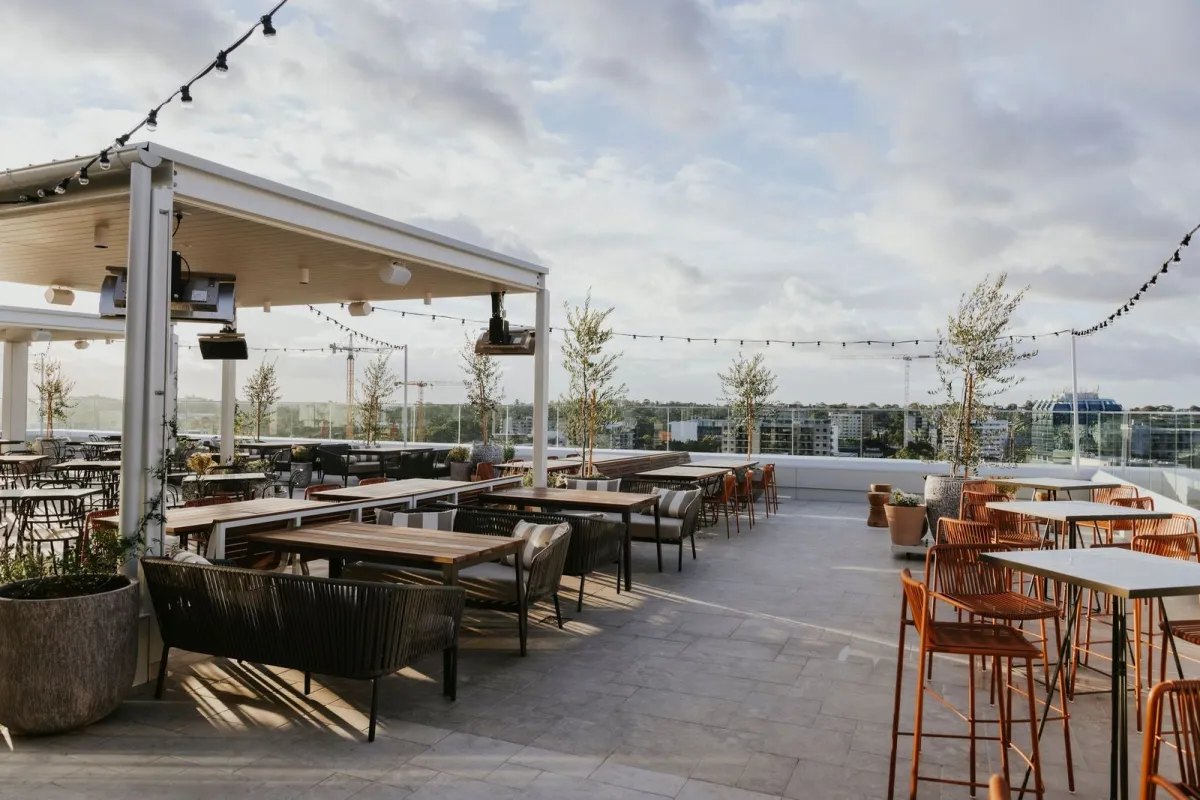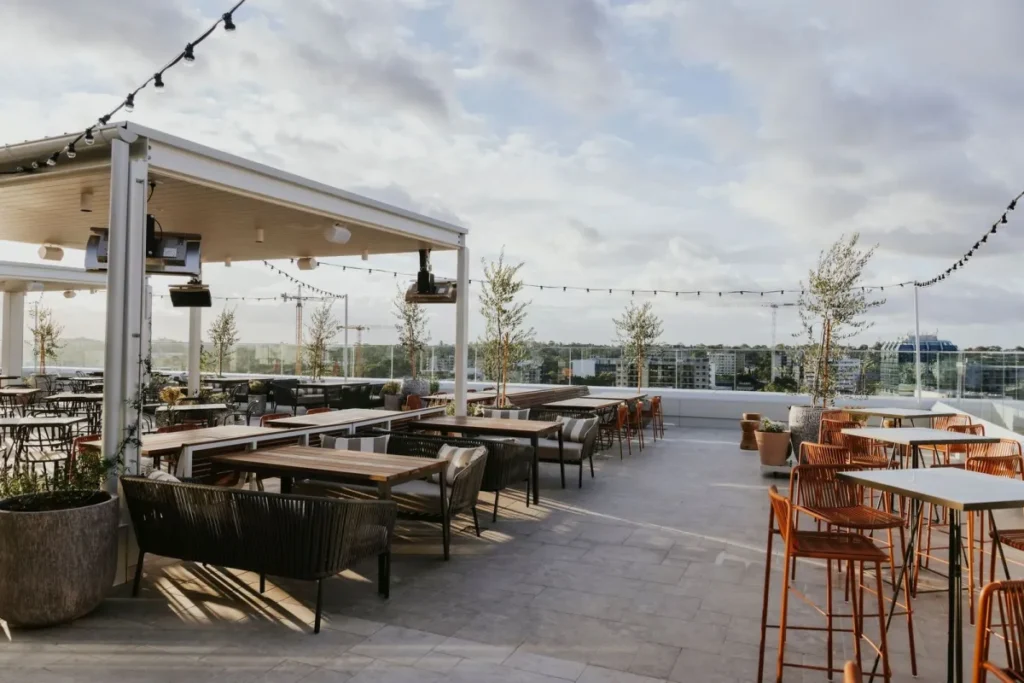 Photo credit: Hospitality Magazine
A great option for a casual evening Christmas party, a nice rooftop bar with cocktails can provide your guests with an easy, breezy, relaxed atmosphere to mingle, enjoy some delicious drinks, and have a good non-work related chat. If you'd like to make this particular party idea a little extra special, you can even consider booking out the rooftop especially for your office Christmas party, alongside providing an open tab so that your staff can enjoy complimentary cocktails and maybe some nice bar snacks and other finger foods.
If you're feeling a little adventurous and you know that there are a few beer aficionados on your team, then you may even consider organising a bit of a bar hop for your office Christmas party. Jump from pub to pub in order to try all their own unique brews and beers on tap. We're lucky to have an abundance of artisanal distilleries, breweries and wineries here in Australia, so you might as well use all the fermented fruits of their labours to help kickstart your festive celebrations.
The office Christmas party is a great annual event that many look forward to throughout the year. Because it is such a highly-anticipated work event, it can naturally be difficult to figure out exactly what to do as a manager or supervisor. But if you present these 10 options to your colleagues, we guarantee you'll find one or two ideas that have a generally positive and perhaps even ecstatic consensus.
Whether you're after an office Christmas party that's bold and adrenaline-pumping, or mellow and low-key, it certainly is difficult to go wrong with a delicious meal or a complete gastronomical experience like those offered at The Meat & Wine Co. Book now to reserve your table for Christmas time and treat your employees to a hearty, homey meal to welcome in the holiday season with style.