The Meat & Wine Co has become known for our flagship AGED program, where we dry-age our own steak in house. This phenomenal dining experience allows guests to savour the unique flavours and textures of expertly aged steak, and discover what all the fuss is about with this trending dish.
Making our AGED program even more special, part of the ageing process allows the chefs to infuse each cut with a subtle additional flavour profile.
Past flavour infusions have included dry-aged truffle steak, but now, Meat & Wine Co is offering dry-aged coffee steak for something truly special.
Here's a little more about our exclusive dry-ageing process.
The Meat & Wine Co dry-ageing process
Dry-ageing is a careful, slow process that ages cuts of meat in a way that amplifies the existing flavours and textures, but without the meat going off. It requires specialist dry ageing fridges, which keep the meat at specific temperatures and humidity levels, allowing the moisture to leave the meat.
During pre-ageing, the meat is kept in a fridge for one to three weeks, during which time it will form a light crust.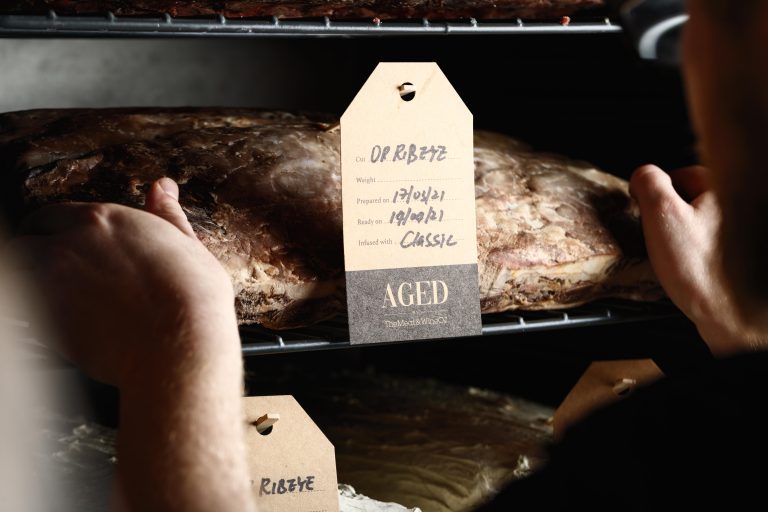 Many dry-ageing programs will continue to allow a thick crust to form on the skin, which is necessary to protect the meat inside and carry out the dry ageing process. However at this stage, The Meat & Wine Co coats the meat in a thick layer of butter.
The butter performs the same function as a crust – it stops oxygen from breaking down the meat internally. Instead, the proteins and enzymes within the butter take over, breaking down the meat more slowly, allowing it to age without creating an overwhelming dry-age flavour, which can be more palatable to those new to dry-aged meat.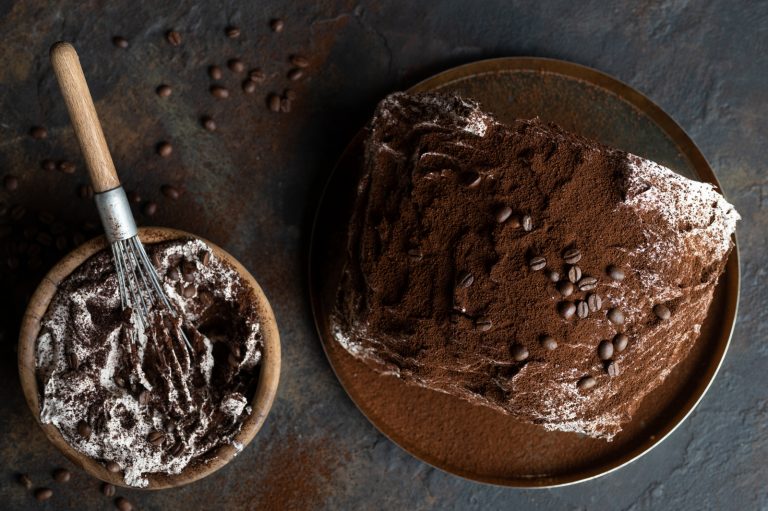 The final step is to return the butter-coated meat to the dry ager for another four to six weeks, after which the meat is prepared and ready to cook.
Yet with the addition of the layer of butter comes an opportunity to infuse a subtle flavour into the meat. The Meat & Wine Co has used this opportunity to add flavours such as truffle into steaks in the past, but right now, we are offering a coffee-infused dry-aged steak.
By adding coffee to the rich layer of butter coating the ageing steak, we have infused the meat with subtle notes of Arabica and Robusta coffee. The slight acidity and coffee flavours help to further amplify the taste of the beef, making for an exceptional, unmissable steak dining experience.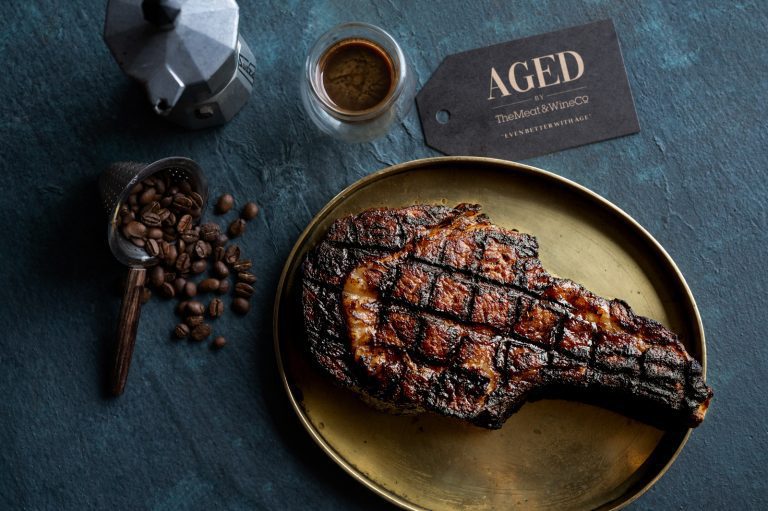 Perfect wine pairings for coffee-infused dry-aged steak
Every great steak must be paired with an equally exceptional wine to balance and complement the flavour profiles found within each.
Try one of these vintages from our wine list to pair with your dry aged steak:
Henschke Keyneton 'Euphonium' 2017 Shiraz / Cab Sav / Cab Franc / Merlot, Eden & Barossa Valley, SA
Two Hands 'Bella's Garden' 2016 Shiraz, Barossa Valley, SA
Vasse Felix 'Heytesbury' 2012 Cabernet Sauvignon, Margaret River, WA
Try our coffee-infused dry-aged steak before May 17
Our coffee-infused dry aged steak is available for as long as stocks last, or until May 17.
Make your booking at your nearest Meat & Wine Co to taste this premium dry-aged steak experience.