For foodies, there's a magical time of year that brings joy and happiness – but it's not Christmas. It's right now, through the cooler months of July and August. While the country shivers through cold mornings and rain, we're celebrating the joyous and delicious truffle season. That means that we can enjoy the heavenly rich taste of fresh truffles as these decadent fungi become much more readily available. Which is exactly why we have dedicated an entire menu to the wonder of black perigord truffles.
When you dine at The Meat & Wine Co from now, for a limited time only, you can choose from our sumptuous special truffle menu – where every single item has been built around truffles. We will still offer our regular a la carte meals during this time, but we highly recommend trying at least one of these dishes to experience the flavour explosion that is the black perigord truffle.
Truffle entrees
Get your meal off to an incredible start with one of these unbelievably tasty truffle dishes.
Truffle Burrata Burrata is a smooth and creamy Italian cheese, made all the more delicious with freshly shaved truffle, porcini salt, olive oil, and charred sourdough to serve.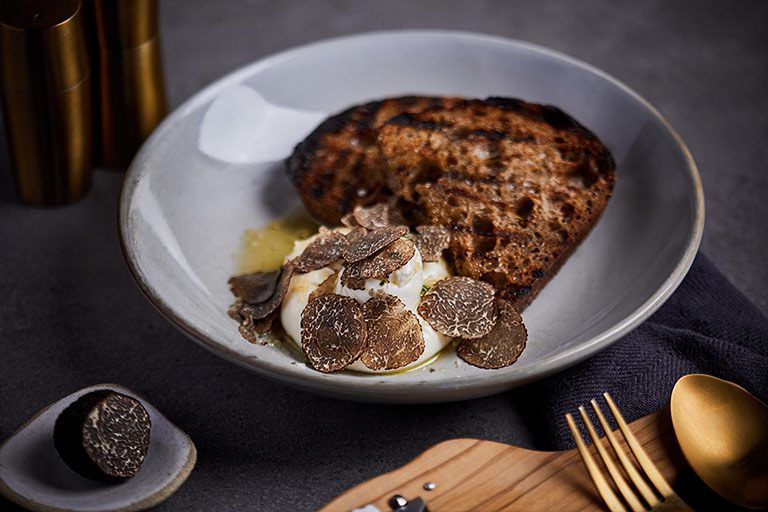 AGED Truffle Tartare Indulge in a truffle tartare made with our premium, dry-aged, wagyu girello rib-eye. We add freshly shaved truffle, egg yolk, pickled cucumber, capers, Dijon mustard, and micro coriander, then serve it all with a bone marrow and parmesan miche crostini.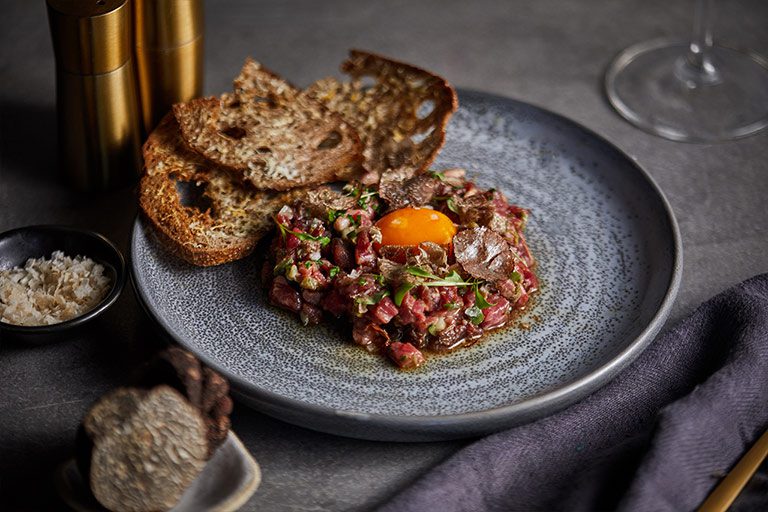 Truffle mains
Prepare for one of the most exquisite, unique, and flavourful meals of your life with one of these special dishes this truffle season:
Angus Fillet With a marbling score of 3+, this 250g grain-fed Angus fillet is a masterpiece in its own right. We take things up a notch with truffle butter and freshly shaved truffle on top, as well as veal jus, and your choice of a farm salad or crunchy fries.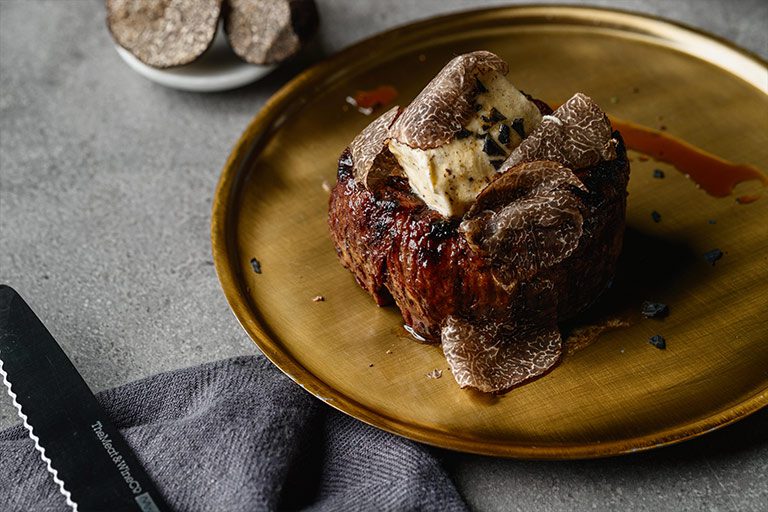 AGED Rib-Eye Have you ever tried an aged steak? The Meat & Wine Co AGED program offers our premium steaks in a way you've never seen before. Aged with our exclusive method, this traditional rib-eye is not just infused with truffle during the process, but also comes topped with truffle butter and shavings. We also add veal jus and you choose between fries and a salad on the side.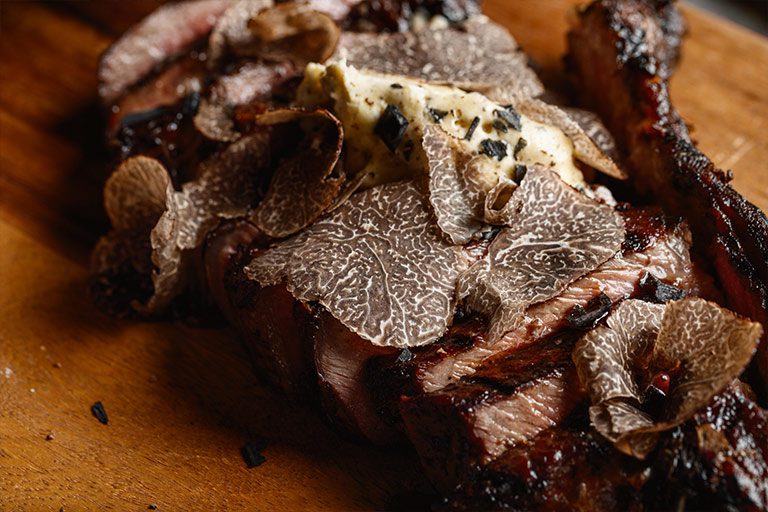 Truffle Risotto Sink into a rich and moreish truffle risotto, made with confit egg yolk, pangrattato, and porcini salt. We top it off with parmesan and a little freshly shaved truffle for a dish you'll be licking clean.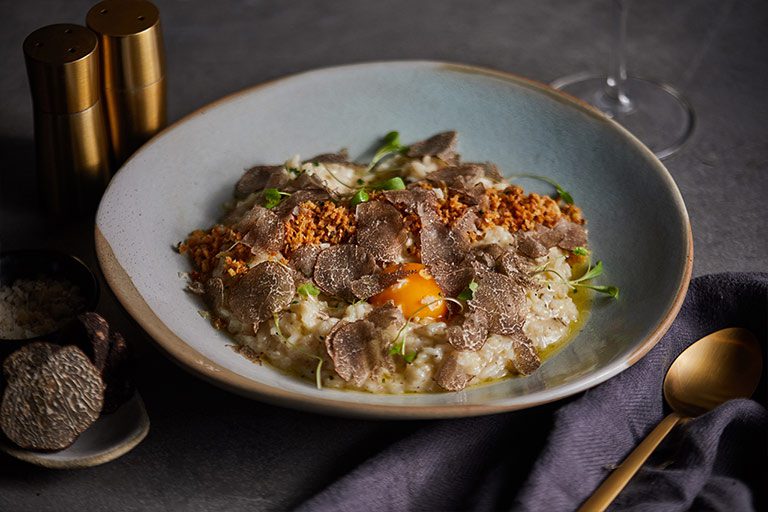 Truffle sides
Truffle mac and cheese Taste the divine combination of mac and cheese…and truffle! With a creamy truffle bechamel sauce, cheddar, mozzarella, and chives, this is possibly the best mac and cheese in the country.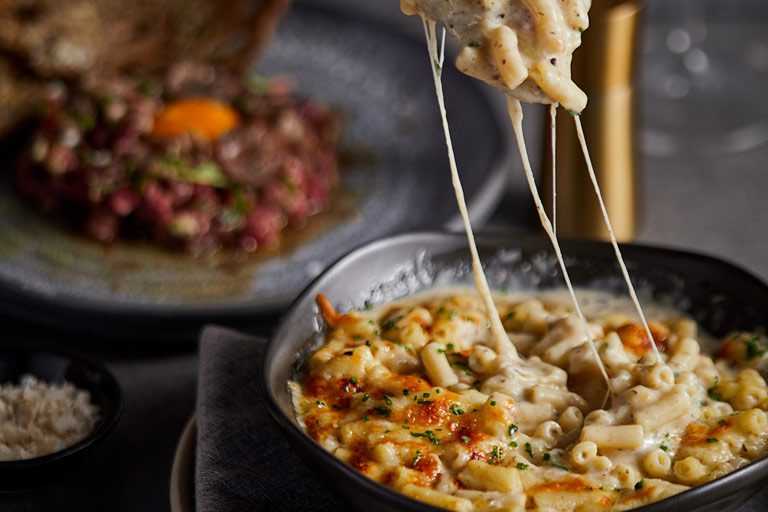 Truffle fries Just when you think fries can't get any more addictive, we go and add truffle. Enjoy a bowl of shoestring fries with parmesan and truffle aioli, or add truffle butter or fresh shavings (or both!) for a little extra flavour kick.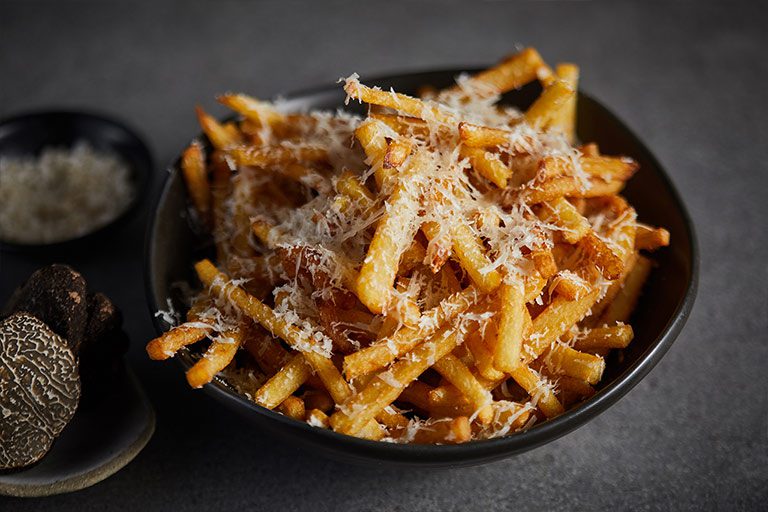 Enjoy any of these meals at any time with The Meat & Wine Co steakhouse, or simply order from our regular a la carte menu and request the addition of truffle butter or fresh truffle shavings on any meal.
Make your booking at The Meat & Wine Co by August to experience the very best of truffle season.