Valentine's Day Dinner Melbourne
Your romantic Valentine's dinner in Melbourne
It's the day to spoil that special someone, or even just spoil yourself and a few friends to celebrate the day together.
And what better way to share Valentine's Day in Melbourne than with an exceptional meal?
To save you from fretting over your Valentine's Day date ideas, The Meat & Wine Co has put together a mouth-watering set menu filled with incredible Valentine's Day meals, which will be available at all the venues around Melbourne including Southbank, Hawthorn East, South Yarra, and Chadstone.
Here's everything you need to know about our romantic, delicious, and unforgettable Valentine's Day dinner plans we have for you.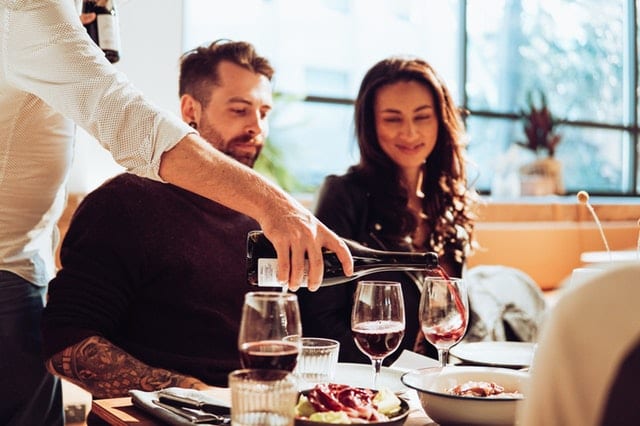 Valentine's Day dinner with The Meat and Wine Co
Look no further for romantic dinner ideas for you and your valentine, it's all here waiting for you at The Meat & Wine Co.
At The Meat & Wine Co, you'll find a cosy home-away-from-home atmosphere, but paired with exceptional food and drinks. Our modern cuisine includes an exclusive line of Monte Beef, and we pair our meals with Australia's top wines. Our servers are always ready to make your evening special, so you know you're in safe hands for your Valentine's Day in Melbourne.
Our Valentine's Day special gives you a sumptuous set menu, which includes romantic touches such as a glass of something tasty on arrival, and delicious treats such as our exclusive steak meals, mouth-watering starters, and sweet desserts.
Our Valentine's Day meals take some of the best dishes from our a la carte menu and offer them as a delicious and romantic dinner for you and your loved one.
You will be served with a glass of Glass of Chandon N.V. Brut on arrival, or you can opt to upgrade to glasses of Moet et Chandon N.V. Imperial.
Next, we'll whet your appetite with your choice of a few of our best entrees, such as our Wagyu Tartare from our AGED program, Oysters, King Prawns, or King Oyster Mushrooms.
You'll have the choice of multiple incredible mains; a Shorthorn Grain-fed Fillet, Ribs Platter, Portuguese-marinated Chicken Breast, Pan-fried Ocean Trout, or our Roasted Harissa Cauliflower Steak. Or, order our Traditional Dry AGED Rib-Eye (850g) to share. And you can't forget a side of our creamy Truffle Mac and Cheese
Finally, dessert offers a further choice; a Chocolate & Cherry Fondant, a Red Velvet & Cream cheese Sponge, or a selection of beautiful cheese, crackers and condiments.
These meals are $158 per person. Please see our full Valentine's Day menu for further details.
How to book for Valentine's Day in Melbourne
To book your romantic dinner, all you need to do is fill out our quick booking form. Note down your details and pick which seating time suits you best. We also ask that you choose a secondary seating time just in case we are already fully booked for your first choice. Book online here for Chadstone, Hawthorn East, Southbank, or South Yarra.
Alternatively, call The Meat & Wine Co nearest you to find out current seating availability for Valentine's, and keep in mind that the earlier you book, the more likely it is that you will get your preferred time.
If you have any further questions or romantic dinner ideas you'd like help with, don't hesitate to get in touch.
H3: Terms & conditions
Our booking form also requires credit card details. This is only in the case you make a cancellation within five days prior to February 14, as you will be charged a cancellation fee. When you join us for dinner, you can pay in any way that we take payments (such as cash or credit).
Once you have filled out the reservation form, scan it and email it to your chosen establishment, and we will be in touch within 24 hours to confirm your Valentine's Day dinner booking. If you have any special requests for the evening, please also let us know during this call and we will do our best to accommodate your needs.
If you have any other questions about your Valentine's Day dinner in Melbourne, be sure to give us a call and we'll help you to plan the perfect romantic meal.