Valentine's Day is the one day of the year to shower a loved in one affection so they know just how special they are to you.
If you're the kind to shower your partner in Valentine's Day gifts, there's no better time to start planning the day than right now. And if you're the type to usually ignore the day completely, why not surprise them this year with a delicious dinner out to spend time together for something a little different?
And of course, love isn't reserved for romantic relationships – so don't be afraid to get a group together, or celebrate the occasion with family.
Stop stressing about Valentine's Day ideas and make your reservation with The Meat and Wine Co for a surefire excellent evening out.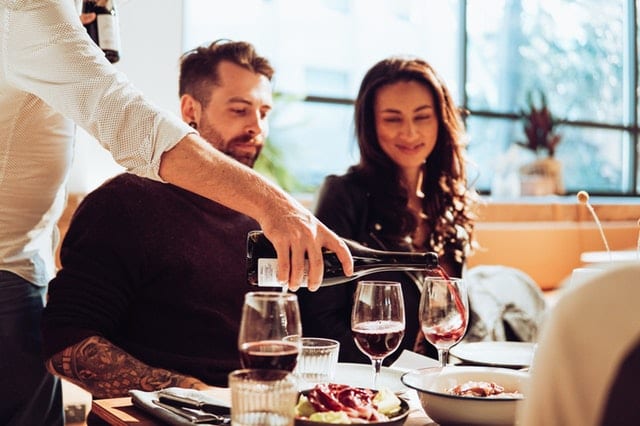 Valentine's Day dinner with The Meat and Wine Co
The Meat and Wine Co has you and your valentine sorted with a romantic and lavish meal for two at any of our Sydney locations.
Our restaurants offer world-class service and food, including our exclusive line of Monte Beef. We've always got the perfect wine to pair with your meal, and each of our venues is as lavish and welcoming as the last. Naturally, we think we're the ideal place to enjoy your Valentine's Day dinner.
Book your meal for two at either Barangaroo or Circular Quay in Sydney. You'll have a choice of two set menus for our Valentine's Day special, including treats such as a glass of champagne on arrival, delicious hot fresh bread to share as an appetiser, and mouth-watering array of starters and mains that include seafood, vegetarian dishes, steaks, and more.
Of course, no sweet date would be finished without a sweet something at the end, which is why our Valentines day dinner in Sydney is topped off with a delicious dessert each.
How to book for Valentine's Day in Sydney
Simply fill out our booking form with your details, and let us know your preferred booking time. We will do everything we can to seat you at that time, but we also ask that you select a second seating time just in case. Alternatively, contact your nearest restaurant directly to find out current availability, and remember that the sooner you book, the more likely it is you'll secure your preferred time.
You will need to fill out your credit card details, although you will only be charged in case of a cancellation five days or nearer to February 14. On the day itself, you can pay in any way we take payments.
Send your booking form away to the appropriate restaurant via email, and we'll be in touch to confirm your reservation within 24 hours. Of course, you're welcome to make a special request, and we will strive to make it the perfect occasion for you!
If you have any further questions or romantic dinner ideas you'd like help with, don't hesitate to get in touch.