Available Monday – Saturday, 12pm – 4pm
Includes a glass of specially selected house wine, beer or soft drink
One course mains as per priced
Valid Jan-Oct
Avocado, Roma tomato, Spanish onion, garlic oil, basil and Parmesan

Globe artichoke, chilli & mint dressing, whipped Persian feta, artichoke crisps

Lightly fried calamari, cucumber, onion, lemon and nam jim

Smoked yolk, pickled cucumber, mustard, toasted sourdough
Please note: Prices shown on Main items are for the option of a single main course (2 or 3 course pricing will apply otherwise).
Side Choices – Crunchy Chips, Mash, Farm Salad or Onion Rings.

250g Wagyu Rump (450D, MB 6+)

29

Monte is the premium line of beef exclusively sourced for The Meat & Wine Co. Monte cuts are grilled to your liking in our unique basting.
*Served with choice of side.

Crumbed chicken breast, rocket and fennel salad, fried egg & lemon gremolata.
*Served with choice of side

Miso and soy seared salmon fillet with greens and barley pilaf salad.

Slow cooked and bbq basted.
*Served with choice of side

Sliced wagyu rump, English cheddar, Spanish onion, horseradish mayo and Dijon mustard.
*Served with choice of side

Crispy seasonal battered fish, black garlic aioli and lemon.
*Served with choice of side

Roast Pumpkin & Grain Salad

22

Slow roasted pumpkin, brown rice, red quinoa, grilled halloumi, fresh herbs and shaved fennel.

Beef patty, Monterey Jack cheese, lettuce, tomato, truffle aioli and caramelised onion jam.
*Served with choice of side
Lime and coconut panna cotta with cherry compote

Fried apple and raspberry pastry, raspberry gel, cinnamon sugar and mascarpone ice cream
On the hunt for the best lunch spots in Sydney, Melbourne or Perth? At The Meat & Wine Co, we offer curated 2-course and 3-course lunch meals, giving you the chance to try some of our most popular dishes with a glass of specially selected house wine, beer or soft drink. Want to try something that's not on the set menu? Not a problem – choose from our extensive a la carte menu for lunch or dinner.
There's no shortage of lunch restaurants around, but at The Meat & Wine Co, you'll enjoy award-winning dishes curated by some of Australia's most talented chefs, and a wine list handpicked by expert sommeliers. That's why we've developed a reputation for having some of the best lunch restaurants in Australia.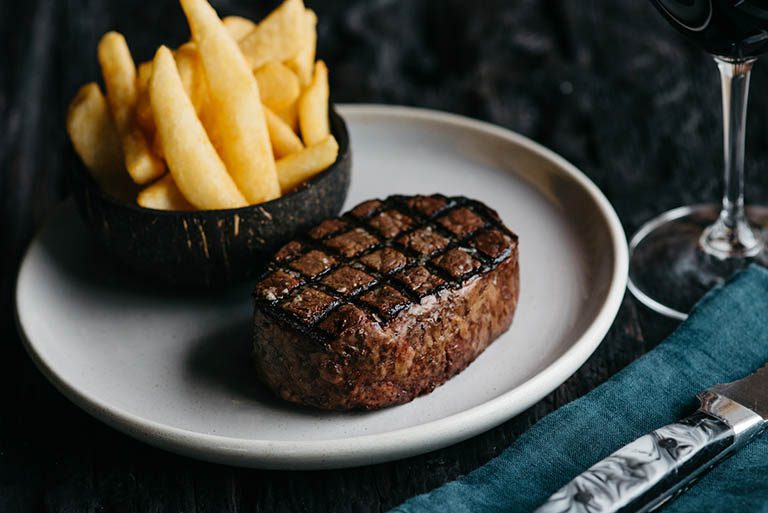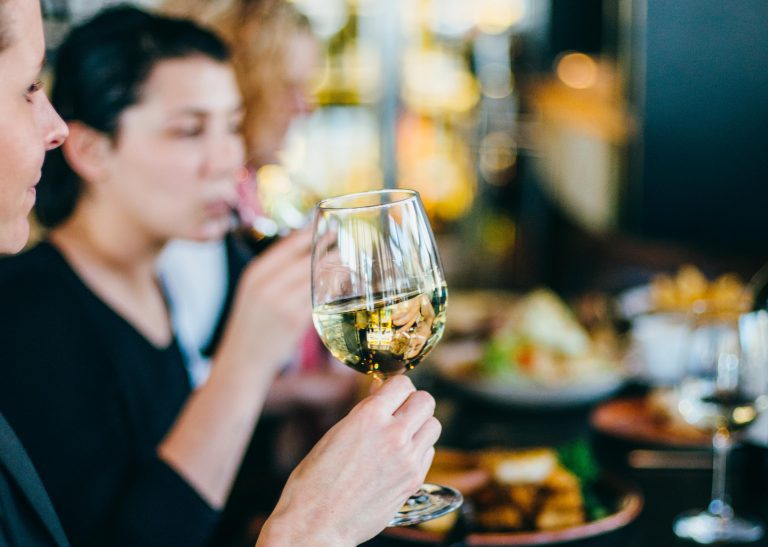 Looking for Business Lunch Ideas?
Planning a corporate lunch? Searching for the best restaurants for groups? We're here to accommodate your needs, whether it's a quick business meeting for two over a glass of wine or lunch for 20. Our 2-course and 3-course lunch menus make it easy to organise a group lunch while still giving guests the flexibility to choose dishes that suit their tastes. We will also do our best to cater to any dietary requirements and make your next business lunch as enjoyable as possible.
Need a function room for an upcoming business event? Our private dining rooms are perfect for team functions, and our large spaces make for the ultimate party. Get in touch with us to book your next function.
Please ask for our allergy menu. Every possible care has been taken to ensure that these menu items are allergy free, certain items may still contain traces of allergic ingredients as they are prepared in an environment that may contains allergic ingredients.
A selection of Monte Beef products are Halal certified from our supplier and precautions are taken in the cooking methods of our dishes, however our restaurant kitchen environment is not certified by the A.F.I.C. Please ask your waiter.
Sydney
$5 per person on Sundays and public holidays
Melbourne & Perth
$5 per person on public holidays